Sameba Cathedral, Tbilisi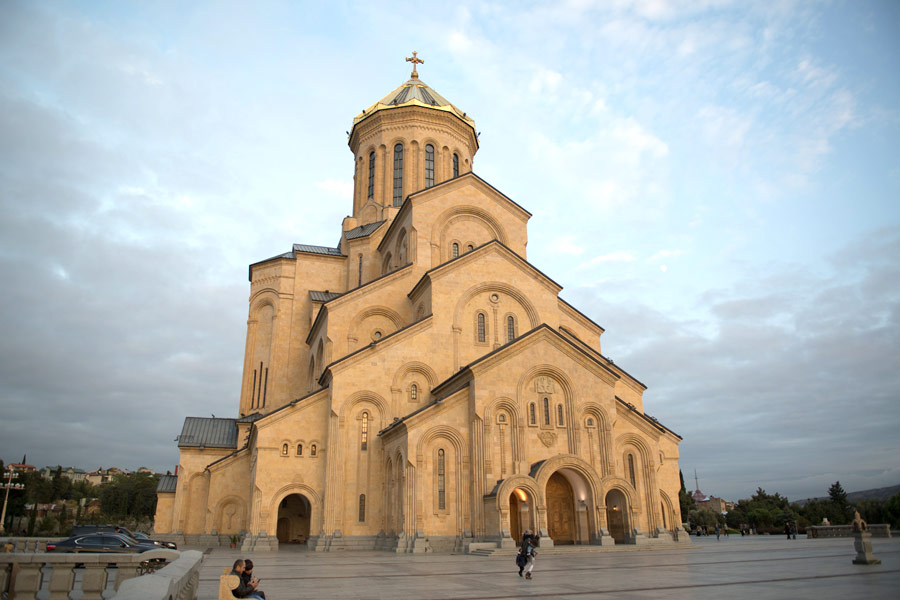 Built in year 2004, the Holy Trinity Tsminda Sameba Cathedral is also called the symbol of new Georgia. The beauty and sizes of cathedral are indeed breathtaking, and rises magnificently on the hill of the St. Ilya, on the left bank of the Kura River. Sameba is the highest church in Georgia. It is 101m high. For comparison, before Sameba, the Alaverdi Cathedral in Kakheti was considered the tallest, with about 50m in height. Sameba Cathedral was built with grandiose scope. Its golden dome is practically seen from any point in Tbilisi. The cathedral is part of the entire complex including residence of the Patriarch and a monastery, school of theology and academy, hotel and the complex consisting of nine chapels, five of which are located under the ground.
Construction of Sameba Cathedral was timed to the 2000th anniversary of Christianity and 1500th anniversary of the independence of the Georgian church. The construction of the cathedral was decided in 1989 but it started only on 23 November 1995. The first divine service in cathedral was held on 25 December 2002 during the construction works that finally ended in 2004. Construction was sponsored by wealthy residents of the city. The square of the Sameba Cathedral equals 5000 square meters, and can place up to 15,000 people.
The foundation of the cathedral was done according to all traditions: pieces from holy spots were placed in its basement like rocks from the Sion Mountain and the Jordan River, soil from Jerusalem and from the tomb of St. George. The Patriarch and the President have laid the memorial nameplates too. Bells for the cathedral were cast in Germany. There are nine of them, and the biggest weighs 8,000 kg.
The cathedral is designed in the spirit of modernism, and its architecture has little similarities with old traditions. Faces of the cathedral are done exquisitely with arches and unique fretwork. There are beautiful frescoes created under the supervision of the icon painter Amiran Goglidze on the walls of the Sameba Cathedral. Catholicos Patriarch of Georgia Ilia II also took part in painting works of the Tsminda Sameba Cathedral; he painted several icons and a big image of the Holy Virgin that can be seen at the entrance. There are two floors under the ground; on the second floor there are museum and conference hall.
Holy Trinity Cathedral is considered one of the main sights of Tbilisi.