Vorontsov Palace, Tbilisi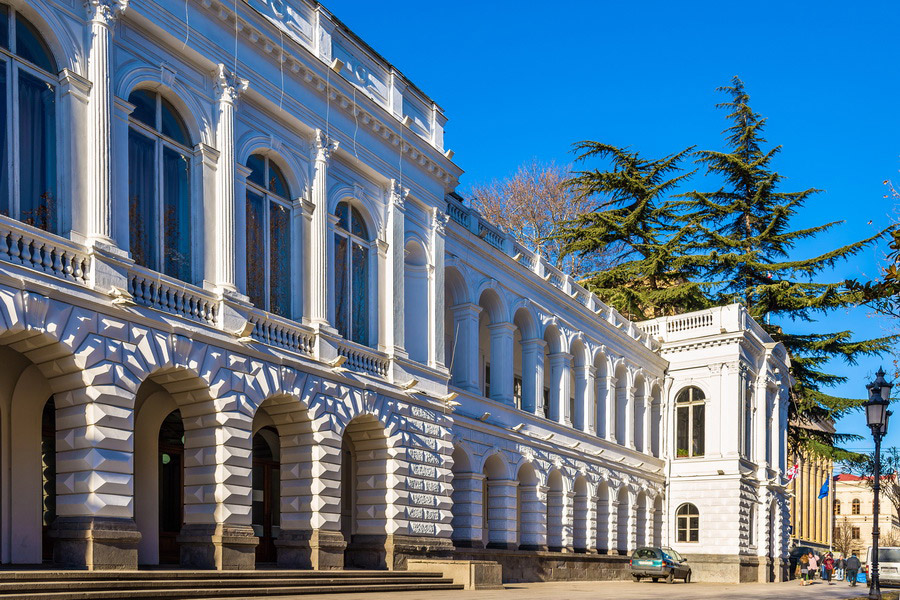 The Vorontsov's Palace is one of the most famous landmarks in Tbilisi. It was erected in 1868 by the Russian Emperor's Governor in Tbilisi Mikhail Vorontsov, on the basis of the old buildings, whose construction began as early as the XIX century, under General P.D. Tsitsianov. The architect of this project was N. Semyonov.
The name of Count Vorontsov in Georgia is associated with a whole epoch. His governorship saw the construction of schools and public libraries, opening of the first theaters, publishing the newspaper "Caucasus", revival of the Caucasian traditions, having been consigned to oblivion for centuries under the sway of the Persians. There were also built first factories and new residential areas under his governance.
The Vorontsov's Palace, built in Renaissance style, is one of the most beautiful buildings in Rustaveli Avenue. It fits perfectly into the general atmosphere of cultural and historical monuments of the avenue. It can compete with the best creations of European architecture in elegance, unique décor - both internal and external, and its sublime beauty.
The palace's interior design strikes with splendor of colors and rich decoration of the rooms. The ceilings, covered with gilded ornaments, bronze chandeliers and lamps, unique in their beauty, elegant interior - all these draw awe and admiration of the palace visitors. The Persian hall is particularly noteworthy. When you enter it, you can freeze for a moment seized by the feeling of lightness and ethereality of the room. Almost entire room is decorated in white colors, but a truly unique solution of architectural decoration, are mirrors inserted in the stucco ceiling and walls to create the effect of the room ephemerality.
However, the palace history does not end with the governance of Count Vorontsov. It was the venue for the Transcaucasian Federation government to hold meetings in 1917, and to declare the independence first of Georgia in 1918, then those of Armenia and Azerbaijan. During the era of Soviet power Vorontsov's Palace was placed under control of the department for children and youth affairs, and upon declaration of independence, the governor's palace finally became the Youth Palace of Georgia.
The Vorontsov's Palace is of great historical and cultural importance, not only as a cultural asset of the Georgian people, but also as a place, associated with important moments in the country's history.