Tsalka Canyon, Georgia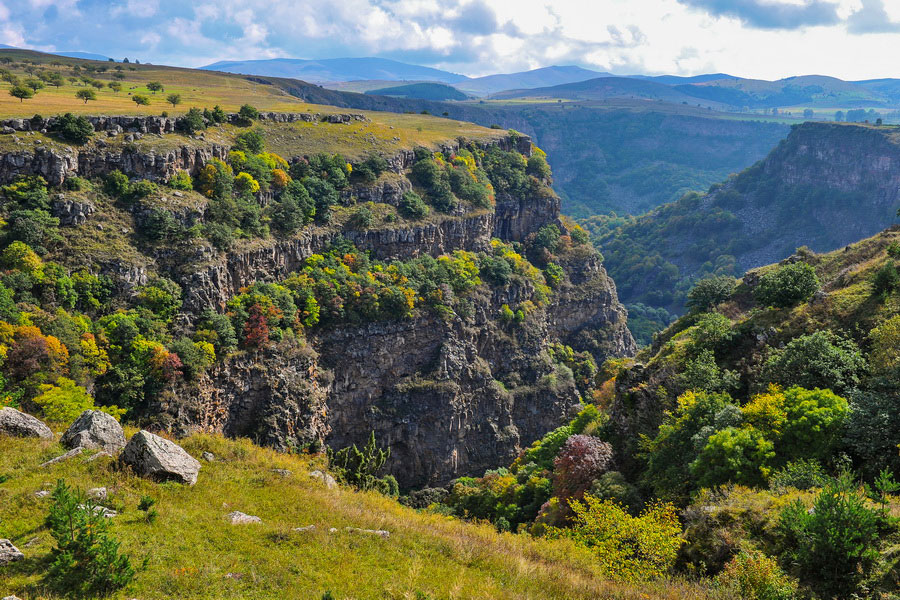 Tsalka Canyon (formerly Dashbashi Canyon) in Georgia is a deep mountain gorge situated 100 kilometers west of Tbilisi in Tsalka Municipality. Long popular with visitors, the canyon has become even more alluring since a touristic center opened on the site in the summer of 2021, providing plenty of options for comfort and adventure in a picturesque setting.
The canyon, measuring 7 kilometers long and 300 meters deep, was formed on a volcanic plateau through the process of erosion. This natural wonder is defined by steep slopes covered in lush vegetation, at the bottom of which flows the rapid waters of the Khrami River. Yet the major attraction of Tsalka Canyon is its spectacular cluster of cascading waterfalls. In the summertime, their emerald waters glisten among the lavish green foliage, while in winter the waterfalls freeze, creating a frosty fairytale landscape.
Visitors can easily travel from Tbilisi to Dashbashi Canyon (Tsalka Canyon) on a 2-hour drive one way. Once you reach the canyon's entrance you must park your car and walk downhill along a well-marked mountain path that winds for 1.5 kilometers to the falls. The most challenging part of the trek is the steep climb back, but guests should also be prepared to walk across the stone-covered banks of the Khrami River. Most people need about 1-1.5 hours to complete the round-trip Dashbashi Canyon hike.
Tsalka Canyon is a rewarding outdoor destination that will deepen your appreciation of Georgia's natural beauty.
In August 2021, a new complex opened at Tsalka Canyon with the aim of developing the nature reserve into an attractive touristic area. The complex includes a 240-meter-long glass bridge right above the canyon, with a diamond-shaped cafe bar in the middle. There is also a visitor center, a high-quality hotel complex with cottages, an open garden restaurant, swimming pools, bridges, camping sites and a 500-meter paved road to the canyon river.
A trip to Tsalka Canyon makes an ideal getaway from Tbilisi and can also be a stopping point on a more extensive journey. Near the canyon lies the picturesque Tsalka Lake, a favourite destination of Georgian fishermen. You can also hike to the ruins of the 9th-century Kldekari Fortress, and although little is left of this once-powerful citadel, the trek to it is rather charming. Another option is to combine a visit to Tsalka Canyon with a trip to Poka Nunnery of Saint Nino, situated on the shores of Paravani Lake.