Central State Museum of Kazakhstan, Almaty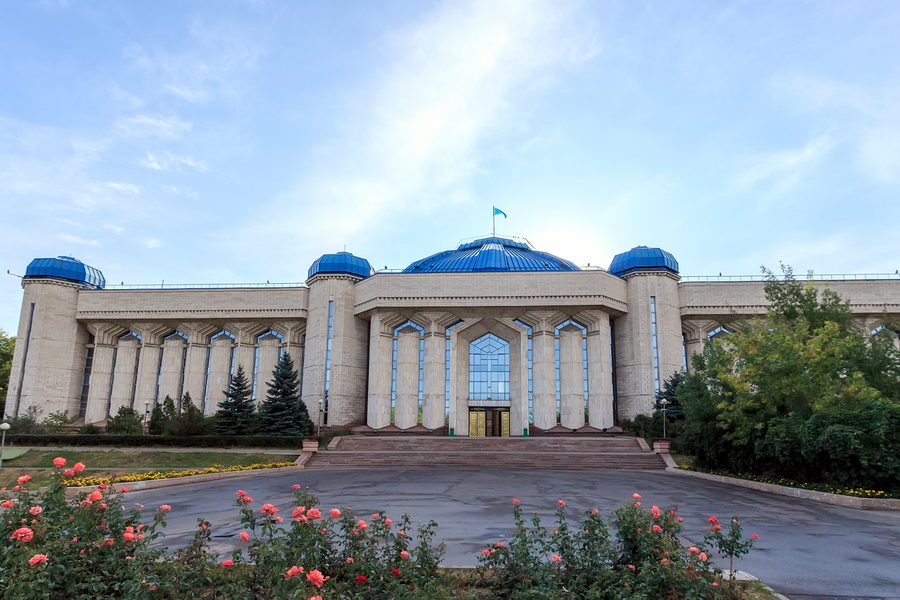 Address: Almaty, Samal-1, 44
Phone: +7 (727) 264-26-80, +7 (727) 264-55-77
Working hours: from 10:00 to 20:00
Working days: seven days a week
Central State Museum in Almaty is a reflection of the centuries-long history of Kazakhstan in tangible assets. It has a collection of unique archaeological findings from the pre-historic epoch up to present days.
The history of the museum
The museum opened its doors in 1931 in the building of the former Almaty Cathedral. This building is unique architectural complex projected by a well-known architect Andrey Pavlochich Zenkov and constructed in 1904-1907. Thanks to its special technology, the cathedral endured a strong earthquake of 1911.
In 1985, a new building was erected upon the initiative of the local authorities. The new construction is considered one of the best contemporary architectural complexes.
The museum has 3 floors and total area of 17 557 square kilometers. There are 4 exposition halls and exhibition galleries on its territory. Today, the Central State Museum of the Republic of Kazakhstan in Almaty has more than 200 000 exhibits in its collection that are monuments of tangible and intangible culture of the country.
Museum collection
The richness of the museum includes exhibits since the times of the beginning of life on Earth and ending with the newest history. There are samples of the first tracks of the human life activity, fossils of the ancient plants and animals, evidence of tribal unions existence, intestine strives, emergence of urban civilization and its development kept here.
It is recommended to start the museum excursion with the department of paleontology. There are fragments of ancient trees, fossils of insects, fish and birds. Some samples are at the age of several million years.
Further, the exposition transforms into the collection of archaeological findings related to the human activity from the beginning of the Palaeolith. There are copies of valuable discoveries among which are unique items of gold, samples of burial constructions and household premises of that period, models of architectural erections of the medieval times. However, the main treasure of the museum is undoubtedly the exact miniature copy of the military costume of the "Golden Man" made from 4000 golden parts adorned with beautiful patterns and paintings.
One more hall is dedicated to the history of Kazakhstan from 15th to 20th century. It was during this period when the first Kazakh Khanate was formed and stood against the Zhungar conquerors. Expositions reflect everyday life of the Kazakh people, its spiritual culture, material values, and popular crafts of those times. The exposition also includes photos, books, maps and documents, testifying various facts of those centuries.
Other halls present the history of modern Kazakhstan beginning from the times of the World War II, Soviet rule and ending with declaration of independence of the Republic.
The Museum publishes collection of articles and academic works covering questions of history of Kazakhstan and museum studies. Today it is one of the most frequently visited museums of the country.