Tamgaly-Tas Petroglyphs, Kazakhstan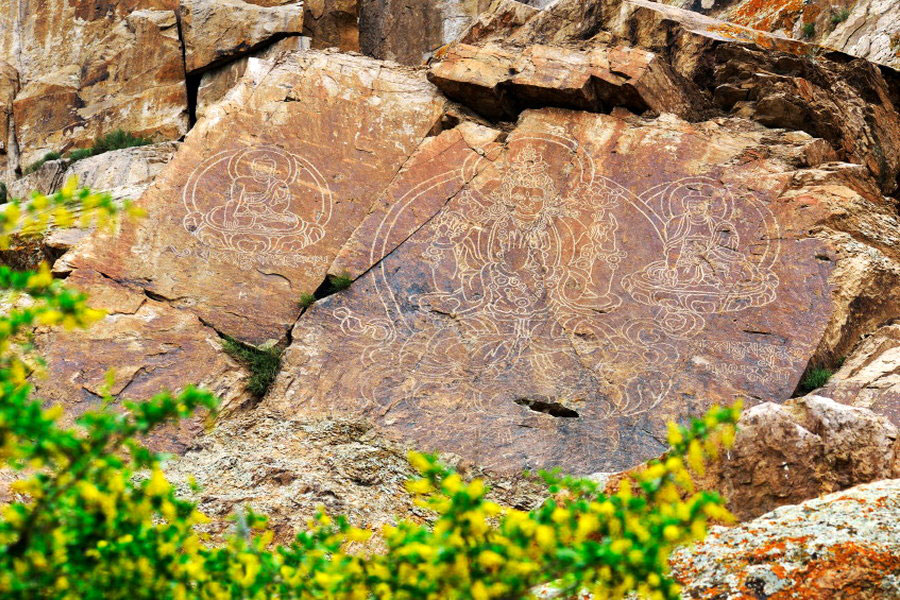 Tamgaly-Tas Petroglyphs in Kazakhstan has been compared to an open-air Buddhist sanctuary, and as such attracts religious and historical tourists from around the world.
Tamgaly-Tas, whose name may be translated as "Painted Rocks" or "Stones with Signs", is set amid huge cliffs up to 60 meters in height. It is located 170 kilometers northwest of Almaty on the lonely banks of the Ili River, just 20 kilometers northwest of Kapchagay Reservoir. Although similar in name, the site should not be confused with the UNESCO-recognized Tamgaly Petroglyphs, which are located several hundred kilometers away.
The highlight of Tamgaly-Tas are the gorgeously preserved images of Buddha and Bodhisattvas which are accompanied by exquisite Tibetan inscriptions. The unique style of these images was achieved by the fine art of stone carving with fine contour lines. The site dates to the 17th century and consists of 18 inscribed rocks, including one boulder with three Buddha images and two separate rocks with one image of Buddha each.
The central rock of Tamgaly-Tas has an image of Arya Avalokitesvara Bodhisattva, the subject of the famous Buddhist mantra "Om Mani Padme Hum". An inscription near the image reads "I worship the holy Avalokiteshvara". To the right of this, at a height of four meters, is an image of Shakyamuni Buddha with the inscription "Bow to Shakyamuni Buddha", while to the left is a carved image of Buddhist deities of healing.
If local legend is true, the Buddhist petroglyphs were created when a massive earthquake struck as a caravan was plodding along the river. Witnesses watched huge boulders crash from towering cliffs into the water, forming a natural crossing. The pilgrims, who interpreted this event as help from God, were able to cross into safety. Even to this day, a natural river crossing can be seen near the petroglyphs.
Tamgaly-Tas Petroglyphs in Kazakhstan remains an outstanding monument of art, history and culture all rolled into one.