Tamgaly-Tas, Kazakhstan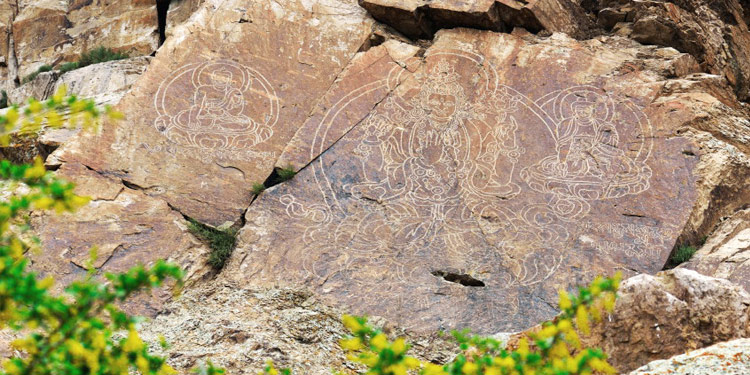 Tamgaly-Tas (Written Cliffs) Natural Boundary on the Ili River
Tamgaly Tas, translated as " written rocks, stones with signs", is located in Kazakhstan, 170 kilometers to the north -west from Almaty, on the right bank of the Ili River, which is 20 km north-west from the Kapchagay dam. The natural boundary consists of huge cliffs (up to 60 m).
These picturesque rocks attract many tourists! It was place, where incredibly beautiful images of Buddha and Burhans (Bodhisattvas) were found. The cave drawings are accompanied by exquisite Tibetan inscriptions. The unique style of the images is achieved by fine art of stone carving and fine contour lines. The drawings date back to the XIV-XVI centuries. In total, there are 18 rocks with signs, including three Buddha images on one rock and two images - on the others. As a whole, the images in the Tamgaly-Tas represent a Buddhist sanctuary in the open air.
The people have a legend about the origin of the Buddhist petroglyphs. Thus, the legend has it that at the moment when a caravan was moving to the river along the natural boundary, a strong earthquake took place. The witnesses saw huge boulders rolling with incredibly high cliffs into the water, forming a kind of river crossing. The pilgrims took it as a blessing and help from Gods. At this place, up to date you can see the traces left by this earthquake, and that very river crossing created by nature itself.
The central rock of the Tamgaly-Tas natural boundary has an image of Arya Avalokitesvara Bodhisattva, the subject of one of the most famous Buddhist mantra "Om Mani Padme Hum". An inscription there says "I worship the holy Avalokiteshvara". To the right to it, at a height of four meters there is an image of Shakyamuni Buddha with another inscription – "Bow to Shakyamuni Buddha" and to the left – a carved image of Mangla Burhan – deities of healing.
The Tamgali-Tas complex is an outstanding monument of art, history and culture of Kazakhstan. Visiting this gorge ensures a memorable impressions gained from the surrounding nature and emanation of biological energy coming from this ancient sacred site.