Arslanbob, Kyrgyzstan
Fruit and wallnut forests in the valley of Arslanbob river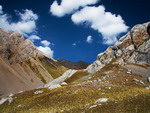 The vast tracts of woodland with nut and fruit trees in the valley of the River Arslanbob are the largest of their kind in the world, measuring over 600,000 hectares. One of the legends says that Alexander the Great once led his troops to these parts. Here, it is said, he completed his campaign to the east and decided to return home. He took with him fruits and nuts grown in the forests. And that is how the walnut from the Kyrgyz Mountains appeared in Greece, and it has since been known as the "Greek nut" in many parts of the world.

Up to 1,500 tons of walnut is harvested each year in the Arslanbob valley, besides 5,000 tons of apples, pistachio and cherry plum. People are grateful for these generous gifts of nature and seek to preserve their source. Already for many years the Arslanbob area (which means the King of Forests" in Kyrgyz), has been a forest zone protected by the state.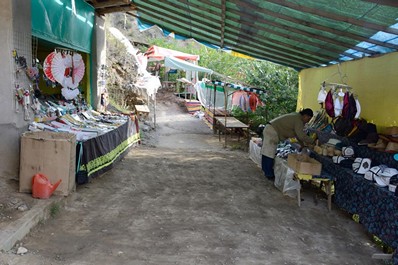 Arslanbob is said to be named after an 11th century hero who met his death nearby – betrayed by his wife to his enemies. His footprints, handprints and bloodstains are said to be still visible at the spot. There is another account, which tells of a modest and earnest, hardworking man charged by the prophet Muhammed with finding a beautiful and comfortable place – a paradise on earth. He traveled through many lands until he found a picturesque valley with a foaming mountain river –but which lacks trees. Inspired by his reports, the prophet sent him a bag of seeds of many different types of fruit tree – including, of course, the walnut tree. The hero climbed to the top of a mountain and spread the seeds over the valley transforming it into a "garden" which he tended for many years.

In Russian, walnuts are known as "Gretski" – or "Greek" – nuts, because Alexander the Great – sent plants back to Greece from his campaign in Central Asia. It is not clear how the trees arrived here - they originated in Malaysia. Nuts from the area were exported along the Silk Road in its heyday. Here the trees, which can live to 1000 years, with their dome shaped crowns atop two meter thick trunks, can reach a height of 30 meters and are found growing wild on mountain slopes and along river banks at an altitude of between 1000 and 1800 meters above Sea Level. Arslan Bob itself lies at 1700 m. a.s.l.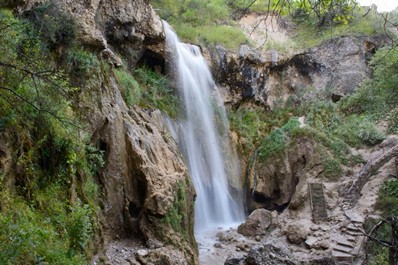 As well as the nuts, which are rich in nutrients, walnut wood is a valuable commodity and is used in the manufacture of furniture. Recent deforestation (for the timber, despite the fact that the forests are protected by law) has been very controversial. The whole region is like an orchard and boasts much different variety of fruits. The village has a population of about 15,000 and stretches a long way up the valley, nestling on the hillsides – giving many of the houses spectacular views. In the small village square is a statue of a lion. There is also the Arstanbap-Aty mausoleum (dating from the 15th century). Nearby is a new mosque. Within easy walking distance of the village center is a small waterfall (about 23 meters tall) and in the cliff opposite is a small cave, or grotto – known as the "Cave of Forty Angels" – where a holy woman used to live – people would come to her and make petitions. A little further off is a much larger waterfall, (actually it is split into two sections of 60 meters and 80 meters), and "Holy Lake". A day trip can be organized (walking or horse riding) taking in the main sites.

The village is a traditional, mainly Uzbek, community and conservative dress is a good idea. There is a "tour basa" here dating from Soviet times when the village was a popular center for various activities. There is also a Community Based Tourism project based here which can provide accommodation and other services.