Bishkek Theatres and Concert Halls, Kyrgyzstan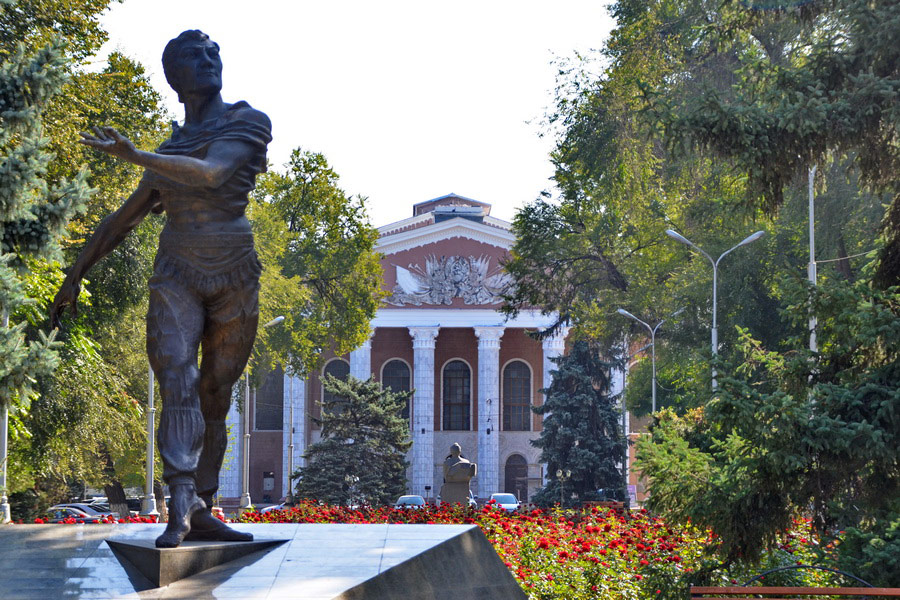 Traditionally, performance art in Kyrgyzstan wasn't recorded or written down, it was memorized orally and passed down through generations, and performed by traveling artists. These included akyns (improvisers), manaschy (who recited the Epic of Manas), and kuuduls (folk comedians). Sometimes there were competitions held between poets accompanied by their own music, or performances at festivals. There were no permanent and professional theaters and concert halls before 1917 in Kyrgyzstan, though music and performances were an important part of the culture.
Today, there are concert halls and theaters that host many performances throughout the year. These performances showcase local artists and visiting groups, such as groups from Russia, Europe, and the United States. A theater or music performance is a great way to experience Bishkek's culture for yourself, and to get to know Kyrgyzstan a little better.
Addresses of Bishkek Theaters and Concert Halls
Kyrgyz National Academic Opera and Ballet Theater named after A. Maldybaev
167, Abdyrahmonov st., tel. +996 312 661841
State National Academic Drama Theater named after T. Abdumomunov
273, Panfilov st. behind the government building, tel. +996 312 665802, +996 312 216958
State Academic Russian Drama Theater named after Ch.Aitmatov
122, Tynystanov st., Dubovy Park, tel. +996 312 662032, +996 312 664005
Kyrgyz State Theater of Young Spectators named after Baken Kadykeyev
230, Abdrakhmanov st. tel. +996 312 270569
Kyrgyz State Circus
119, Jumabek st. tel. +996 312 681808
Bishkek City Drama Theatre
242, Ogonbaev st., tel. +996 312 665424
Republican Puppet Theatre
230/a, Yusuf Abdrakhmanov st., tel. +996 312 670641
Kyrgyz National Philharmonic named after T.Satylganov
253, Chuy ave, tel. +996 312 614015, +996 312 613974
Conservatory
115, Dzhantoshev st., tel. +996 312 570225