Bishkek Theatres and Concert Halls
Cultural life in Bishkek - Theaters and Concert Halls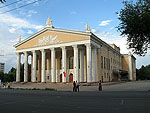 Historically, the Kyrgyz dramatic art is closely intertwined with folk ritual culture, including the arts of akyns-improvisers, storytellers-manaschi, kuuduls (folk comedians), etc.
Their performances, at the time, comprised some elements of actor's art (including plastic, gestures, voice and intonation). The akyn aytyshy (poetry competitions) and speech-wit comedian performances, held at various celebrations, were added with musical numbers. All together, it could be called the first Kyrgyz folk theater.
Before the October Revolution, Kyrgyzstan had no professional theaters and concert halls, in the meaning, we know them today. However, the great popularity of folk arts, including that of storytellers of "Manas" epic, komuz players, kyyakists, akyns-improvisers and kuuduls have necessitated their foundation.
Currently, Bishkek has: the Kyrgyz National Academic Opera and Ballet Theater named after A. Maldybaev, State National Academic Drama Theater named after T. Abdumomunov, State Academic Russian Drama Theater named after N. Krupskaya, State Theater of Young Spectators, Kyrgyz State Circus, Bishkek City Drama Theater, Republican Puppet Theatre, Kyrgyz National Philharmonic named after T. Satylganov.
The Philharmonic building has two concert halls, which also hosts concerts of Kyrgyz classical, traditional and popular music, including various show programs of local and touring showbiz stars.
Addresses of Bishkek Theaters and Concert Halls
Kyrgyz National Academic Opera and Ballet Theater named after A. Maldybaev
167, Abdyrahmonov st., tel. (0312) 66-18-41
State National Academic Drama Theater named after T. Abdumomunov
273, Panfilov st. behind the government building, tel. 66-58-02, 21-69-58
State Academic Russian Drama Theater named after N. Krupskaya
122, Tynystanov st., Dubovy Park, tel. 66-20-32, 62-15-71
Kyrgyz State Theater of Young Spectators named after Baken Kadykeyev
230, Abdrakhmanov st. tel. +996 312 05/27/69
Kyrgyz State Circus
119, Jumabek st. tel. 966 (312) 28-16-31
Bishkek City Drama Theatre
242, Ogonbaev st., tel. 66-54-24
Republican Puppet Theatre
230/a, Yusuf Abdrakhmanov st., tel. 06.17.67
Kyrgyz National Philharmonic named after T.Satylganov
253, Chuy ave, tel. 21-22-62, 21-22-35
Conservatory
115, Dzhantoshev st., tel. 996 (312) 25.02.57