Public Holidays in Kyrgyzstan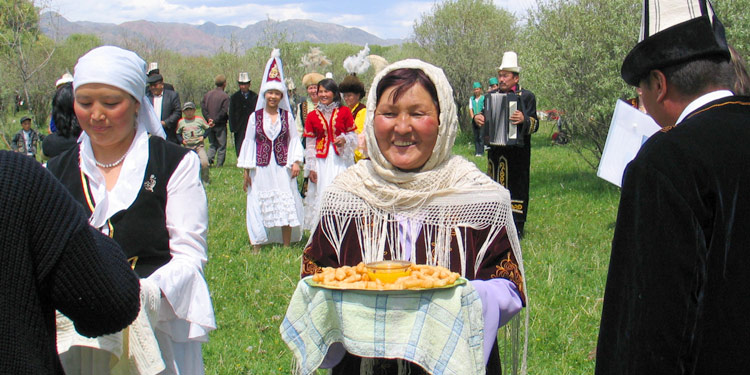 January 1 - New Year's
January 7 - Orthodox Christmas
February 23 - Defenders of the Fatherland Day
March 8 - Women's Day
March 21 - Nooruz
May 1 - Labor Day
May 5 - Constitution Day
May 9 - Victory Day
August 31 - Independence Day
November 7 - Day of the Great October Socialist Revolution
Holidays in Kyrgyzstan include many international holidays, like New Year's and Women's Days, some from the Soviet Union, such as Victory Day and Defenders of the Fatherland Day, and some since independence, such as various memorial days for revolutions. Some businesses will close for major holidays, but enough are open that visitors shouldn't find any major inconveniences. Border stations and governmental offices may be closed, though, so one should check ahead to avoid major problems.
There are two other major holidays that many workers get off: Orozo Ait and Kurban Ait, or Eid al-Adha. These are Muslim holidays that are determined by the lunar calendar, so their date shifts every year. Orozo Ait marks the end of Ramadan, the month of fasting. During Ramadan, some businesses and restaurants will close during the day and only open during the evening meal, but many places will be open normal hours. Kurban Ait, or the Feast of the Sacrifice, is another major holiday, though again, many places will still be open. These holidays are times for prayer, reflection and large meals with family.
Nooruz, celebrated on the equinox in March, marks the start of the new year for people in Iran, the Caucasus, and across the Turkic world. In Kyrgyzstan, people celebrate by holding horse games, dancing, burning juniper branches to rid houses of spirits, and making sumolok, a sweet paste made of slowly cooked grains. In 2009, Nooruz (also spelled Navruz) was included on the UNESCO Representative List of Intangible Cultural Heritage, and in 2010, March 21st was recognized as the International Day of Navruz based on the initiative of Azerbaijan, Afghanistan, Albania, Macedonia, India, Iran, Kazakhstan, Kyrgyzstan, Tajikistan, and Turkey.
Victory Day commemorates the Soviet Union's victory in World War II, and is a time for people to honor the many victims of the war and the great price paid for victory. Defenders of the Fatherland Day is a day of recognition of all those who have served in the military. Since military service was mandatory in the Soviet Union, this holiday is colloquially known as Men's Day. Though not recognized as official public holidays, March 24 and April 7 are the days of the 2005 and 2010 revolutions, respectively, and are generally recognized as memorial days for those who gave their lives in the name of democracy.