Jayma Bazaar, Osh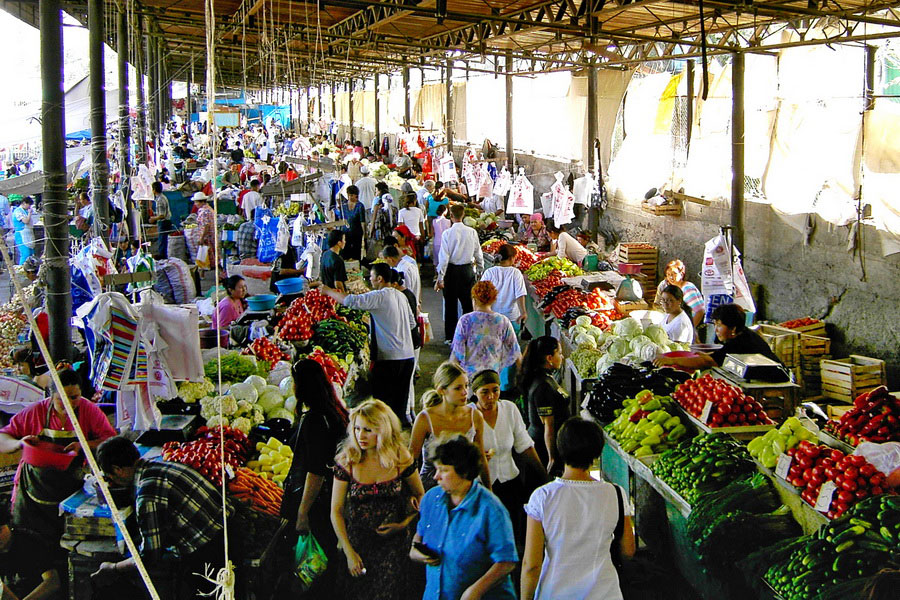 Having found yourself in Osh, you must visit the local Jayma Bazaar. The huge market stretches for kilometers along the western Ak-Bura riverbank. One can find everything there: food products, clothing, household goods, textiles, souvenirs and even a cattle market. The majority of the goods are Chinese, but everything is cheap and in plenty.
The Osh bazaar is considered one of the Central Asian most colorful and biggest markets by sales turnover. And what is more, it has been operating on the same place over 2,000 years, since the time when Osh was crossed by one of the branches of the legendary Silk Road.
Tourists love the bazaar, and locals consider it to be an integral part of their life. Traders not only from all over Kyrgyzstan, but also from China, Uzbekistan and Tajikistan come in flocks to sell their goods there. The bazaar is open 7 days a week from early morning till 5-6 PM. The bazaar is most crowded on Sundays, and least crowded on Mondays.
An inexperienced tourist may feel overwhelmed by the hustle and bustle of the bazaar: crowds of people, traders and porters with trolleys, various stalls where perfumery is set out pell-mell with Chinese jeans, and next to it right on the ground there are apples in cardboard boxes and cheap toys.
Seasonal vegetables and fruits look particularly appetizing in summer: juicy red and yellow apples, ripe peaches, sweet grapes grown under the generous eastern sun, yellow melon and striped watermelons. And there is also a variety of dried fruits and nuts: dried raisins of different grape varieties, apricots, dates, pistachios, walnuts, almonds and peanuts - sold directly from the huge bags. Lively women in bright colorful dresses offer fragrant, hot breads right from the tandoori oven. It is impossible to go past ready-to-eat food: kebabs, pilaf, samsa and beshbarmak without your mouth watering.
Equally exotic is a meat market, where in addition to conventional beef and mutton they sell horse meat, and various meat byproducts, which are used as food too, and also the delicacy, exotic for Europeans - lamb's heads. All parts are offered to taste: eyes, ears, and tongue, while sheep brains can be pick out right from the brainpan with a spoon.