Church of the Kazan Icon of the Mother of God in the village of Old Sloboda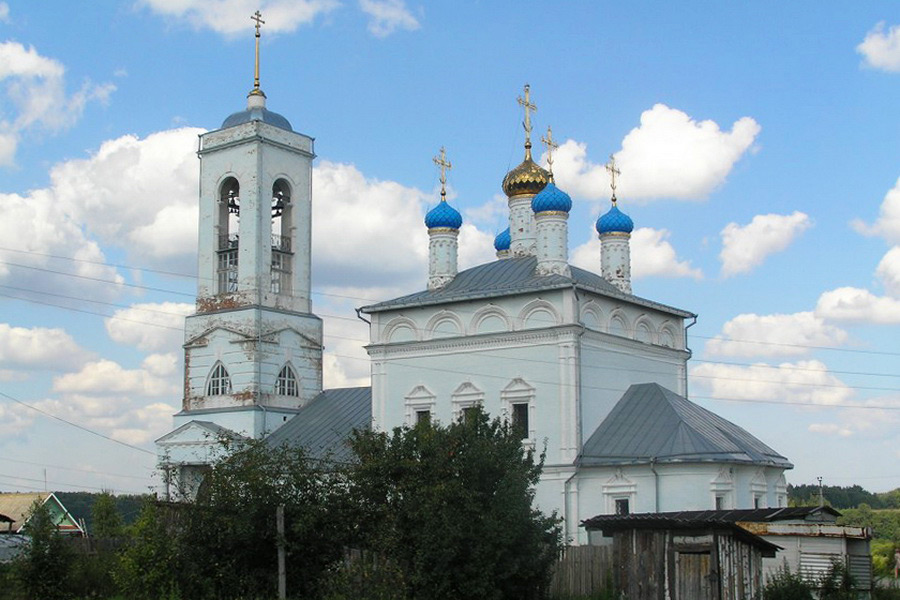 source: gorodaleksandrov.ru
The Church of the Kazan Icon of the Mother of God was built in the 17th century in the village of Old Sloboda, located 7 kilometers from the city of Alexandrov, Vladimir Region.
From ancient times, the village belonged to the Grand Ducal Court. Here was the summer residence of the great Russian princes during the time of the Pereyaslavsky Zalessky Principality. The estate was called Alexandrova Sloboda and was quite large. The princes lived in a wooden palace, a stable, a horse carriage and a wooden church were built on the plot.
The foundation of the estate and the church date back to the 12th century. The estate of the princes moved to the New Alexandrov settlement in 1513. A palace village remained on place of the old Alexandrov settlement.
The attention of the kings was again turned to the village in the 17th century. The maneuvers of the famous "amusement troops" of young Peter I were carried out here.
On August 10, 1696, Peter the Great indicated to begin the construction of a new stone church of the Kazan Icon of the Mother of God on the site of a wooden church that existed in the village from the beginning of the century. Such was the will of the brother of Tsar Ion V (he died in January 1696). Spiritual mentor of Peter Feofan Feofilaktovich supervised the construction. The temple was completed on May 4, 1698. 3 chapels were consecrated in the church: for the name of the Kazan Icon of the Mother of God, Saints John the Baptist and Nicholas the Wonderworker.
The bell tower of the temple was updated in 1865. Funds for the construction of a stone three-tier belfry were allocated by the Moscow Annunciation Cathedral.
A plate with information about the date of the end of construction, main builder has been preserved inside the first tier on the wall of the ex-dinning room. Such plates are called temples.
The cathedral was built in the typical style of the 17th century posad temples. The refectory and the bell tower adjoin the temple from the west, Altar is on the eastern part. The main building of the temple is crowned with five chapters.
The real shrine of the local temple was the miraculous icon of the Mother of God of Kazan, which was brought here from the closed Simeonovsky Monastery. She was in the church of the village of Old Sloboda until its closure in the 30s of the XX century.
Partial restoration of the monument began in 1960.
In the 2000s, residents of the city of Alexandrov and the village of Staraya Sloboda began to clear the temple on their own. Later, its reconstruction began.
Since the fall of 2006, services are regularly held in the church and it is open to the public.