Best Time to Visit Russia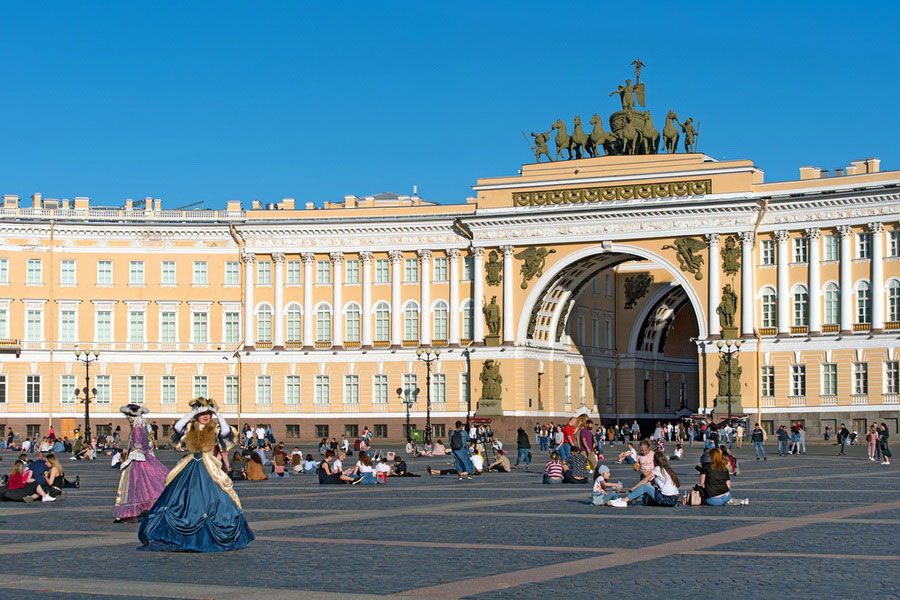 Russia Seasons
Visit Russia in Spring:

Culture & History
Go back to the USSR with mega-soviet parades and then step back in time even further to ancient Rus' with Slavic holidays like Maslenitsa and Paskha.
Visit Russia in Summer:

Youth & Fun
Join the Russians celebrating the long-awaited arrival of the sun in their three-month-long jamboree of cultural festivals, parties and camping.
Visit Russia in Autumn:

Peace & Quiet
Glorious or grey, whatever the weather, autumn is always a wonderful time to visit, not least because you'll have the country all to yourself. The troops of tourists wielding selfie-sticks are replaced by locals pouring back to the city from their country dachas. Everything feels more down-to-earth, more authentic and more Russian.
Visit Russia in Winter:

Tradition & Nature
The star of the Russian calendar is, of course, New Year. Visit cities in the Arctic Circle like Murmansk or Petrozavodsk to experience the eye-lash freezing temperatures of the real Russian winter.
Best Time to Visit Russia
Spring in Russia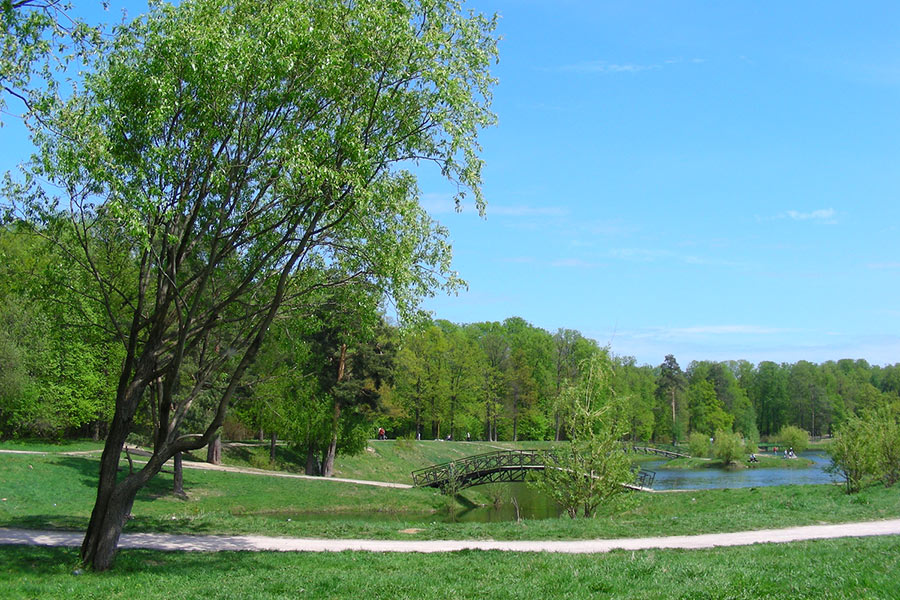 Moscow spring
The sun is slow to come when it starts its ascent in March. All signs of life are still shrouded under the snow that accumulated throughout the winter. But, after four months of darkness and bitter cold, the Russians are desperate for any excuse to make merry! Hence, the week-long blini feast at the beginning of March. Buttery, golden blinis, which represent the rising sun, are made by the dozen in homes and outside in street-fairs. One of spring's most memorable sights is the burning of a giant pagan effigy, Lady Winter, atop a bonfire on the last day of Maslenitsa.
Sadly, this spectacular end to winter is mere theatrics— the threat of biting cold, stinging snow and treacherous ice looms till May. In fact, the onset of pleasant days can be pinned down to an exact date— May the 1st. This day is often referred to as Spring day, though its real name is Labour day. Russians flock in the hundreds of thousands to the main cities to take part in terrific soviet-era parades. The atmosphere is jubilant, the weather almost always t-shirt appropriate but the period between the two May holidays from the 1st to the 9th can be as busy (and dear) as the peak of the summer. Those willing to brave the erratic, sometimes arctic, conditions of March and April will be rewarded with discounted accommodation, crowd-free museums and the chance to partake in iconic Soviet celebrations like Women's Day.
Dates to save
March 8th: International Women's Day
April-May: Paskha (Russian Easter)
Last week of April—first week of May: Grand Opening of Peterhof's Fountains (Saint Petersburg only)
May 1st: Labour Day
May 9th: Victory Day
Locals' advice: Exploring the great outdoors can be difficult in March and April when the fluctuating temperatures create puddles of thawing snow which then freeze over. May, on the other hand, offers clear skies, clear streets and attractions that are still reasonably clear of crowds. The last weeks of May are arguably the best time to visit Russia.
Summer in Russia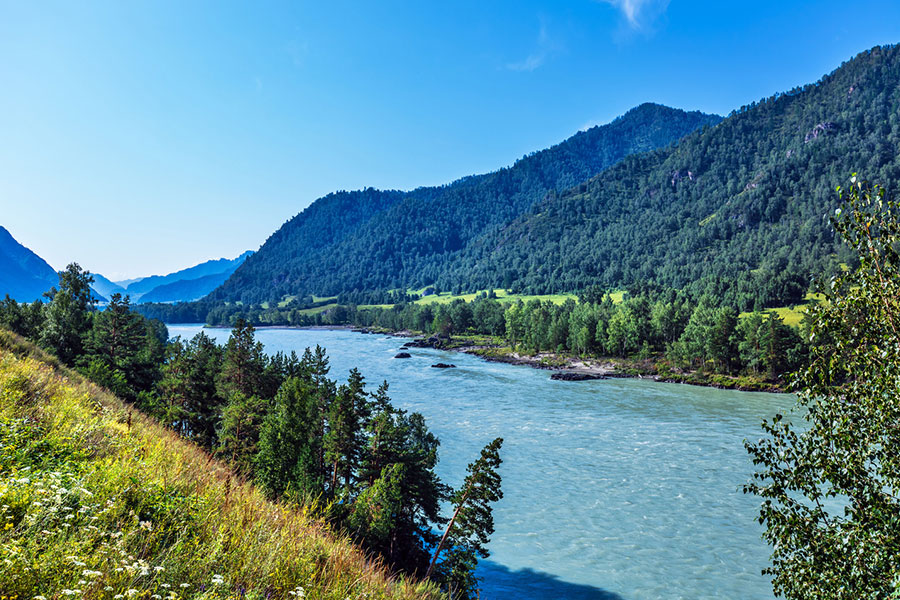 Summer in Altai
The word "Russia" may be analogous with snow but, for the most part, the country is best seen from June to August. Under the surprisingly warm rays of the sun, royal estates with magnificent fountains and stunning gardens blossom and cities are abuzz with cultural festivals. In Saint Petersburg, the phenomena of the White Nights colours the evenings rosy pink. Time seems to stop, as days stretch into infinity under the sunlit night-sky. Further south in Moscow, it isn't unusual for temperatures to rise into the 30s. But don't forget to bring your parka! Except during July and the first half of August, low teens and drizzly days are a far too common occurrence.
For sun-soaked days and balmy waters, follow the trail of Russians taking the night-train or plane to Krasnodar Krai. One of the most southerly regions of Russia, it gleefully dispels the myth that Russia is a cold land with cold people. Krasnodarians are famed for their warmth, so much so that some northern Russians find their chumminess a little overwhelming! Yet Krasnodar is no provincial backwater. The jewel in the region's crown, Sochi, is referred to as "the Riviera of Russia". The sparkling azure waters of the Black Sea backgrounded by the stunning peaks of the Caucasian mountain range first captured the hearts of greek merchants. One thousand nine hundred years later, even the cold-heart of Stalin was so moved by Sochi's natural beauty that he had a dacha built overlooking the city. His palace-sized "dacha" along with the romanesque Soviet sanatoriums and today's mega-yachts docked in the harbour create an unrivalled aura of grandeur that is unique to this particular part of Russia.
Russia's ritziest spots, like Sochi, are also the priciest. But even in the exceedingly popular holidaying locale surrounding the Black Sea, there are some gems that have yet to be capitalised by overpriced resorts. Gelendzhik is one such example of a seaside paradise which, unlike other more affordable cities like Anapa, isn't overrun with crowds. For an even more secluded holiday, there's no better place to enjoy the sun than the verdant mountains of the Altai— the least populous region in Russia's wildest district, Siberia. Under the warm rays of the sun, Altai's alpine meadows make for heavenly hiking terrain while the glacial rivers cascading down from the snow-capped Altai Mountains are prime rafting waters.
Dates to save
Last week of June: Scarlet Sails (Saint Petersburg only)
July 7th: Ivan Kupala (folk holiday)
Last Sunday of July: Navy Day
August 2nd: Paratroopers' Day
August 12th: Russian Air Force Day
Locals' advice: Crowds are drawn in by the magic appeal of Russia's fleeting summer season and prices rise. Of course, this is no surprise, but there is a catch to visiting in summer that most tourists aren't aware of. As the last snows melt, Russia's famous theatre troops pack up and head on tour overseas and only subpar performances are staged locally (though there are festivals aplenty).
Autumn in Russia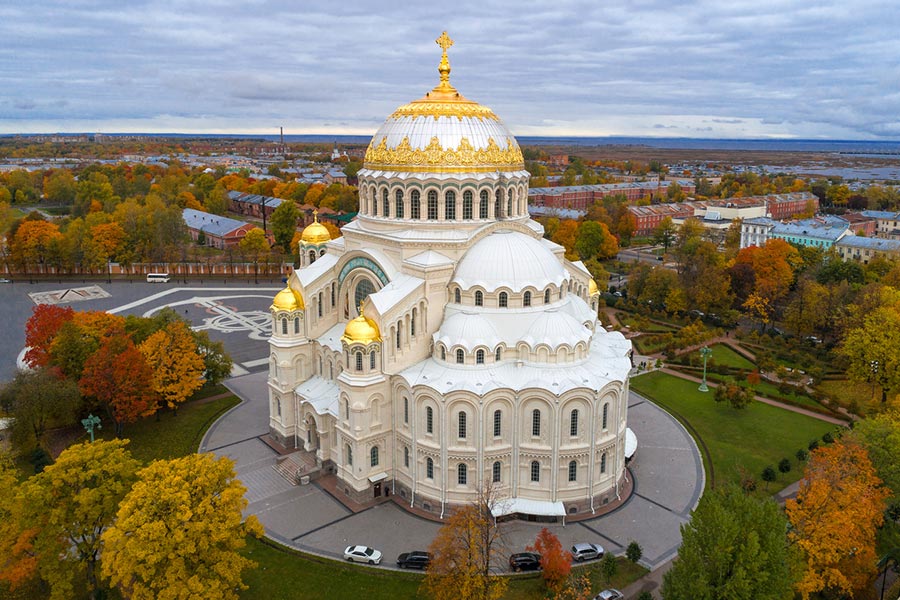 Golden autumn in Kronstadt
Fleeting are the golden autumn afternoons in Russia. Like sunburnt leaves quivering on trees, there's no knowing how long they'll stay. After the last two weeks of August (which are almost always miserable and grey), the sun suddenly reveals itself for what can be the entirety of September and sometimes even October! This period of surprisingly pleasant weather is known in Russian as Babye Leto. Ask the locals, and the majority will tell you that Babye Leto is the best time to visit Russia. The autumnal foliage of Russia's famed forests seems to set the entire country ablaze. From buzzing metropolises to tranquil villages, the beauty of this season is gloriously apparent.
"I love the lush nature of wilting,
In scarlet and gold clad forests"
A.S. Pushkin
Many of Russia's greats took their inspiration from this season. Pushkin made the low-lying hills of Pushkinskiye Goriy in the western region of Pskov famous with his odes to fall. There is no image more emblematic of Russian autumn than that of Pushkin's secluded dacha surrounded by apple orchards. Karelia too is another region within reasonable distance of Moscow and Saint Petersburg whose other-worldly beauty would make it a worthy muse for any poet. At this time of year, swarms of mosquitoes are no longer an issue and the endless landscape of forest, powder-white cliffs and mirror-like lakes are flooded with nature's bounty of mushrooms and cranberries.
On the opposite coast of Russia, autumn reveals itself in an entirely new light. In this far-flung territory, the air only really starts to warm up in the last weeks of summer. By September, the stark volcanic landscape is bathed in magnificent sunbeams and the temperature averages at a lovely 22c. This season is especially apt for exploring Primorsky Krai and its capital city, Vladivostok. Hikers, mountain-bikers and even surfers fly from all over to the make the most of the splendid weather in the "San-Francisco of Russia".
Dates to save
Locals' advice: There aren't many celebrations of note in autumn. The lack of holidays, however, doesn't translate to a lack of reasons to visit Russia. On the contrary, the lack of crowds makes it one of the best times to go! While the extravaganza of outdoor summer festivities dims down, locals retreat to snug jazz bars and richly decorated theatres. Russia's prized prima-donna dancers return from abroad, heralding the start of the ballet season.
Winter in Russia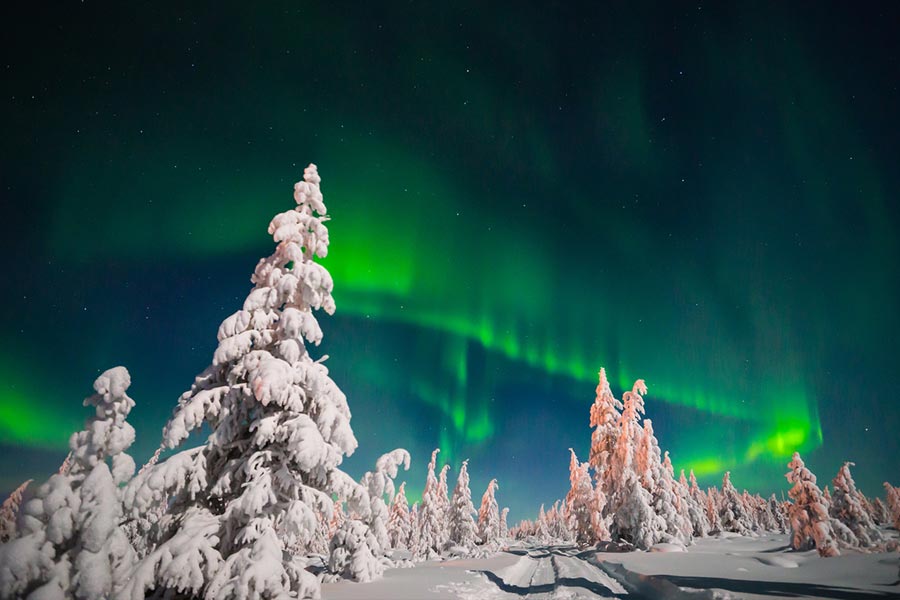 Winter in Yakutia and the northern lights
Visiting Russia in winter truly is an experience like no other. And, contrary to popular belief, one needn't brave temperatures of -40c or megalithic snowstorms. Unless you have your sights set on Siberia or the Arctic Circle, temperatures shouldn't go beyond -20c and will most likely hover around -7c during January, the coldest month. The snow is simply stunning and all the traditional winter activities that Russians relish, like ice hockey, cross-country skiing, troika-riding and ice-fishing, make holidays at this time of year very special. A changing climate, however, means that a white Christmas can't be guaranteed in cities like Saint Petersburg and Moscow. For a snow-filled holiday that won't disappoint, zip up your duffle coat and head to the Arctic Circle!
In the land of tundra and polar bear, daring tourists can travel to the coldest inhabited place on earth— Oymyakon, a village in Russia's Far East where the mercury plunged below -70c. It may sound frightfully cold but, although Napoleon was scared of the Russian winter, there's no reason you should be! Locals in the world's largest arctic city, Murmansk, live perfectly normal lives with temperatures that often go below -30c. As long as you wear thermals and fleece-lined boots, you'll be fine. Many Russians purposefully travel to places like Karelia, Baikal, the Urals and Yakutia to experience the sub-zero conditions. No, the Russians aren't deranged! The cold truly does work wonders. Locals teach tourists how to make "ice art" by hurling cups of steaming water into the frigid air. Excursions by foot, bike or even snowmobile take visitors on adventures over the crystallised waters of vast lakes and the Aurora Borealis mesmerise those brave souls willing to wait out through freezing nights. If you have a fire in your soul.
Dates to save
31st December-8th January: Russian New Year

*

7th January: Orthodox Christmas
February 23rd: Defender of the Fatherland
* In Russia, New Year's celebrations don't end with the fireworks at midnight. Music, dancing, feasting, gift-giving and the terrific exuberance of almost everyone you meet lasts an entire week…as stipulated by Russian law!
Locals' advice: Winter may be the low-season for foreign visitors but the first week of January is as packed and pricey as the height of summer, if not more so, as almost all Russians splurge out during this extraordinary nation-wide holiday. If you're keen on immersing yourself in Russian culture, rowdy crowds, lavish parties and all, then New Year will be the best time to visit Russia.
Rules of Thumb When Planning a Russian Vacation
Being such an enormously diverse country, Russia is a year-round destination. Though there may be a better season to suit your interests and holiday plans, one could almost say that anytime is a good time to visit Russia. Should you wish to avoid crowds and paying higher prices, however, there are a few dates you should avoid. Namely, the periods when Russians go on holiday:
Spring
March 23-29th and May 1-10th (official holidays from May 1-3rd and May 8-10th)
Summer
June 11-14th and all of August
Autumn
October 26th-November 2nd
Winter
December 30th-January 13th (official holidays from January 1-10th)