Church of Dormition
Church of Dormition in Ivanovo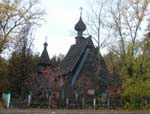 source: avto-nomer.ru

The unique wooden Dormition Church in Ivanovo was built in the 17th century. The building has the tall pointed roof. Its dome is covered with wooden tiles. In 1817 the church was consecrated in the honor of the Dormition of Our Lady.
In the beginning of the 20th century the founder of the city museum D.G. Burylin moved the church from the old Dormition cemetery to the new, Posadskoye. The church was restored and opened on January 15, 1906. The main structures of the temple have survived since the end of the seventeenth century. The bell tower was added in 1905. On May 11, 1946 the ancient church was given to the community of Old Believers; after that it was consecrated in the honor of the Kazan Icon of the Mother of God.