Ivanovo, Russia
Ivanovo - the heart of the textile industry in Russia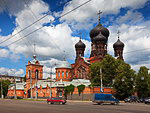 The first association with Ivanovo is the rosy Russian beauties in a ring dance. Sometimes it is referred to as the "city of brides-to-be".
The name stuck in the last century, when Ivanovo was the heart of the textile industry in Russia. To work at textile factories in Ivanovo girls came from all over the Soviet Union.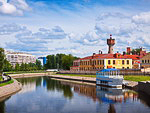 Ivanovo is a typical industrial town. In 1561 the Tsar Ivan the Terrible gave it the Shuisky family and the Cherkassky princes. In the 17th – 18th centuries the first textile factory was established there. In 1743 Ivanovo came to the Sheremetyevs. By the beginning of the 19th there were more than 100 factories with the latest equipment in the settlement.
In 1871 it became the city called Ivanovo-Voznesensk. The architecture of Ivanovo was represented by luxurious mansions and brick buildings of textile mills. The most ancient of the surviving monuments of Ivanovo is dated the end of the 17th century.
Ivanovo - Interesting Places