Ivanovo, Russia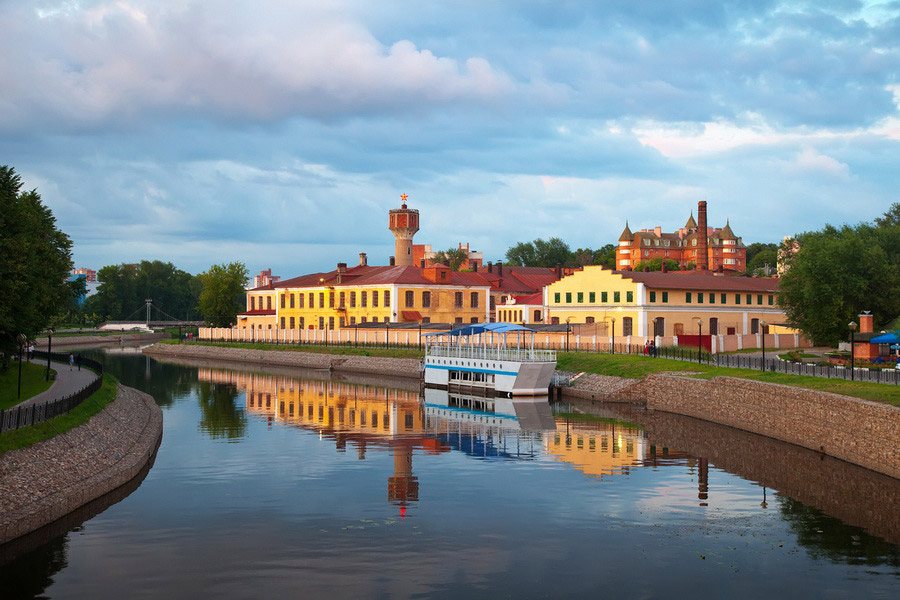 Tours, Attractions and Things To Do in Ivanovo
Ivanovo Travel Guide
Ivanovo, Russia, a modest city located 290 kilometers from Moscow and 100 kilometers from Yaroslavl, rose to prominence in the 18th century as the Textile Capital of Russia. A pearl along the Golden Ring of Russia, Ivanovo has maintained its reputation as a flourishing industrial city which impresses visitors with unique museums and historic avant-garde architecture.
History
The city of Ivanovo developed from a village which was founded on the Uvod River in the 15th century. The precise circumstances of its founding remain murky, yet historians have found mention of it in a document dating to 1651. The settlement once belonged to Ivan the Terrible who, after marrying Maria Cherkassk, gifted it to the princes of Cherkassk. During the Time of Troubles of the early 16th century, a Polish-Cossack camp was established here. In the early 18th century, it passed into the hands of the counts of Sheremetyev, who remained in control for the next 120 years.
Several villages were established around the settlement, which came to be known as Voznesensky Posad. After the hamlets were unified, it was renamed Ivanovo-Voznesensk, and in 1932 the city's name was whittled down to Ivanovo.
In 1742, the first factories were founded in Ivanovo, in which canvases were manually churned out on machines and bleached in river water. Production in Ivanovo continued to develop, with residents first weaving material from thin, durable linen and later from calico. Over time, the city grew into the largest center of textile production in the entire Russian Empire. This title was no small source of pride for its residents, and even the city's coat of arms depicts a girl in folk costume sitting with a spindle and spinning wheel. Ivanovo began to be dubbed "Calico Region", "Textile Capital of Russia" and even "City of Brides", since the rapid development of the city's textile industry led to a disproportionately high number of women among its population.
Yet Ivanovo's significance was not limited to its superb textile industry alone. Having set its sights on becoming the third capital of Russia, the city became a platform for various social experiments. Russia's finest architects were commissioned to work in the city, which became a center for the constructivist architecture popular in the Soviet Union in the 1920s-1930s. Some of the country's most revolutionary architectural endeavors were carried out here, including communal housing, the first Soviet kitchen factory, a constructivist railway station and sundry avant-garde projects.
After World War II, Ivanovo's rapidly developing heavy industry generated a boom in its housing industry. Although employed in factories and industrial settings, residents were provided with ample parks in which to relax and enjoy the brisk Ivanovo weather in spring and summer.
The 18th- early 20th century estates of Ivanovo's merchants and manufacturers played a significant role in the development of the city's material and cultural vibe, as is evidenced in buildings such as the State Medical Academy and various 1920s factories in which innovative architecture was flamboyantly displayed.
Ivanovo Today
Today the city of Ivanovo, located in Ivanovo Region (Ivanovo Oblast) along Russia's Golden Ring, invites visitors to step back in time and embrace its spirited heritage.
The city offers three theaters, four cinemas, the Ivanovo State Circus and Ivanovo State Philharmonic Society. Stepanov Park of Culture and Leisure, named after a 1920s member of the Ivanovo Council of Workers and Soldiers, is spread across 70 hectares of land which once belonged to a local industrialist family, while various monuments pay tribute to local historical figures. The most notable of these is the Monument to Yakov Garelin, an industrialist who managed and modernized a pivotal textile plant in the 1840s.
Ivanovo's eclectic assortment of museums promises to satisfy every interest. Visit the House Museum of the Bubnov Family to see the city's only surviving building with a mezzanine or the Museum of the National Artist of Russia A.I. Morozov, housed in a 1910 log cabin. Other unique galleries include Museum of Soviet Car Industry, Museum of Ivanovo Chintz, Ivanovo Regional Art Museum and the Ivanovo State Museum of History and Local Lore of DG Burylin. Dozens of Ivanovo's famed constructivist-era buildings also remain intact, most notably the unique Bird House, Horseshoe House and Ship House.
The spiritual life of Ivanovo can be seen in its many 19th-20th century churches and monasteries. Among them are the wooden Assumption Cemetery Church (17th century), Church of Our Lady of Kazan (1810), Holy Assumption Monastery (1834), Transfiguration Cathedral (19th century), Church of the Vladimir Icon of the Mother of God (early 20th century), the popular Sviato-Vvedensky Monastery (1901) and Temple in Honor of All Who Sorrow (1901, rebuilt in 1997-1999), which is counted among the most beautiful buildings in the city.
Ivanovo, Russia also offers a lively festival and concert scene. The city hosts many annual festivals, including Zerkalo (Mirror) International Film Festival, otherwise known as Tarkovskyfest; International Muraveynik (Anthill) Puppet Theater Festival; Antifabrika Rock Festival and the Black Rose Arkady Severny International Music Festival.