Kremlin Embankment, Kazan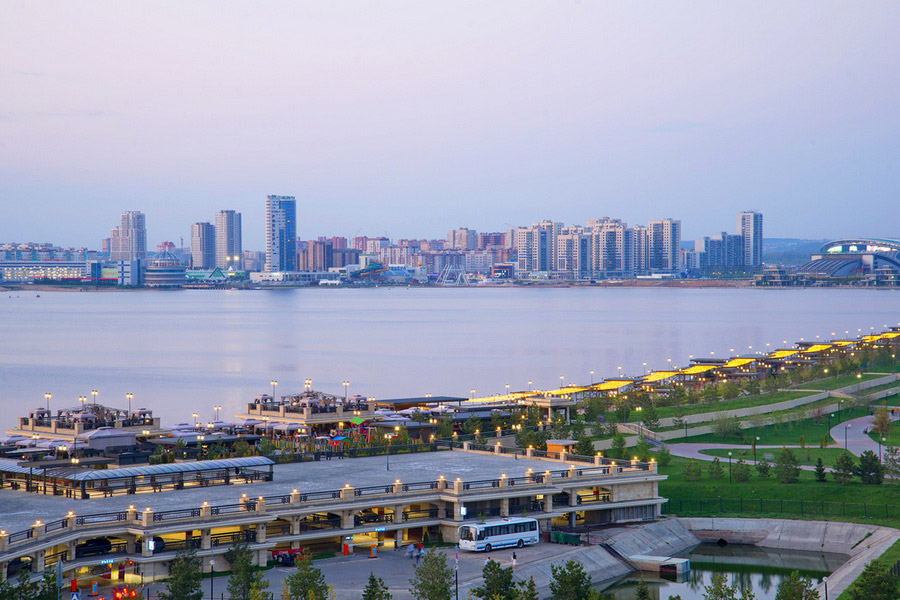 Kremlin Embankment in Kazan, Russia is one of the city's newest yet most adored attractions. Stretching for half a kilometer along the Kazanka River, beginning at the walls of Kazan Kremlin and ending at Kazan National Cultural Center, it offers year-round entertainment for visitors of all ages.
A walkway along the river has existed for some time, yet with the addition of nearby attractions such as Palace Square, Palace of Farmers and a residential complex, a makeover for the embankment was also in order. The grand opening of the first section of the renovated embankment was timed to coincide with the 2013 sporting event Universiade, and in summer of 2015 the full opening of the new city landmark was celebrated. The name "Kremlin Embankment" was chosen by internet vote by the residents of Kazan.
The embankment remains crowded both in summer and winter, having become a venue for festivals, master classes, exhibitions, competitions and more. It consists of three parallel paths: the first is a hiking path which stretches along the shore; the second winds under a glittering canopy which holds numerous entertainment pavilions, cafes and shops before ending at one of the longest winter ice rinks in Europe; and the third is completely flat and equipped with special markings for roller skates, scooters and bicycles. Sidewalks are separated by flower beds, lawns and elegant fountains and the recreation area illuminated by beautiful lanterns. The latter is also known for its unusual sculptures and original benches which are engraved with poems by Pushkin and shaped to resemble a butterfly, a piano and the like. Special couples' benches have also been installed.
Kremlin Embankment has three main alleys. Alley of Arts, which is equipped with gazebos for performing artists, a pavilion for expositions and a piano which passerby may play, will delight visitors with a creative bent. The alley ends at a street library which is replenished by the townspeople, who in exchange for their contributions are permitted to rent sports equipment for free.
Family Alley is intended for recreation of young couples with children and includes modern playgrounds with swings, a children's library and a special nursery area. Children especially enjoy the Italian steam train, the French carousel with horses and the chain carousel.
At Youth Alley, young people can meet with friends to compete in various games, including floor chess and checkers, sea battle and twister. The sports zone is also located here.
For New Year's Eve, Fairy Town magically takes shape at Kremlin Embankment. Families can visit the headquarters of Santa Claus to watch him assemble gifts, while fairy elves teach everyone how to play musical instruments. The festive mood of Fairy Town is accentuated by bright decorations, cheerful music, fun slides and much more.
With its magnificent city views and picturesque overlook toward Kazanka River, Kremlin Embankment in Kazan serves as an ideal platform for photo shoots and a fun way to experience this modern regional capital.