Kul Sharif Mosque, Kazan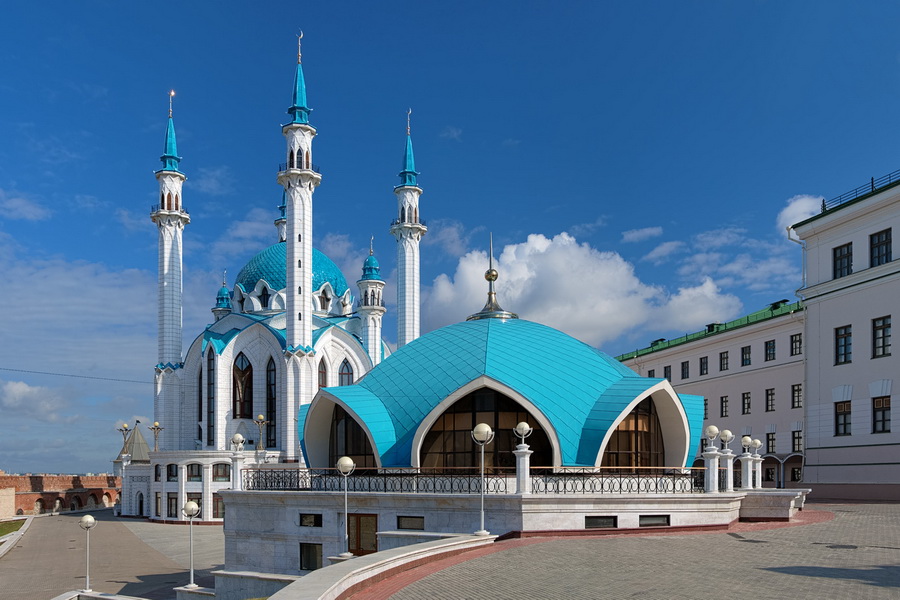 Kul Sharif Mosque in Kazan opened its doors in 2005 as the central mosque of Tatarstan. The construction of the complex, located inside the Kazan Kremlin, took over 9 years and was built on the initiative of the President of Tatarstan himself.
It is believed that in the 16th century a similar mosque was located inside the Kremlin, which was later destroyed during an attack on the city. The territory of the former cadet school was chosen as the site of construction for the famous 21st-century Kazan mosque, and the building was funded by donations from more than 40 thousand people and organizations. Their names have been recorded in a book which is kept in the main hall of the house of worship.
The mosque was named in honor of Kul Sharif, the last Imam of Kazan, Russia who bravely defended the city from invaders before eventually perishing in battle. According to legend, he was killed on the roof of the original mosque before it was destroyed.
The walls of the Kremlin mosque are decorated with ornamental braids and verses from the Koran etched in marble. All of the light fixtures are made of Czech glass and were designed by Tatar artists. The mosque's elaborately decorated doors are made of Krasnodar oak, while the building itself is overlaid with marble.
Notable elements of the unique architecture of Kul Sharif Mosque include two squares which intersect at the base of the building at an angle of 45 degrees. At the top of the structure's pointed arches rests a 35-meter-high dome in the shape of the Kazan cap, a symbol of the power of the Kazan khans. The pointed arches themselves embody the interconnectedness of time as well as the frame of the yurt, the traditional dwelling of all nomadic Turks. Its four minarets, each of which are 58 meters high, are topped with silver crescents.
Depictions of tulips, an ancient Bulgarian symbol of rebirth and prosperity, are strewn throughout the interior of Kul Sharif Mosque. The magnificent carpets blanketing the floors were donated by the government of Iran.
The mosque can accommodate about 1,500 worshippers. Also located on the complex is the Museum of Islamic Culture of the Volga Region, the Museum of Ancient Manuscripts and a library.
Entrance to Kul Sharif Mosque in Kazan is free, but you must purchase a ticket to visit the museums. The complex is open daily from 9 am to 6 pm. If you are planning to visit Kul Sharif on Friday, bear in mind that the time of prayer is from noon until 2 o'clock. The mosque has a special dress code, and men and women must cover their knees, shoulders and heads. Capes are provided for any visitors who are not dressed in appropriate attire.