Märcani Mosque, Kazan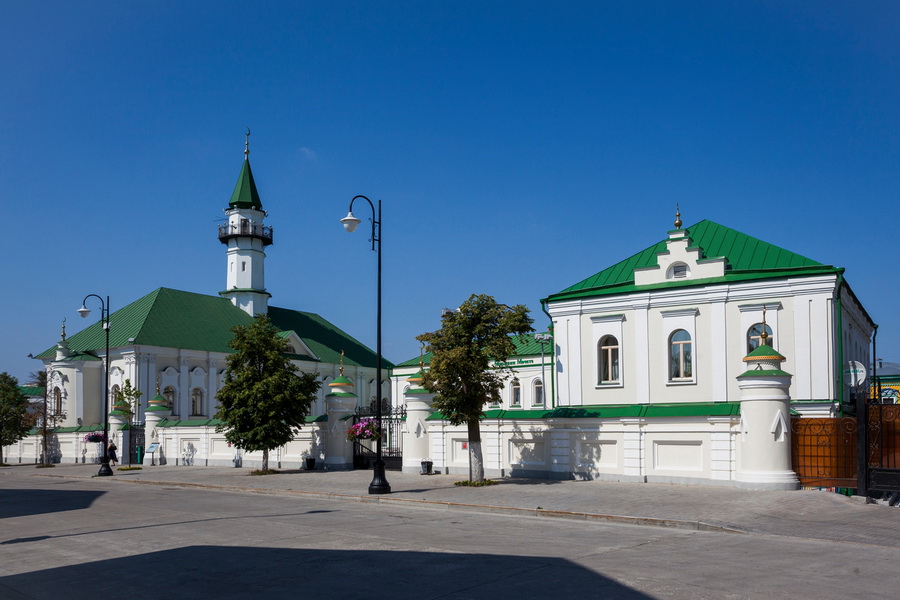 The Märcani Mosque (also spelled al-Marjani, Mardjani and Mardzhani) in Kazan, Russia was the first stone mosque built in the city's famed Old Tatar Settlement. The permit for its construction was given in the 18th century by Catherine II herself as part of a new policy of religious tolerance being implemented in the Russian state.
Residents of Old Tatar Settlement collected 5000 rubles to build the house of worship, and in 1767, construction work began. Just three years later, in 1770, the grand opening of the mosque took place.
The Märcani Mosque is a synthesis of Eastern and European tradition. Its architecture harmoniously combines a minaret, traditional Tatar floral ornamentation and elements of the Petrine Baroque style popular at the time.
Legend claims that during construction of the minaret, the mayors of Kazan, capital of the Tatarstan Republic, expressed concern about the height of the building to Catherine II. In response, the empress declared that she had provided the Tatar people with a home on earth, and upward they could rise as high as they wished, since the sky was not a part of her domain.
Initially, the mosque was called First Cathedral. In the coming years, the name changed several times depending on the situation: Efendi (Lords) is associated with the predominance of wealthy people among the settlement's population and Yunusovskaya with the Yunusov merchants who were patrons of the mosque. Finally, the name Al-Marjani was settled upon in honor of Imam Shigabutdin Mardzhani, who served at the mosque in the latter half of the 19th century and who made a huge contribution to the development of education in Kazan.
Although never counted among the largest mosques in Russia, for many years Al-Marjani served as the primary mosque in Kazan. It continued to function even in the Soviet era, at which time it was the only functioning mosque in all Kazan. Today it remains open for parishioners, and when services are not being held tourists are welcome too. Both residents and guests come here to say prayers, hold important holidays such as Eid al-Adha and Eid al-Fitr, observe Tatar cultural events and perform various Islamic rituals.
Remember that when visiting Al-Marjani Mosque in Kazan you must remove your shoes when entering. Conservative clothing should be worn, including a large headscarf for women and a small hat or other head covering for men.