Old Tatar Settlement, Kazan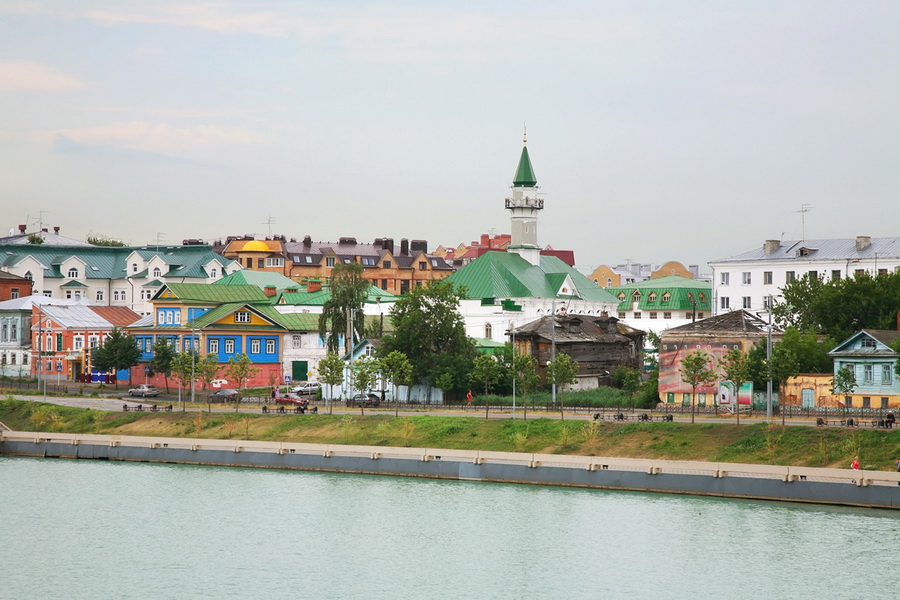 Old Tatar Settlement (Staro-Tatarskya Sloboda) is one of the most historically significant attractions in Kazan, Russia. The only preserved complex from the formative period of the Tatar nation, each building in the colony is a fascinating slice of history associated with the development of Tatar culture.
Archaeologists believe that its origins date to the Bulgarian settlements of the early Middle Ages, although the territory's intensive development did not take place until the latter half of the 16th century when, on October 14, 1552, Ivan the Terrible's troops captured Kazan after a months-long seige. The land on the banks of Lake Kaban was allocated to the conquerors as booty and came to form the bedrock of Old Tatar Settlement. Its first inhabitants were the Tatar feudal lords and soldiers who served Ivan the Terrible, and to this day the town still retains features of a typical Tatar colony.
By the second half of the 16th century, the settlement had 150 courtyards, and the ensuing years ushered in even greater growth with the settlement of burghers and artisans in the colony. The architecture of Old Tatar Settlement is reflective of eastern traditions. Houses were built mainly of wood, although they sometimes had a brick foundatin. Several wooden mosques were built in the village from 1749-1759.
Intensive construction of the colony began with the visit of Catherine II in 1767, after which restrictions on the construction of stone mosques and public buildings was lifted. The first stone mosque in Old Tatar Settlement, now known as Marjani Mosque, was built in 1770. The town was constructed on the principle of religious and communal quarters, or mahallas. Essential components of each mahalla included a mosque, madrasah, house for the mullah and parishioners' homes. By the 19th century there were already 8 mahallas, which over time grew to 10.
From its inception, residents of Old Tatar Settlement were engaged in trade with the full support of the government. The famous Haymarket, which evolved into the largest eastern market at that time, was located in the settlement. Everything from imported Persian and Chinese goods to Arabian horses and carriages from France could be procured at Haymarket, where the monthly turnover was several million rubles in gold. By the early 20th century, Sennaya Square in Old Tatar Settlement was not only a shopping mall but also a social and spiritual center. Entertainment establishments frequented by the Tatar intelligentsia also sprang up on the square, as well as editorial offices and 11 educational institutions.
During the Soviet era, many wooden historical buildings were demolished and replaced with conspicuous high-rise buildings which lacked architectural value. Yet beautiful gabled homes, gates with polychrome decor, covered terraces with patterned frames and multicolored glass and Moorish-style buildings have remained.
Today, visitors to Old Tatar Settlement can catch a glimpse of commercial, industrial, residential and educational strucutres preserved in the colony since its glory days.