Temple of All Religions, Kazan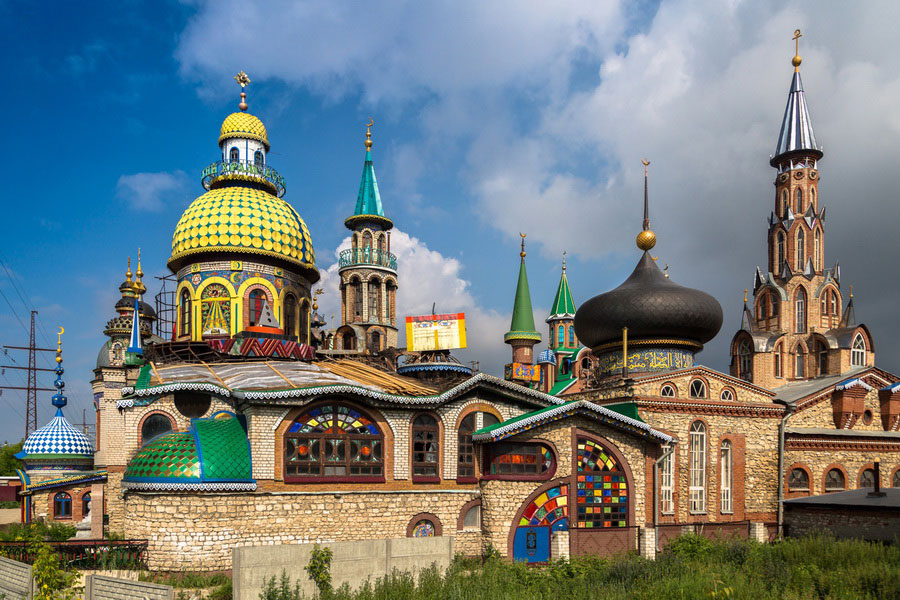 Temple of All Religions is a unique complex located near Kazan, Russia in the Tatarstan village of Staroe Arakchino. Also known as the Ecumenical Temple, Universal Temple and Temple of Seven Religions, it includes an Orthodox and Catholic Church, a mosque, Chinese pagoda, Buddhist temple, Jewish synagogue and symbols of several ancient religions. The temple does not function as a religious building, but is regarded instead as an international cultural center whose purpose is to unite followers of different faiths.
The temple is the brainchild of local architect and public figure Ildar Khanov. While still a student, Ildar Khanov concocted the idea of creating a center which would unite all religions. Khanov loved to travel; when he visited India he became interested in Buddhism and practiced yoga, and in Tibet he studied the secrets of ancient Chinese medicine. Upon returning to Tatarstan, Khanov believed that he received the gift of healing and began a lifelong practice of exercising his abilities.
Khanov was prompted to pursue his lifelong dream after someone who resembled Jesus miraculously appeared to him in 1994. He originally planned to construct the Universal Temple under the guise of a hotel in the city of Naberezhnye Chelny, but his secret was soon discovered and construction was curtailed. The project was then relocated to Khanov's native village, to the very site of his childhood home. Khanov's brother Ilgiz, who graduated from the Moscow State Industrial Art University, served as his righthand man during the project. As word of Khanov's venture spread, fans and residents also began to offer financial and practical assistance.
During construction, a spring was dug near Khanov's house in order to provide drinking water for builders and participants. However, after several quarrels broke out among the many people who were bringing large containers to fill with water from the coveted source, it was decided to plug the spring back up again.
Khanov had ambitious plans for the Ecumenical Temple: He pictured his creation with sixteen domes that each symbolized a separate faith, and an interior with separate halls to celebrate Chinese ancestor worship, Tibetan Buddhism, Japanese Zen Buddhism, Mayan polytheism, Islam, Hinduism, branches of Christianity, Freemasonry and even an alien-centered belief system. Additionally, Temple of All Religions was to house an observatory, children's clubs, an orphanage, drug rehabilitation center and more. Khanov succeeded in creating the Catholic and Egyptian Halls, Hall of Jesus Christ, Theater Hall, Tea Room, a museum and an art gallery inside the Temple of All Religions before he passed away in 2013.
Temple of All Religions in Kazan is surrounded by a fence and located just 200 meters from the Volga River. The temple's colorful domes cannot help but attract attention from passing river vessels and trains, while the side-by-side Islamic crescent, Orthodox cross and Star of David atop the domes awaken interest in passersby. In accordance with Ildar Khanov's original plan, no services or rituals are held at the center, whose main aim is to unite people of different faiths through its exhibitions, charity events and concerts. Construction of the temple continues under the directive of the architect's relatives, whose goal is to eventually brining many of Khanov's plans to realization.