Khabarovsk, Russia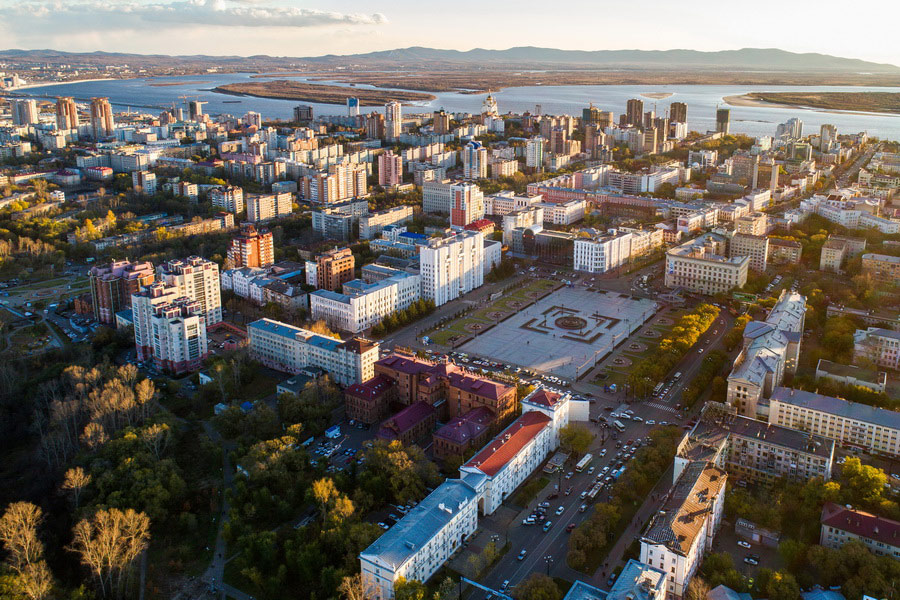 Tours, Attractions and Things To Do in Khabarovsk
Khabarovsk Travel Guide
Khabarovsk, Russia fascinates visitors with its unusual heritage and fabulous untouched nature. Tourists are drawn to the native culture, eclectic architecture and mesmerizing waters in this off-the-beaten-track destination, which promises a unique and memorable vacation.
As the center of Russia's far eastern region of Khabarovsk Krai, the city offers celebrations throughout the year which are sure to give added flair to your trip, from traditional culture days to large-scale food fests. It is easy to keep a full itinerary during your stay thanks to its many theaters, museums, restaurants, workshops and quest rooms. Guests who want a more relaxed holiday can venture into the serenity of Khabarovsk nature, including the coast of the Sea of Japan or one of the region's many picturesque lakes.
Khabarovsk Architecture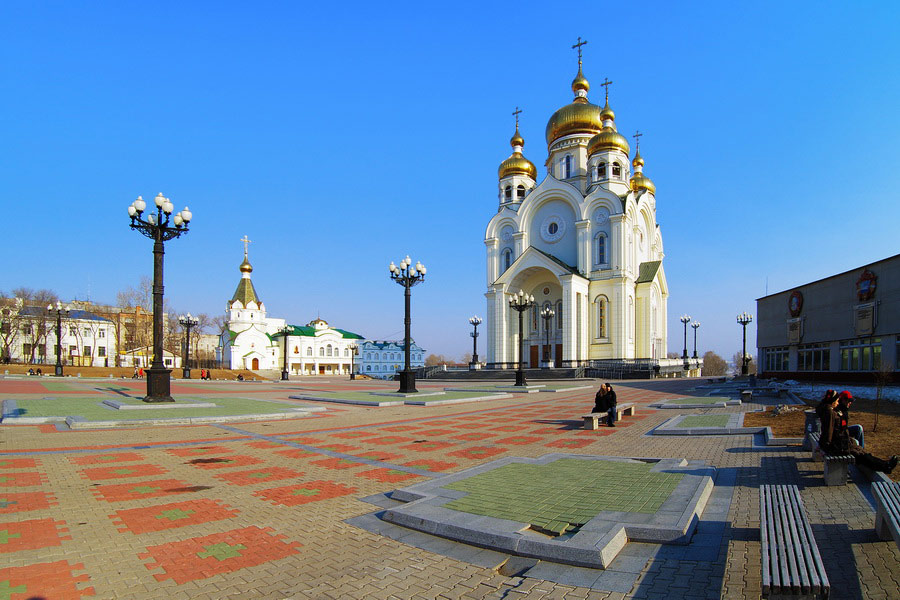 Khabarovsk architecture surprises with its harmonious blending of varying types and styles. This is due in large part to major changes which the city underwent in the mid-19th-early 20th centuries in conjunction with developments in the political, economic, scientific and technical spheres. The search for new trends in architecture came after the death of the classicism style, which had dominated the Russian Empire and the wider world for centuries. Beginning in the mid-19th century, the practice of mixing eclectic architectural styles began to emerge, leading to an era of amazing stylistic improvisations.
During the final decades of Romanov reign, many educational institutions for architects and engineers were opened. As a result, the face of numerous Russian cities began to change rapidly. Art Nouveau - a new, modern trend that absorbed several preceding styles – had come to dominate the architectural scene.
Many Art Nouveau buildings can still be seen in central Khabarovsk. These include:
Takeuchi apartment building (5 Muravyov-Amursky Street)
Esplanade Hotel (18 Muravyov-Amursky Street)
Luhta apartment building (84 Komsomolskaya Street)
Zandau apartment building (34 Muravyov-Amursky Street)
Khabarovsk also has many Gothic buildings, a style distinguished by its elegance and attention to detail. Every element of Gothic architecture emphasize a vertical orientation, as seen in the massive walls and columns, round arches and wide windows which contrast with narrow towers, pointed peaks and lancet windows.
Khabarovsk's Gothic architecture is best represented by the artillery warehouse buildings located at 16 Komsomolskaya Street. Another notable example is the Red Guard Headquarters (105 Komsomolskaya Street), which has been preserved in its original form. The complex consists of two identical two-story brick buildings with unusual motifs containing pseudo-gothic elements.
Also of note is the early 20th-century Treasury Building, a luxurious red brick structure with openwork balconies that exudes an architectural grace.
Khabarovsk also has many Soviet-era buildings which were mostly designed in the constructivism style. Characterized by their enormous size and grotesque shapes, they often occupy most of the block and dominate the surrounding space.
During your Khabarovsk excursion, be sure to appreciate its unique architectural heritage by going for a walk downtown.
Khabarovsk Attractions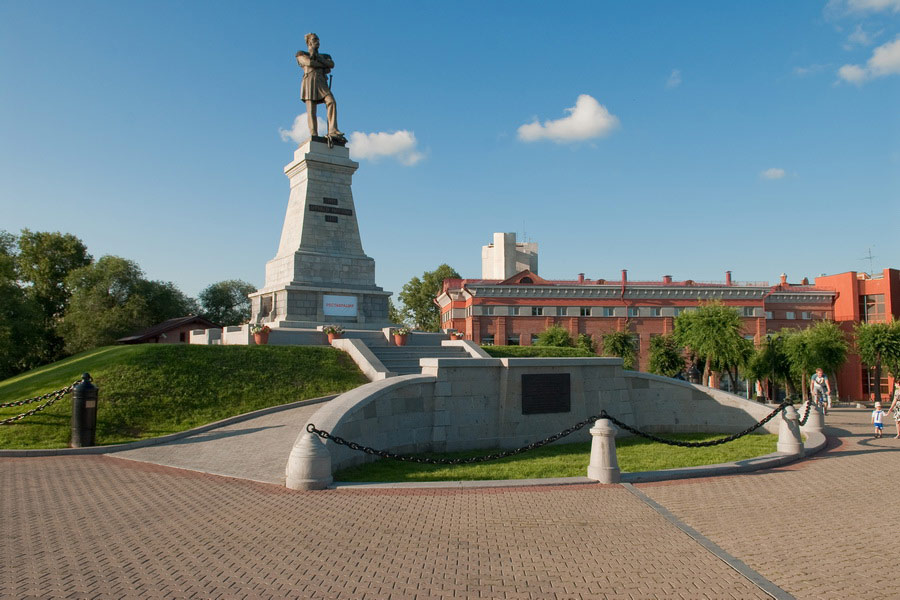 The layout of Khabarovsk is very simple: its 3 main streets of Lenin, Muravyov-Amursky and Seryshev pass through the downtown area, while Ussuriysky and Amur Boulevards run perpendicular to them. A distinctive feature of Khabarovsk are its many hills, so we recommend wearing comfortable shoes for your walk.
Begin your walking tour of Khabarovsk from the train station, where you can see the monument to Yerofey Khabarov, the famous explorer for whom the city is named. Nearby is a sculpture of a double-headed eagle, erected in memory of soldiers, officers and builders of the Far Eastern Railway. Moving from the station along Amur Boulevard you will reach the central market, just past which is Lenin Square. A spacious area with a granite fountain in the center, it is the main plaza of Khabarovsk and the site of the city's Christmas and New Year celebrations. Next to the square is Dynamo Park, famous for its three ponds and Ferris wheel.
From Lenin Square, move along Muravyov-Amursky Street to reach Amur Embankment, passing most of Khabarovsk's famous 19th-20th century buildings along the way. Descend to the embankment via two grand staircases or make a small detour onto Shevchenko Street, where you can follow the slope until you reach the embankment's main stretch. Among other things, the area is home to the House of Officers and three museums.
As you move along the embankment through a park you will come across the city symbol of Khabarovsk, a building set on a steep cliff above the Amur River. It was at the foot of this cliff that the founders of a military post, the first semblance of civilization in the area, first landed.
After reaching the river and walking along Ussuriysky Boulevard to Turgenev Street, turn right to reach Glory Square. Here you will find another famous Khabarovsk landmark, Transfiguration Cathedral, along with a magnificent view of the Amur River and its dreamy islands. Glory Square concludes the main walking route of Khabarovsk, but from here you can reach any part of the city by public transport or taxi.
Khabarovsk Cultural Life
Khabarovsk entertainment centers around its many theaters and museums. Visit Khabarovsk Museum of Local Lore to get a better glimpse of city and regional life. Children and adults alike will want to visit Fishes of Amur River Museum, an aquarium which is home to some 90 species of the underwater world. To catch the vibe of local artists, head to the Far Eastern Art Museum.
There are several theaters in Khabarovsk, each of which is worth visiting:
Khabarovsk Regional Puppet Theater;
Triad Pantomime Theater;
Khabarovsk Regional Philharmonic;
White Theater, and others.
In addition, Khabarovsk offers several concert halls, culture houses, cinemas and art institutions.
Khabarovsk Souvenirs
While the city's souvenir selection is not as diverse as in other Russian cities, guests can still find something suited to their tastes on their tour to Khabarovsk. Amur River and the Sea of Japan offer an abundance of seafood that can be tasted on the spot or brought home in dried or smoked form. Yet it is the rich culture of the local indigenous peoples which provides the largest selection of national souvenirs.
If you're looking for an original gift, traditional Nanai slippers are comfortable and warm. Sewn from leather or fabric and decorated in a bright, colorful style before being trimmed with fur, they make the perfect house shoes in winter. Traditional decorations include amulets which are made from animal bones, fur or fabrics and decorated with ribbons and colored beads.
Standard souvenirs like plates, magnets, mugs and flasks stamped with images of Khabarovsk or its coat of arms can be purchased in souvenir shops, which are mostly located downtown and at the airport and railway station.