Olkhon Island, Baikal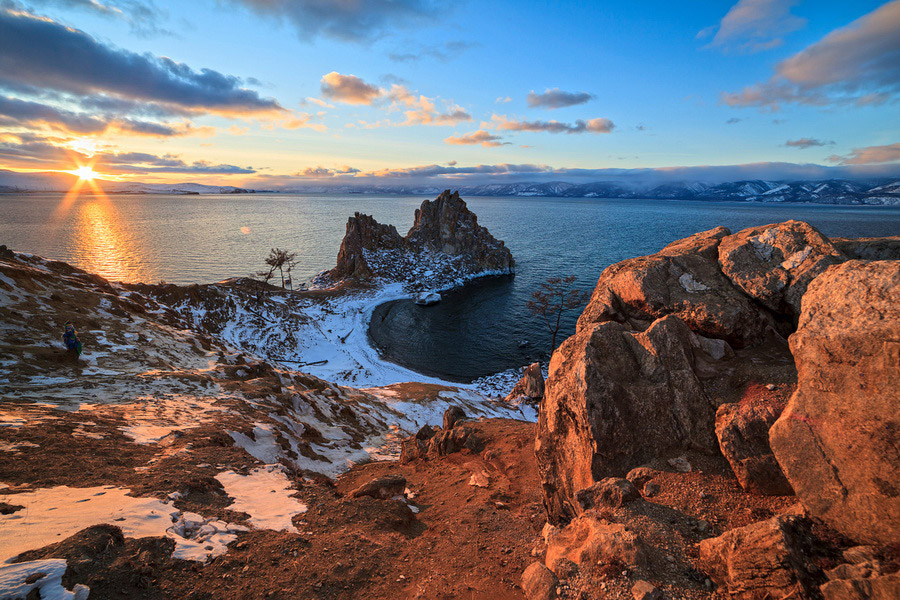 Sunset on Olkhon Island
Olkhon is the territory of myths and legends, a fairy island, spread out majestically in the heart of Lake Baikal. Olkhon is the largest island of Lake Baikal and the world's third largest "lake-bound" island, with total area of about 730 square km. It is separated from the mainland by a Small Sea aquatorium, and a narrow strait, which is called the Olkhon Gate.
The whole existence of Olkhon is full of mysticism. This island is especially revered among shamans and Buddhists: it is the place where the first Buryat shaman gained an ability to hear and respond to their spirits, and it is the cape Shamansky cave where since time immemorial lives Ugute Noyon, the deity most revered in Baikal - the formidable master of Olkhon.
How and when to go in Olkhon
The most favorable time to visit Olkhon is from mid-May to mid-December, when the island has a regular service with the mainland via a free ferry from Irkutsk.
Khuzhir (the largest Olkhon community) can be reached for 5 to 6 hours by regular buses running via ferry crossing. Buses leave from the bus terminal. You can also arrange a trip to the island with a private driver. In this case, an inflated price and a possible delay should be taken into account – in summer, there are huge queues to the ferry, only buses are allowed to jump the queue while private cars have to wait (sometimes it takes the whole day long).
Important! During melting or onset of ice (mid-December to February, April to mid-May) there is no regular communication with the island.
Ferry service is closed on 15-17 December, leaving the island without a regular communication. Starting from February, Olkhon can be reached by land: the southern part of Lake Baikal gets frozen over to form a natural ferry crossing, connecting the mainland with the island.
If the purpose of the trip is privacy and admiring the Olkhon beauty, you should go in June or September. You cannot swim there these months, because the water is still too cold, but you can enjoy the quietness and tranquility of the island. The tourist season peak on the island falls on the warmest months - July and August, when the lake waters warm up enough for swimming.
The Olkhon island climate is dry, sunny weather holds up more than 300 days a year. It should be noted that almost half of year the island is blown by strongest mountain winds.