Omsk, Russia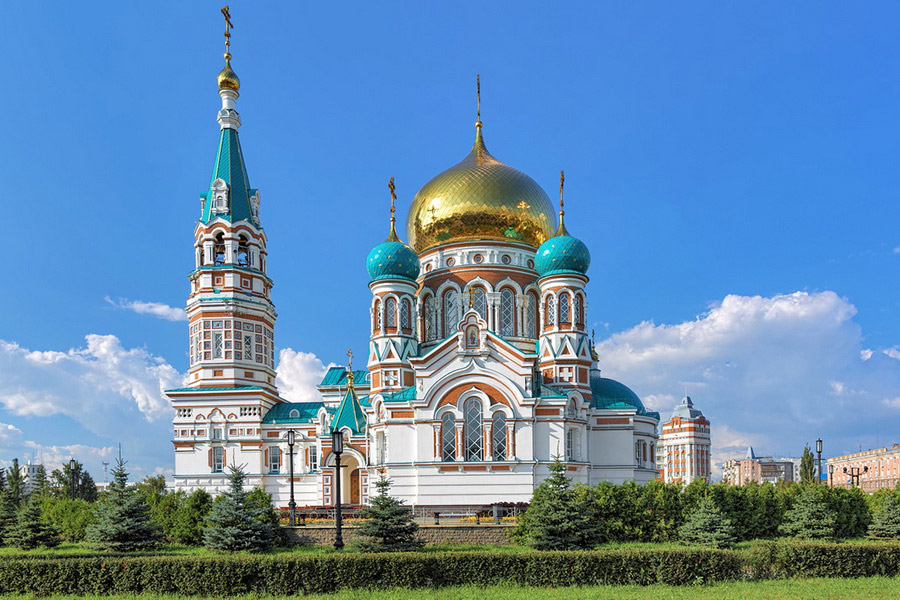 Dormition Cathedral, Omsk
Tours, Attractions and Things To Do in Omsk
Speaking of large and well-known Siberian cities, one cannot help mentioning Omsk which was the capital of Siberia at one time. The city is located in Western Siberia on Irtysh River. The history of Omsk is not so ancient, but is full of drama nevertheless. It was established in the XVIII century, in 1716. The order of Peter I on seeking gold deposits in those lands was the occasion for its establishment. The expedition was headed by Ivan Buchholz. It was him who laid the first Omsk fortress for the defense of the southern and eastern borders of the Russia Empire on the left bank of the river Om. Gradually, a new city began setting up around the fortress.
Almost after a century Omsk became the regional center of the West Siberian governor generalship. The Governor-General's residence was transferred from Tobolsk to Omsk. The turning point in the city's life was at the Civil War, when Omsk became a deployment place for the White Guards. In particularly, General Kolchak declared himself a head of new Russia. Following Kolchak, intellectuals, clergy and the bourgeoisie fleeing from the Bolsheviks found their shelter there. After the defeat of Kolchak, Omsk was deprived of the right to be the Siberian capital, as a punishment of the Soviet authorities. The capital was transferred to Novosibirsk. However, Omsk grew and developed anyway, thanks to the advantageous position of the Trans-Siberian Railway.
In the Soviet period Omsk was the largest industrial center of Siberia. Modern Omsk takes the seventh place in Russia by popularity. It is the center of oil, chemical and petrochemical, energy industries. Russia's largest engineering and metalworking companies are located there. There are a huge number of historical, cultural and architectural monuments in Omsk. Omsk is a city of churches, cathedrals, merchant houses and 'art nouveau' buildings of the early XX century. The recently restored Uspenskii Assumption Cathedral is crowned those marvelous creations.
The old Omsk fortress is now a historical city center. One of the gates, Tobolsk Gates, were kept in the fortress. In 1991 Tarskie Gates were restored and became the peculiar Omsk "visit card".
You can find a "village" part of the city in the vicinity of Omsk, in the town of Tara. Wooden houses with carved cornices and trims, as if descended from illustrations of Russian fairy tales are preserved here. Tara`s Spassky Cathedral is a masterpiece of the XVIII century architecture.