Palekh, Russia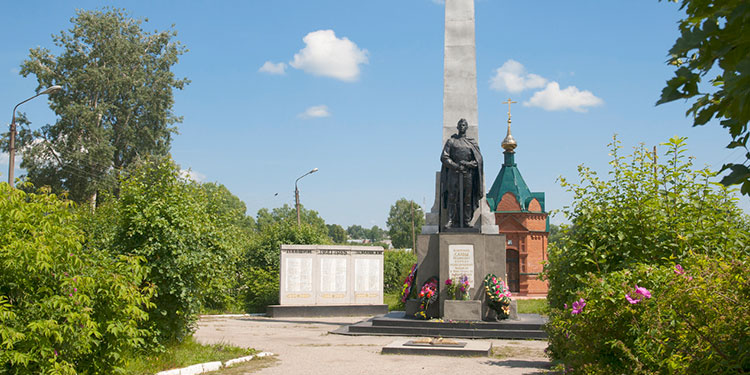 Monument in honor of the soldiers of the Palekh district
Tours, Attractions and Things To Do in Palekh
Palekh, Russia is one of the most remarkable places in Ivanovo Region. Located 60 kilometers from Ivanovo city, this outpost in the central Russian hinterland is famous for its lacquer miniatures and icon paintings. Through the years, Palekh's masters have managed to adapt to new trends while still preserving their ancient Russian artistic tradition.
By the mid-17th century, the small outpost of Palekh had attained the status of village, and being located in the center of its parish, it soon began to serve as the hub for several surrounding villages. Today, despite its world-famous status and growth into an urban area, Palekh has managed to retain a village atmosphere.
In Palekh, ancient art merged with Orthodox spirituality and found expression through generations of icon painters. Although the precise timeline and details surrounding the origin of Palekh iconography is unknown, we know that it emerged in the 17th century and is based on similar traditions seen in ancient Suzdal and Moscow schools.
Icons of unprecedented beauty have been recreated in Palekh's Orthodox churches for centuries. The art was passed down from generation to generation and the artists' homes, now converted into museums, serve as an ongoing reminder of the beloved and unique tradition of Palekh painting.
The art of Palekh miniatures, which has been practiced for nearly a hundred years, is an offshoot of the more traditional icon painting industry. As the demand for icons gradually decreased, Palekh artists sought out new opportunities for work and an outlet for their well-honed skills. Inspired by the tradition of Persian and Japanese miniatures and the art of European masters of the Renaissance era, local artists gradually developed a style uniquely their own. Palekh miniatures are distinguished by their bright colors, frequent depiction of ancient heroes or fairy tale characters and their intricate detail, such as is seen on Palekh lacquer boxes, where finely crafted images and inscriptions are painted across small surfaces.
In 1924, local art historians and artists joined together to create the Palekh Artel of Ancient Painting Association. Through the project, the West was introduced to Palekh art for the first time at a 1924 exhibition in Venice, and in the past century Palekh's art has only continued to grow in popularity worldwide.
You can admire the works of Palekh masters at the State Museum of Palekh Art, founded in 1935, as well as in house museums and workshops of local artists, where items may be purchased. To admire local icon paintings visit Holy Cross Church, which impresses with its 18th-century tent bell tower and an awe-inspiring carved iconostasis painted by Yaroslavl masters in 1907. Other notable sites in Palekh, Russia include Ilyinsky Church (Elias Church), a vestige of 17th-century architectural grandeur, Church of the Icon of the Mother of God (Vzyskaniye Pogibshikh) and a quaint wooden church built in 2004.