Palekh, Russia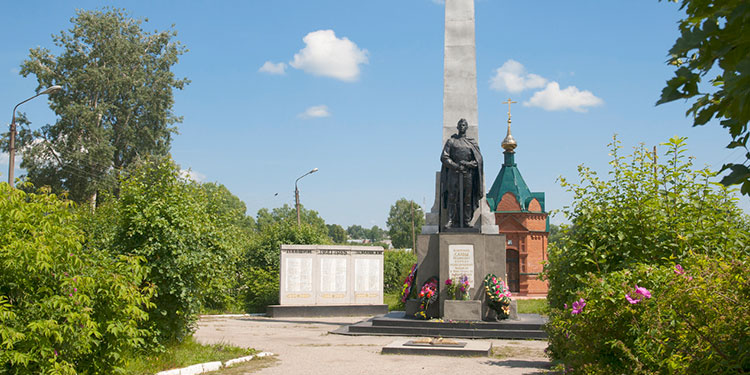 Monument in honor of the soldiers of the Palekh district
Palekh is one of the most interesting places in the Ivanovo region. It is 60 km away from Ivanovo. This corner of the Central Russian hinterland is famous for its masters, museums, and architecture. Here the ancient art and spiritual life of Palekh merged, expressed in the works of many generations of icon painters and masters of Palekh miniature. Their houses, turned into museums, serve as a living reminder of the continuous tradition of unique Palekh painting.
From the first third of the XVII century Palekh, being the center of the church parish, had the status of a village that united several other villages around it. An urban-type village, it remains today, despite its worldwide fame.
Palekh Orthodox churches preserve the spiritual atmosphere of the place where icons of unprecedented beauty were created for centuries. The decoration of Palekh are: the Church of the Exaltation of the Cross with a tent bell tower of the 18th century, with a carved iconostasis painted by Yaroslavl craftsmen in 1907; Elias Church with an ancient churchyard, an architectural monument of the 17th century; the Сhurch in honor of the icon of the Mother of God "Seeking the Lost"; a wooden cemetery church, built in 2004.
The art of Palekh miniature, which has existed for about a hundred years, is a kind of offshoot of the artistic tradition of icon painting in the 17th century. The exact date of the appearance of Palekh icon painting is unknown, however, there is no doubt that its style is based on the traditions of the ancient Suzdal and Moscow schools.
Palekh hereditary icon painters found a way to adapt to new trends and preserve the ancient Russian artistic tradition.
Art critics and artists in 1924 created the "Artel of Ancient Painting", which relied on eternal subjects in its work.
For the first time in the West, they saw Palekh art at an exhibition in Venice in 1924. Its distinctive features are jewelry thoroughness of writing, virtuoso technique and the ability to place on a small surface many finely painted compositions or images, among which heroes of epic and fairy-tale plots predominated.
Former icon painters carefully searched for new pictorial means, turning to Persian and Japanese miniatures, to ancient art and the work of European masters of the Renaissance, from which new coloristic solutions were drawn. The main themes of Palekh miniature were fairy tales and epics, as well as the realities of modern life. You can admire the works of Palekh masters in the State Museum of Palekh Art, founded in 1935, as well as in the house-museums and museums of local artists.