State Palekh Art Museum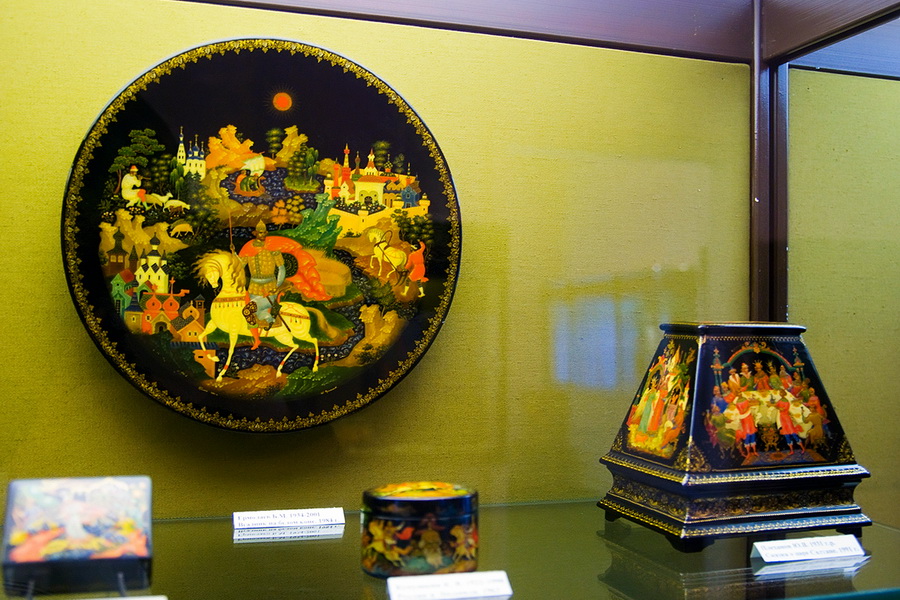 Residents of Palekh, Russia have long taken pride in their talented icon and miniature painters, whose gifted hands have turned cathedrals into life-size works of art and ordinary trinkets into prized possessions. Visitors to Palekh can best appreciate these masterpieces at the State Palekh Art Museum.
After the Russian Revolution of 1917, Palekh's highly skilled iconographers were forced to adapt their work to the new reality in which they found themselves living. To accomplish this end an artel was formed, and the highly experienced iconography masters began to channel their talents into the unique art of miniature painting. Not surprisingly, it did not take long for the works of Palekh masters to gain international recognition when their works went on display at a world exhibition in Venice in 1924.
Palekh miniature paintings are typically created on the lacquer surfaces of small paper mache and wooden objects. When decorating the miniatures, the technique of tempera painting once employed in iconography is scaled down and skillfully implemented.
The State Palekh Art Museum opened in 1935 in honor of the 10-year anniversary of the artel's establishment. Created specifically to showcase the works of Palekh's miniature painters, the museum now holds some of the finest examples of this highly specified art form.
The museum's first exhibition consisted of 540 exhibits. Over the next three years it acquired 16th-19th century paintings by Russian, Italian, Flemish, German and Dutch artists. In 1936, the museum was expanded to include icons from Krestovozdvizhensky and other churches. At the behest of artists seeking to preserve the old cathedral from neglect and destruction, Krestovozdvizhensky Church itself was converted into a branch of the museum and went on to house the Old Palekh Exhibition until 1992.
Today, State Palekh Art Museum is a network of six museums, a library and an information center containing over eight thousand books. The Museum of Lacquer Miniatures contains over seven thousand exhibits, most of which were created in the Soviet era. The Museum of Ancient Russian Painting, also known as the Icon Museum, was relocated to a new building in 2014.
Of particular interest are the historic house museums of several famous local artists. At the Dydykin House-Museum, home of the famous Russian sculptor and icon painter Nikolai Dydykin, workshops are also offered.
The vibrant masterpieces found at the State Palekh Art Museum are sure to inspire and resonate with every artist's heart.