Plyos, Russia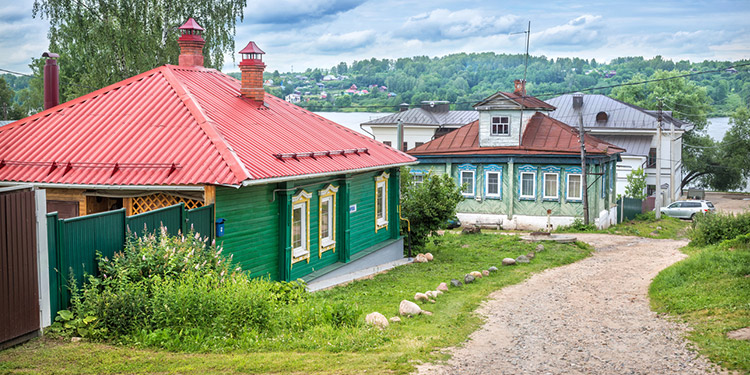 Wooden houses in Plyos
Tours, Attractions and Things To Do in Plyos
On the banks of the Volga's upper reaches is one of Russia's most picturesque locales, a small town bearing closer resemblance to a 1900s postcard town than to a 21st century vacation spot. Welcome to the city of Plyos of Russia's Golden Ring, a popular tourist route linking a chain of historical towns lying northeast of Moscow.
Located 71 kilometers from the city of Ivanovo in Russia's Ivanovo Region, Plyos makes for a pleasant stopover during a guided tour or self-drive on the Golden Ring of Russia. It stretches for three kilometers along the Volga, which at this point in its course reaches a width of 650-700 meters and plunges more than 15 meters deep. The Russian word plyos is used to refer to a deep stretch of riverbed, and hence it's easy to see how the city derived its name.
Situated in a hilly region on the Volga's right bank, Plyos lays claim to two well-known peaks: Sobornaya Mountain standing at 54.5 meters above the Volga and Petropavlovskaya Mountain (Levitan Mountain) reaching 50 meters above the river. In summer the landscape is blanketed in the soft green hues of the forests, while winter is so cold that the Volga is covered in a layer of ice one meter thick, making it possible to drive across the river in a car or truck.
Plyos has a population of just over two thousand people, with another two thousand residing on surrounding farms and settlements. Nearly everyone in Plyos works in the field of tourism, the town's primary source of income, with a handful of individuals also engaged in handicrafts. Plyos may be small in size, but this simply adds to its charm as a pearl of the Golden Ring in Russia. By train it's about 305 kilometers from Moscow, while by car Plyos is over 360 kilometers- and a world away – from Moscow. For many years, Plyos has been accepted as a part of the Golden Ring in Russia. Mapping its history, however, truly brings this tiny town to life.
While Plyos was officially established in 1410 with the construction of a fortress on the site of today's town, evidence indicates that a settlement has existed here since the 12th century. For centuries Plyos served as one of Russia's military trade posts on the Volga River. As Russia's borders expanded, the outpost became a shipping port for the transportation of goods between northern and southern Russia. With the launching of the railway in 1871, however, the regional town of Ivanovo was connected with Kineshma, another port town on the Volga, and Plyos lost its significance as a commercial port. People began to leave the town in search of work elsewhere, and life in Plyos all but froze in time.
Interestingly, facts about the Golden Ring in Russia indicate that this exodus was the catalyst for a peaceful and picturesque environ in Plyos. By the end of the 19th century Plyos was even nicknamed "Russian Switzerland" as the town grew in popularity with Muscovites looking for a long summer vacation away from the crowded capital. Even today, Plyos retains its unique image as a cozy provincial town.
The picturesque landscape of Plyos is enhanced by its many churches, which are surprisingly numerous for such a small city. All of them date from the 17th-20th centuries. Museums, parks, recreation centers, health resorts and hotels likewise dot the town and help to fuel Plyos' tourist industry. Today, this town of 2000 people receives up to 100 thousand tourists a year. These same visitors also contribute heavily to the maritime industry, as numerous Golden Ring Russia tours bring cruise ships of eager travelers along Russia's Golden Ring and the Volga boat routes.
Additionally, in recent years Plyos of Russia's Golden Ring has become a popular venue for festivals, specifically the fashion festival "Plyos on the Volga. Linen Palette", the Andrei Tarkovsky Film Festival "Mirror" and the Isaac Levitan Music Festival.
Continuing restoration work in historical Plyos helps to preserve its classic look. When visiting Plyos, prepare to be immersed in a calm, welcoming atmosphere of late 19th-century Russia.