People of Russia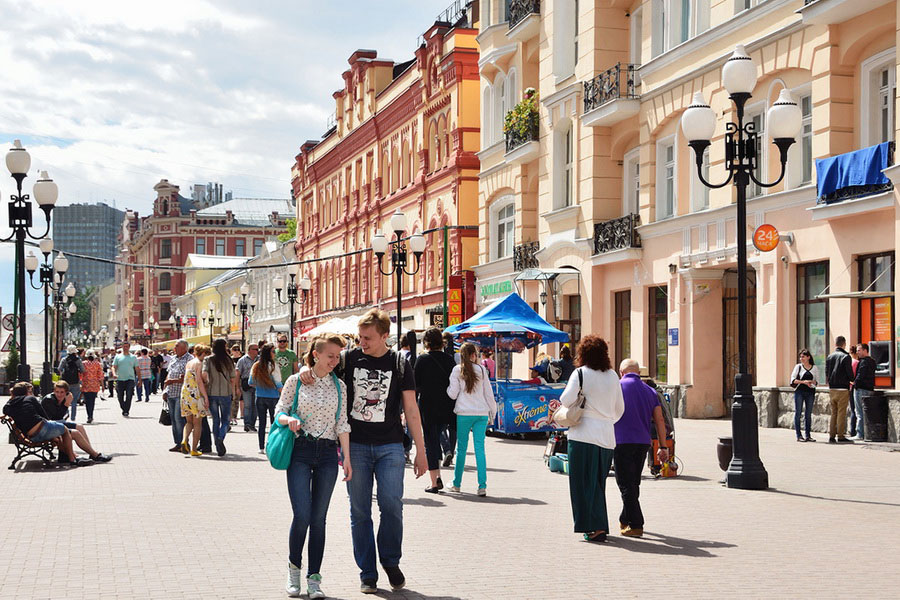 People of Russia. Nationalities living un Russia
Russia has always been not only a densely populated but also multi-national state. Permanently more than 145 million citizens reside in the country.
They represent over 160 nationalities, speaking their own languages. Small population groups alive in specific locations. Only seven nations have more than one million representatives – Russians, Tatars, Ukrainians, Bashkir, Chuvash, Chechens and Armenians.
Russia is the seventh largest in the world in terms of population after China, India, the United States, Indonesia, Brazil and Pakistan.
As the density of population goes Russia takes the second place in the world after the United States. Almost a fifth of the population lives in 13 cities: Moscow, St. Petersburg, Novosibirsk, Nizhny Novgorod, Yekaterinburg, Samara, Omsk, Kazan, Chelyabinsk, Rostov-on-Don, Ufa, Volgograd, and Perm. The population of the largest mega-cities of Russia: Moscow - more than 10 million people, Saint Petersburg - about 5 million people. The capital of the Russian Federation is among the twenty most populated cities in the world.
The greater part of the population are, of course, Russians - more than 80%. The remaining percentage is - Tatars - 3.8%, Ukrainians - 3%, Chuvash - 1.8%, Belarusians - 0.8%, Mordovians - 0.7%, Germans and Chechens - by 0.6%, Avars, Armenians, Jews - by 0.4% and others. Tatars, the second in number, live in the Volga region. Together with the Bashkirs Tatars make up the largest grouping of Muslim nations located almost in the center of Russia. Chuvash, other Turkic people, total about two million people. In Siberia live Altai, Khakassia, Yakuts. In the Caucasus live the people of Abkhaz-Adyghe Group: Kabardins, Adygea and Circassians; Nehsko-Daghestanian Group: Chechens, Ingush, Avars, Lezgins; Ossetins are related to the Iranian group.
Russia is a home for the Finno-Ugric peoples - these are the Finnish, Karelians, Komis and Saami in the north of European Russia; Mari and Mordovians in the Volga region, the Khanty and Mansi, engaged in hunting and reindeer, in Western Siberia.
In the Far North there are Nenetses involved in reindeer herding. In East Siberia live Evenks. On the Chukotka Peninsula - Chukchi - reindeer herders and fishermen. Mongolian group is represented by Buryats in Siberia and Kalmyks on the Caspian Sea.
Each nation is seeking to preserve the language, customs and traditions, costumes, traditional occupations and trades. Most of these people have maintained their identity and traditional classes. The wealth of national cultures is the heritage of the country.
Russian Traditions
Russia is indeed a unique country, which, along with highly developed modern culture carefully preserves the national traditions deeply rooted not only in the Orthodox religion but also in paganism. The Russians still celebrate pagan holidays, many people believe in numerous omens and legends. More on Russian traditions...