Alexander Nevsky Monument, Pskov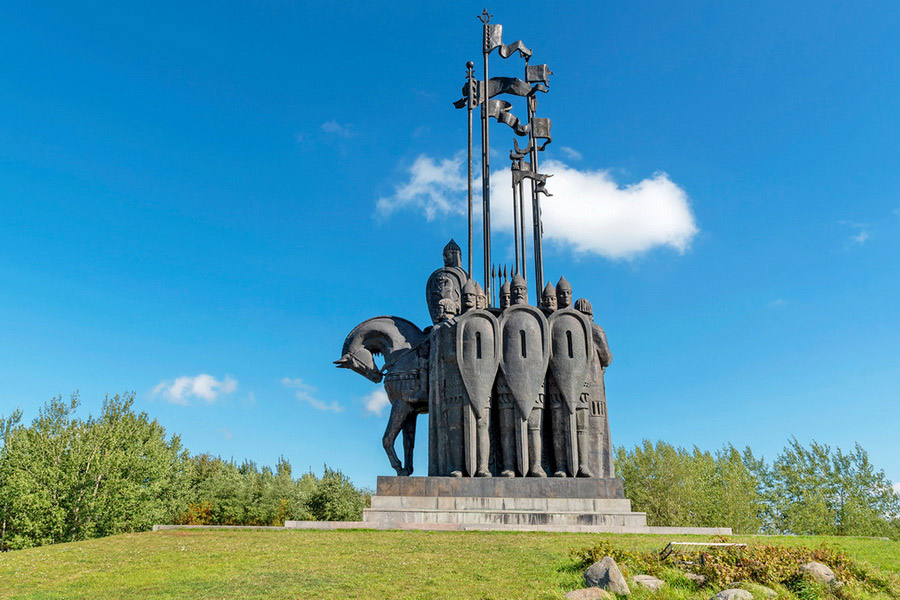 Alexander Nevsky Monument stands on Mount Sokolikha in Pskov, Russia in memory of the brave leadership exhibited by Prince Nevsky during the decisive 13th-century Battle on the Ice at Lake Peipus.
The statue's positioning atop Mount Sokolikha is no coincidence, for it was over this very hill that the army of Prince Alexander Nevsky marched into battle against the Teutonic Knights in 1242. The decisive victory of Nevsky's troops halted the advance of the Catholic knights and saved the town of Pskov from enemy capture. Battle on the Ice began on April 5, 1242, although today the Russian army observes April 18 as a Day of Military Honor to commemorate the victory.
The military leadership exhibited by Nevsky during this battle brought him considerable admiration and loyalty throughout the land. In time, Nevsky became famous not only for his military victories, but also for his wise leadership, defense of the Orthodox faith and creation of an administrative and criminal code, which later was incorporated into the Pskov judicial charter.
The brave feat of Nevsky and his Russian soldiers served as the inspiration for the Pskov monument. The massive bronze and granite sculpture of the leader, which weighs in at more than 160 tons, depicts Nevsky surrounded by loyal vigilantes as he gazes westward, the direction from which foreign invaders, including the Teutonic Knights, would attack the land. Unveiled in 1993, it was the joint project of a local sculptor and architect which was designed to symbolize the unity, valor, strength and resolve of the Russian people.
Today, many festive events are held in front of Alexander Nevsky Monument in Pskov, and everyone from local newlyweds to international tourists comes to the monument to have their photo taken with the heroic leader.