Pskov, Russia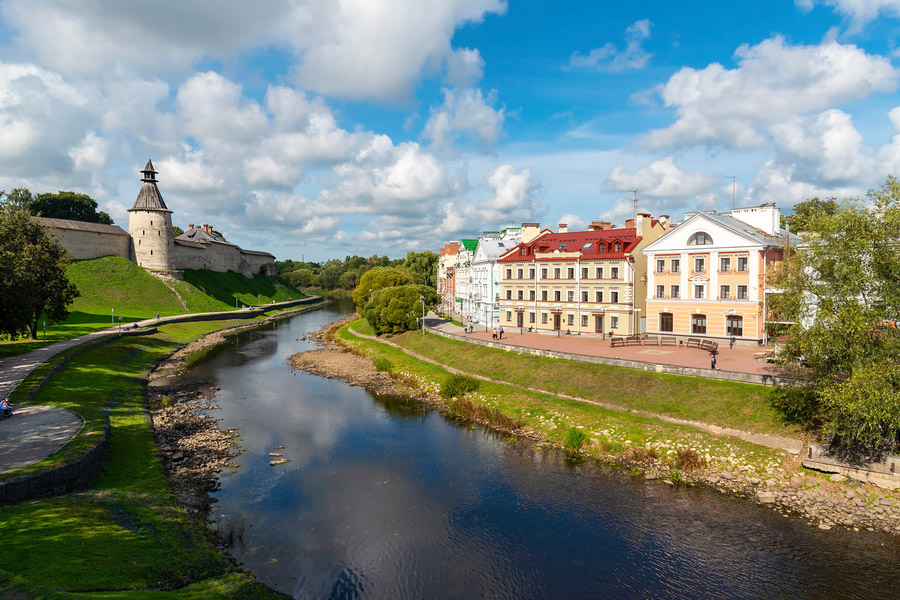 Pskov Kremlin and Soviet (Golden) Embankment
Tours, Attractions and Things To Do in Pskov
This city located at the confluence of the Velikaya and Pskovo Rivers, was mentioned for the first time in The Tale of Bygone Years - the earliest extant ancient Russian chronicle dating from the beginning of the XII century. Up to the beginning of the XVIII century, Pskov was one of the largest cities not only in Russia but also in Europe. For Russia, Pskov was a trade and defensive center - its fortress, consisting of five defensive rings, made the city virtually impregnable. Over the centuries-long history, the city experienced a lot of fights and battles, but was captured only once, and occupied twice during the First and Second World War. But later, when St. Petersburg sprang up on the map of Russia, Pskov lost its importance and receded into the background in the list of Russian cities.
Today, Pskov, the largest stone fortress in Europe, is one of the most important tourist centers in Russia. The five rings, once built to protect the city from enemies, became unique monuments of Russian defense architecture, which attracts travelers from all over the world to come to see it. The architectural style of the old Pskov buildings still elates the architects who come there. The great architect Le Corbusier, who visited Pskov, stated that the architectural motives of Pskov monasteries are clearly visible in constructivism in architecture, popular in Russia in the 1920s and the first half of 1930s.
During his visit to Pskov he refused go by car. Pskov belongs to such type of cities, which is better enjoyed by going on foot along the streets, because all its main advantages are hidden behind the facades of the main streets and away from the highways (the result of the medieval city redevelopment, held at the end of XVIII century). The walk is best done along the five rings of Pskov: Krom, Dovmontov city of the XIII century, Old Zastenje (the beginning of the XIV century), the New Zastenje (aka Middle Town), Okolny city wall.
Pskov has many temples met along the entire route of walk. They are divided into ancient temples aged almost 900 years and so-called "remakes", whose age ranges from 200 to 300 years. In addition, in the city you can see white stone merchant and boyar palaces - the oldest building, whose age is in large excess of the Petropavlovsk Fortress in St. Petersburg.
In Pskov you must taste the local famous dishes - grilled walleye caught in Lake Pskov and also fish soup from Pskovian smelt. Among famous local drinks there is the rye vodka infused with hemp (another strong argument in favor of doing the city without personal vehicles). Pskov famous souvenirs are special dual ceramic mugs with diagonal handles ("the twins"), a brand of Pskov - woven linens and a "Pskov money" which, according to popular belief, brings good luck.