Dovmont Town, Pskov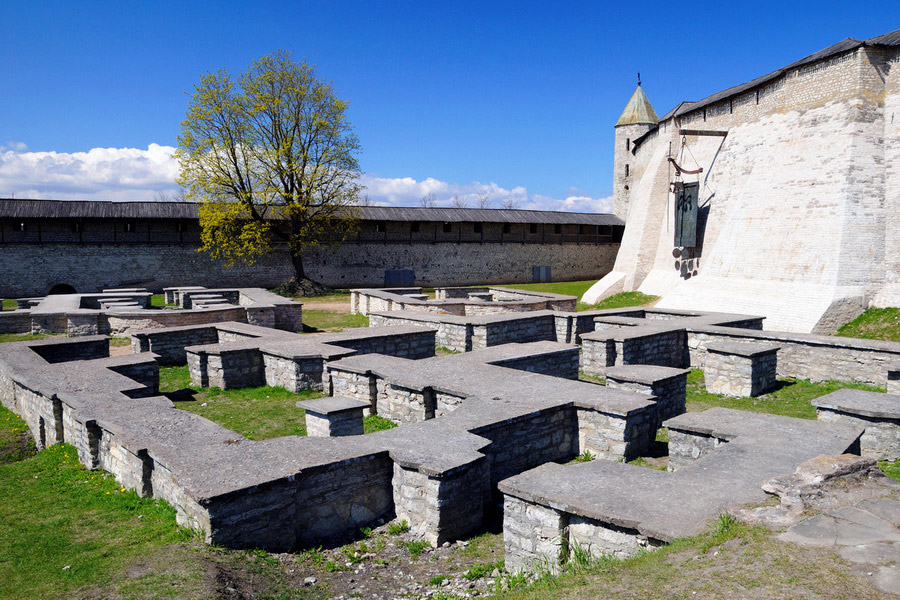 Dovmont Town in Pskov, Russia was once a prosperous city with massive stone walls located just south of the Pskov Kremlin. Today this long-deserted town serves as an intriguing open-air museum.
From the 13th to the 18th centuries, Dovmont served as the administrative and spiritual center of Pskov. This latter title can be seen in the fact that the first church in ancient Pskov was erected in Dovmont, which later came to boast of the highest concentration of Orthodox churches in all Russia after the number of its cathedrals increased to approximately twenty.
The city owes its name to the Lithuanian Prince Dovmont, who ruled Pskov for thirty-three years in the 13th century. Along with his relatives and allies, the prince was forced to flee his native land to escape the persecution of ruthless relatives. The inhabitants of Pskov gave him a warm welcome, and in 1266 they elected him their prince. In respect for local tradition, Dovmont converted to Orthodoxy and was christened Timothy at his baptism.
Dovmont was highly respected by the people of Pskov and was also known as a great commander who distinguished himself with his bravery. The prince married Maria, daughter of Dmitry Alexandrovich, Prince of Pereslavl-Zalessky. From the time of their union, Dovmont provided assistance to his father-in-law, who had been exiled by his brother Andrew.
During Dovmont's reign, Pskov gained independence from the Novgorod Republic, a break which proved favorable for the political and economic life of the city. Prince Dovmont died of illness in 1299 and was canonized by the Orthodox Church in the 16th century. The prince's remains are preserved in a beautiful ark at Trinity Cathedral in Pskov, the same church where Dovmont's sword was once kept. The sword had been passed down from prince to prince as a symbol of power, and can now be seen at Pskov Historical Museum-Reserve.
Today in Dovmont Town, the medieval Rybnitskaya and Vlasevskaya Towers remain standing, while foundations and fragments of 10 side-by-side Pskov churches were unearthed near the fortress wall. Restoration work at the site continues, with plans to open four of its renovated churches to the public in the near future.
In addition to the old walls and ancient towers of Dovmont Town in Pskov, the fascinating exhibitions in its small museum are worth a tour. Visitors can see the layout of the Pskov Kremlin in relation to Dovmont Town and a portion of the Kremlin's southern wall, which is inscribed with a description of Alexander Nevsky's victory in the 13th-century Battle on the Ice.