Olginskaya Chapel and Viewing Point, Pskov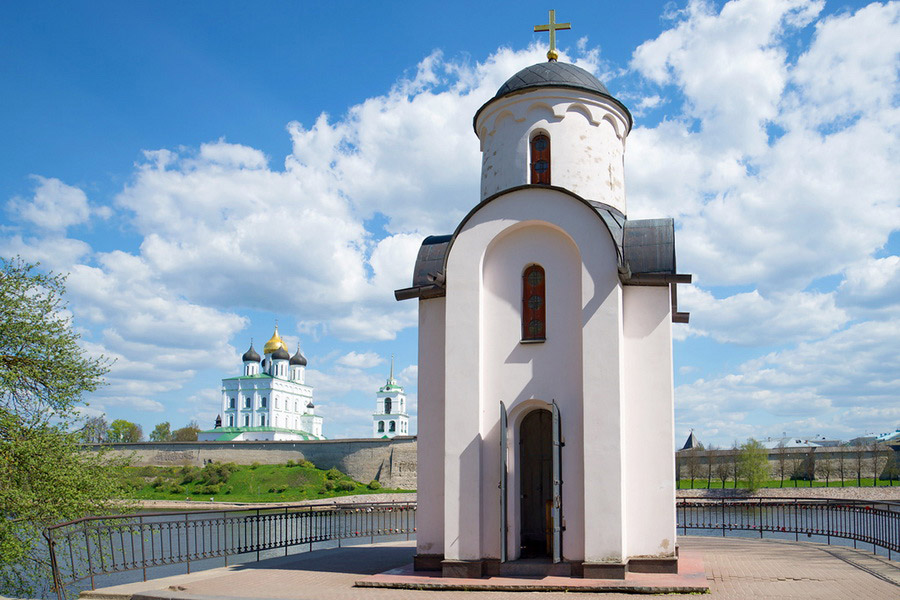 Olginskaya Chapel and Viewing Point in Pskov, Russia is marked by a white stone church on the scenic Olginskaya Embankment. The memorial is consecrated in memory of Olga of Kiev, a 10th-century princess-turned-saint who is regarded as one of the first Christians in Russia. St. Olga is particularly adored in Pskov, as the founding of both the city and of its famed Trinity Cathedral are attributed to her name.
According to legend, one cloudy day Princess Olga was engulfed in three bright rays of light, which she understood to be a divine symbol of the Holy Trinity. Regarding this as a providential sign, she ordered a church and city be built on the spot. An oak cross and later a church were erected, although their exact dates of construction were not recorded. The original chapel, which had likely stood on the site for centuries, was demolished in 1960.
In 1991, the newly revived Olginsky Society decided to perpetuate the memory of Princess Olga in Pskov Region through construction of a new church. Local blacksmiths forged a memorial cross, which now stands in place of the lost original. During the celebration of City Day in 2000, the grand opening of Olginskaya Chapel was held.
Olginskaya Chapel stands opposite the Pskov Kremlin on the Velikaya River observation deck. It was constructed in a classical style, with a small cross topping the central helmet-shaped dome. Its concrete wall on the east side, which faces the Kremlin, is embellished with an image of St. Olga, while the south facade is inscribed with a description of St. Olga's vision which is believed to have been etched on the original cross. Although a modern addition to the landscape of Pskov, the church has the appearance of a 10th-11th century structure.
Olginskaya Chapel and Viewing Point in Pskov has become a favorite spot for Pskov residents, who have a tradition of visiting the site before their wedding in hopes of receiving the blessing of St. Olga. Visitors will love the observation deck, which blends perfectly with the city layout and offers an excellent view of the Pskov Kremlin.