Holy Trinity Cathedral, Saratov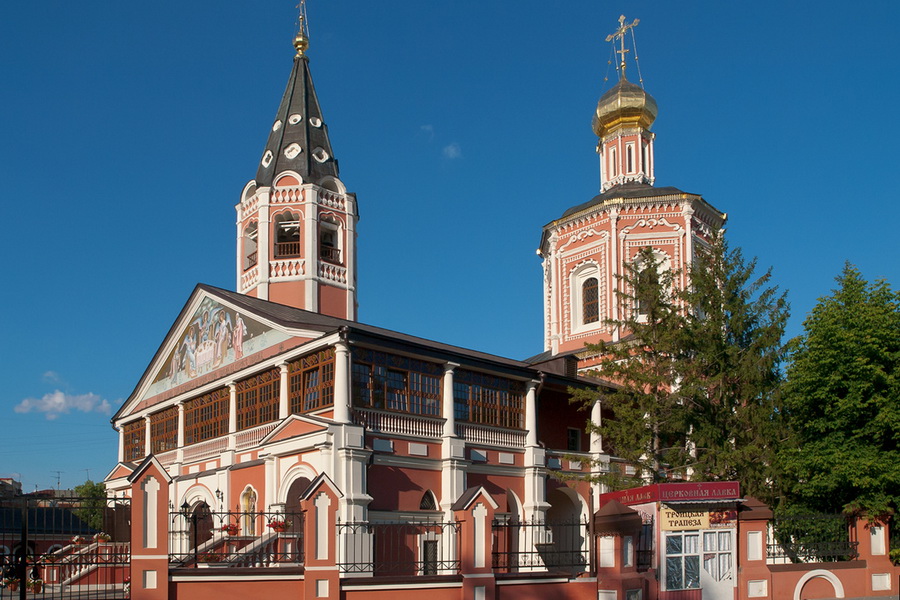 The oldest city in the Holy Trinity Cathedral to the Museum Square in Saratov is monument of Russian architecture of late XVII – early XVIII century. It was built between 1674-1675, and originally the church was built of wood, according to the tradition. But this wooden cathedral was burnt in 1684. Town dwellers decided to build a new cathedral on its place, a stone one. It took 3 years to complete the construction of this cathedral.
It was built in Moscow baroque style and represents a model of the classic, strict, restrained beauty. Its facade of granite color stylishly decorated with a thin white décor: trims, cornices, and with pattern. The church bell tower in the form of an octahedron is close to cathedral and they are connected to each other by a covered gallery and a refectory. The height of cathedral with cross is about 35 meters, and is 95 meters in circumstance.
In 1937 the cathedral was closed, and from the 2nd half of 1942 it was leased. In 5 years, in 1947, it was returned to Russian Orthodox Church. The miracle-working image of the Savior which was brought here by the first settlers of the city for the city's foundation, was given back to the city. This image of the Savior was originally brought by the first settlers of the city of Saratov on the mortgage. According to a legend, the icon one of the listed icons by Andrei Rublev.