Semyonov, Russia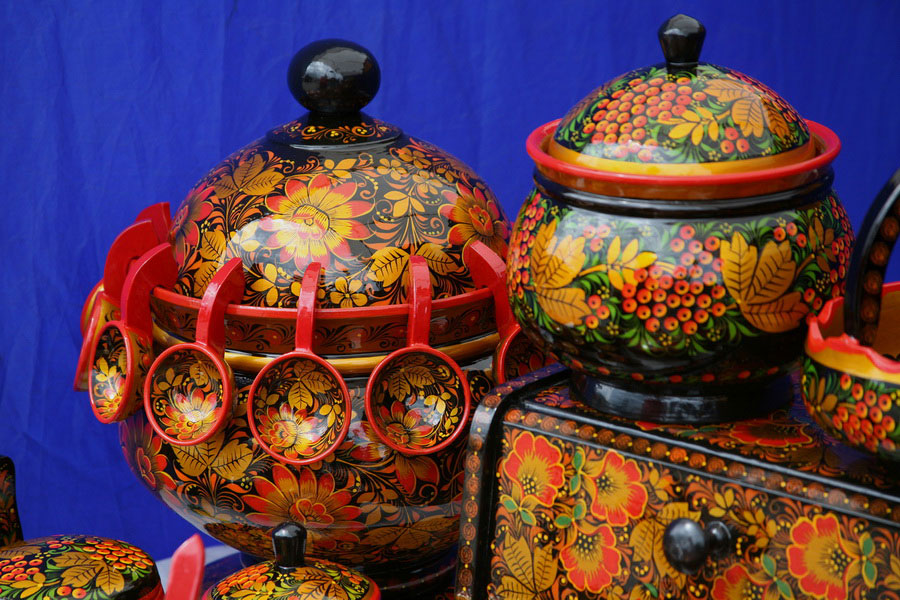 Tours, Attractions and Things To Do in Semyonov
Semyonov (Semenov), Russia is best known as the birthplace of the country's famous Khokhloma folk art, for it was here that this unique handicraft was first developed in the mid-17th century. What began as a grassroots artisanal trade has since developed into an internationally-acclaimed, industrial production.
Located along the Sanokhta River in Nizhny Novgorod Region, the town was first referred to in 1644 as "Semyonovskoye village". Before the Khokhloma industry developed, the hamlet was better known for its large population of Old Believers, staunch religious devotees who clung to the original practices of the Russian Orthodox Church.
Khokhloma artwork began to develop in the mid-17th century as spoons, ladles, trays and cups were brought to Semyonov from the surrounding villages to be painted. Defined by detailed depictions of nature in red, green, black and gold which were typically painted onto small household items, the decorated products would be immediately resold for a higher value.
As the village grew, in 1779 it acquired the status of a county town under Empress Catherine the Great, and in 1819 the famous Ascension Cathedral was added to its landscape. Through all of these changes, Khokhloma art continued to develop alongside a robust trade industry. After Khokhloma products were showcased at the 1889 World Exhibition in Paris, international demand for the handicraft grew exponentially. Khokhloma products made in Semyonov grew to fame far beyond the borders of Russia, and historical examples of the painted woodwork have been found in India, Persia and many Western countries.
In the early 20th century, a railway laid through Semyonov served as the impetus for intensive growth of the local economy. In 1916, a school of artistic wood processing which opened in the city marked the beginning of Semyonov's Khokhloma painting enterprise. Six years later, the now-famous Russian matryoshka dolls began to be produced in local factories.
Visitors to Semyonov, Russia today will appreciate the many historic buildings which have been preserved in the city, including Ascension Cathedral, a smattering of old wooden merchants' houses and the landmark Golden Khokhloma Museum and Factory. Semyonov Museum of History and Art also contains many informative exhibits. Additionally, the Golden Khokhloma Festival is held annually on the third weekend of June and includes performances by various local artists and various masterclasses on local folk crafts.