Sergiev Posad, Russia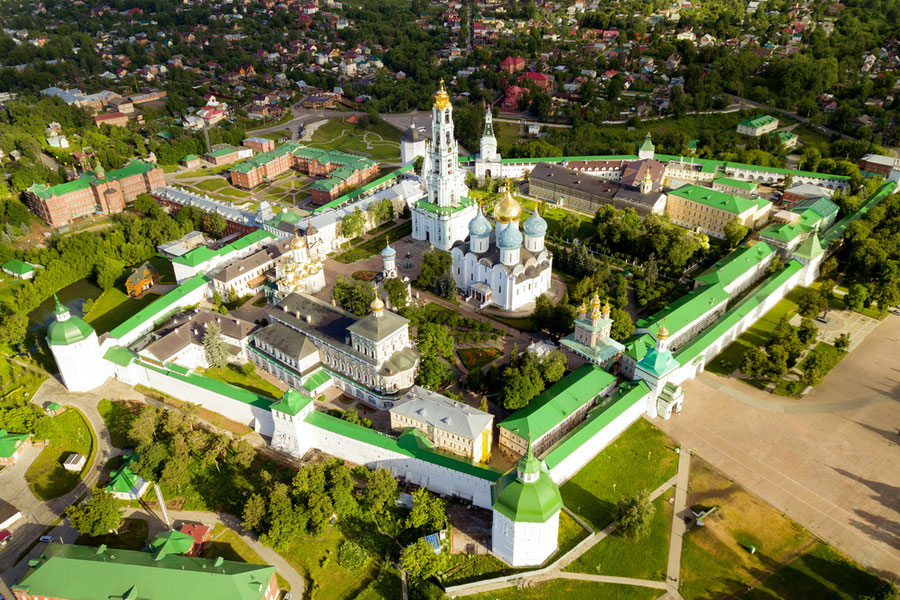 Panoramic aerial view of Trinity-Sergius Lavra in Sergiev Posad
Tours, Attractions and Things To Do in Sergiev Posad
This wonderful city is not only the decoration of the Golden Ring but also the sacred place for believers. It was there that St. Sergius of Radonezh, the Great Russian Miracle Worker, founded the temple. Prior to the monastery construction, the site was occupied by impenetrable forests. In 1337 the monk Sergius with his brother Stephen on Makovets Mountain. There, they built the church in the name of the Life-Giving Trinity. The story of the hermit Father Sergius was spread all over Russian cities. A flood of believers started to come and settle nearby ... That was the beginning of the Trinity Monastery.
When twelve cells were built, the Reverend surrounded them with a high wooden fence. Gradually, the peasants living near the monastery formed a village. In 1782 the suburbs and villages were named "Sergius" Posad (settlement). The people of Posad were engaged primarily in servicing the pilgrims. Near the monastery the hotels, almshouses, shops, apartment houses, etc. were built. I
n 1919 the city became known as Sergiev, and in 1931 it was renamed Zagorsk after the revolutionary V.M. Zagorsky. In 1991 the city was returned its original name.
Today, Sergiev Posad is a small cozy town in Moscow suburbs. To see the famous Holy Trinity-Sergius Lavra thousands of tourists arrive from all over the world.