Intercession Monastery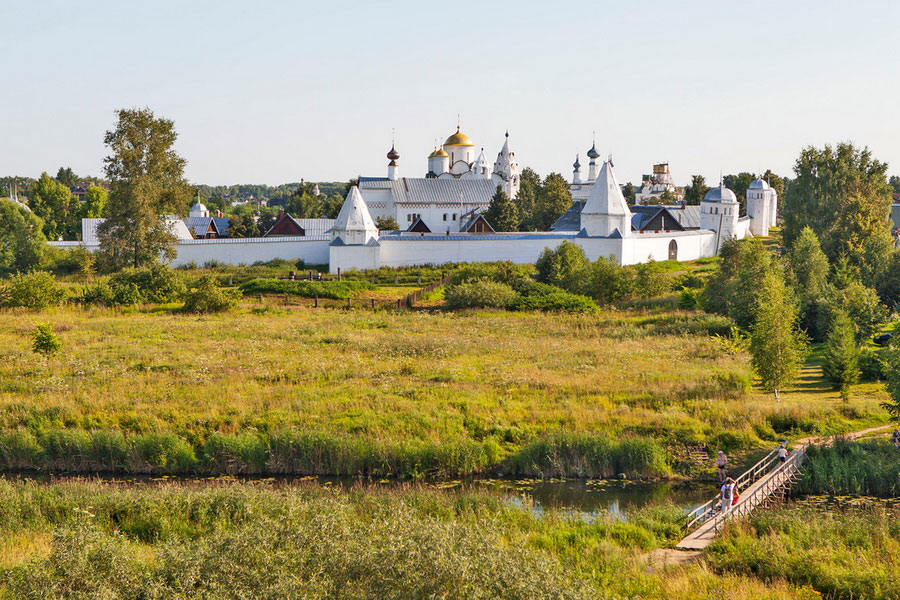 The history of the Intercession monastery began in the 14th century. In 1364 the Prince of Suzdal and Nizhny Novgorod, Andrei Konstantinovich built the wooden church as his gratitude to the God for his deliverance from death during the storm. With time, Intercession monastery became famous thanks to the fact that it was the place of exile for the women of the imperial family. The first to arrive there was the wife of the Moscow Grand Prince Vasili III, Solomonia Saburova. Her marriage to the Prince proved fruitless. Vasily III forced her to take the veil and sent her to the Intercession convent in Suzdal named as Sophia. Afterwards, another prisoner of the convent was Eudokia Saburova and Praskovya Solovaya (sister of Ivan the Terrible), Eudokia Lopukhina (wife of Peter I), Maria Shuiskaya etc. The incarceration of the celebrated persons resulted in generous donations to the convent.
The central part of the complex is the Intercession Cathedral dated 1510-1514. This three-domed temple is surrounded by the gallery that is crowned with exquisite gables. The facades are decorated with portals, pilasters and the frieze of columns. The whitewashed walls inside the Intercession Cathedral were not painted. The floor of ceramic tiles complements the severe atmosphere of the monastery.
To the north of the Intercession Cathedral there is the Conception church built by Ivan the Terrible to commemorate his daughter Anna, who died in 1551. The Conception church has a very stern look. It is decorated with one dome and the elegant pattern of large rhombs on the top of the wall.
Another attraction of the monastery is the Holy Gate (1518) with the gateway Annunciation Church (1630s). Enclosed by the low wall stands a mighty square tower. It has two arched doorways - for pedestrians and vehicles. The top of the tower is decorated with the Annunciation Church. From both sides the temple is decorated with arched gallery openings. The central dome of the temple on a massive drum rests on two tiers of openwork gables.
The monastery resumed its activities in 1992 (the Intercession Cathedral and the Annunciation Church).