John the Baptist Monastery, Sviyazhsk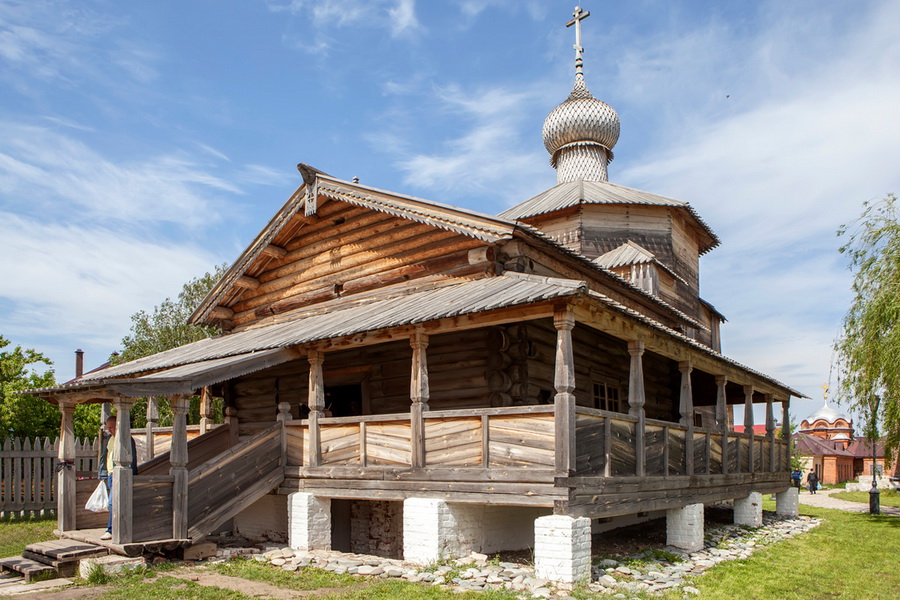 John the Baptist Monastery in Sviyazhsk is one of the island town's most prized possessions. It is located a short distance from the UNESCO-recognized Sviyazhsk Assumption Monastery, of which it serves as an auxiliary.
John the Baptist Monastery was built in 1551 in conjunction with Sviyazhsk's hasty construction and originally served as the nunnery of Nativity Parish Church. After several fires broke out on the island in the 1700s, the abbey merged with the Holy Trinity Monastery complex, now referred to as John the Baptist Monastery.
The complex encompasses several notable churches. The wooden Holy Trinity Church is the oldest building in Sviyazhsk and the only one which has survived from the original fortress city. Like the rest of old Sviyazhsk, it was built near Uglich in 1551 and transported to Sviyazhsk Island on rafts along the Volga River. Erected in only a day and built without a single nail, it is one of the few wooden churches of the 16th century that has survived to our day, although it has undergone reconstruction. Largely void of ornamentation, the log walls of the sanctuary are adorned with wooden icons which are striking in their simplicity, while its four-tiered carved iconostasis stands in sharp contrast with the church's otherwise modest appearance.
Church of Sergius of Radonezh is a two-story chapel which was designed by the same architects who built the Kazan Kremlin. Originally made of wood, it was later reconstructed with stone and now stands as the central feature of Holy Trinity Monastery. The original church shrine, the Icon of Sergius of Radonezh, was donated by Trinity Lavra of St. Sergius Monastery, center of the Russian Orthodox Church, and today can be seen in Church of Yaroslavl Miracle Workers in Kazan.
The largest cathedral of the monastery is Cathedral of the Icon of the Mother of All Who Sorrow, a brick cathedral built in the neo-Byzantine style of the late 19th- early 20th centuries. The dominant architectural feature of Sviyazhsk, it is noted for its three arched entrances, hemispherical dome and luxurious interior.
John the Baptist Monastery in Sviyazhsk remains an important link with the city's past and a favorite of many visitors to the island-city.