Sviyazhsk, Russia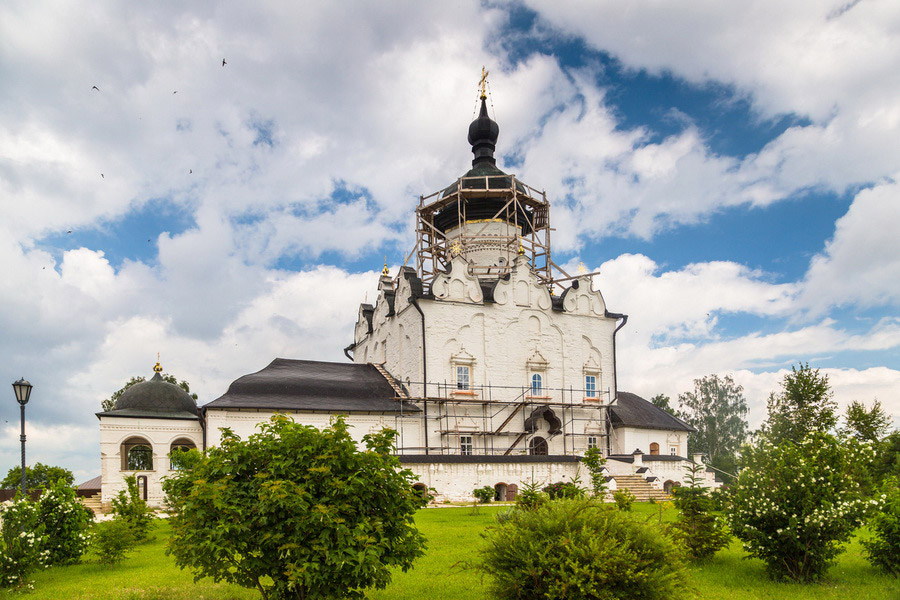 Sviyazhsk Assumption Cathedral and Monastery, Sviyazhsk
Tours, Attractions and Things To Do in Sviyazhsk
The island town of Sviyazhsk near Kazan, Russia is a fascinating enclave whose history spans five centuries. The hamlet occupies a corner of Sviyazhsk Island in Russia's Zelenodolsk District and is a popular stop on cruise routes from Kazan. Famous for having been erected in only a month's time, Sviyazhsk attracts increasing numbers of tourists with its thirty plus heritage sites that give the island city the appearance of an open-air museum.
The fortress city of Sviyazhsk owes its existence to the many unsuccessful attempts of Ivan the Terrible to conquer Kazan. He ordered the outpost be built atop Kruglaya Mountain between the Sviyaga and Tshuka Rivers, a strategic location which provided natural protection and was only a day's journey from the prized Kazan Khanate.
In order to escape enemy detection, the fortress was actually constructed near the town of Uglich before being dismantled and sent by raft along the Volga River to its present location. In May 1551, a full-blown city with homes, churches and a protective wall suddenly sprang up on Sviyazhsk Island in four weeks' time. The following year, Ivan the Terrible succeeded in capturing his target in the famous Siege of Kazan.
Russia's Sviyazhsk settlement continued to develop into a large trade and administrative center which was popular with foreign merchants. Its fortress was known to be far superior to the large fortifications of Pskov, Novgorod and even Moscow. Monasteries and additional churches were built, and in 1781 Sviyazhsk acquired the status of a county town.
The peaceful atmosphere of Sviyazhsk was shattered with the Soviets' rise to power. Most of the town's cathedrals were destroyed, looted or converted into detention centers, first for World War II prisoners and later for political dissidents.
Sviyazhsk Island was heavily flooded in 1957 when the Kuibyshev Reservoir was filled. After the road connecting the island to the mainland became submerged in water, Sviyazhsk became geographically isolated and its population sharply decreased as a result.
The struggling town was not revived until 2008, at which time a new dam and a road connecting Sviyazhsk with the mainland were constructed. Sviyazhsk continues to be infused with new life through its ever-growing tourism industry which is largely organized around its historic monasteries, cathedrals and manors. Music festivals and special events augment its historical relics, and as restoration efforts continue, the island town of Sviyazhsk is only bound to grow in popularity with tourists and travelers.