Boris and Gleb Monastery, Torzhok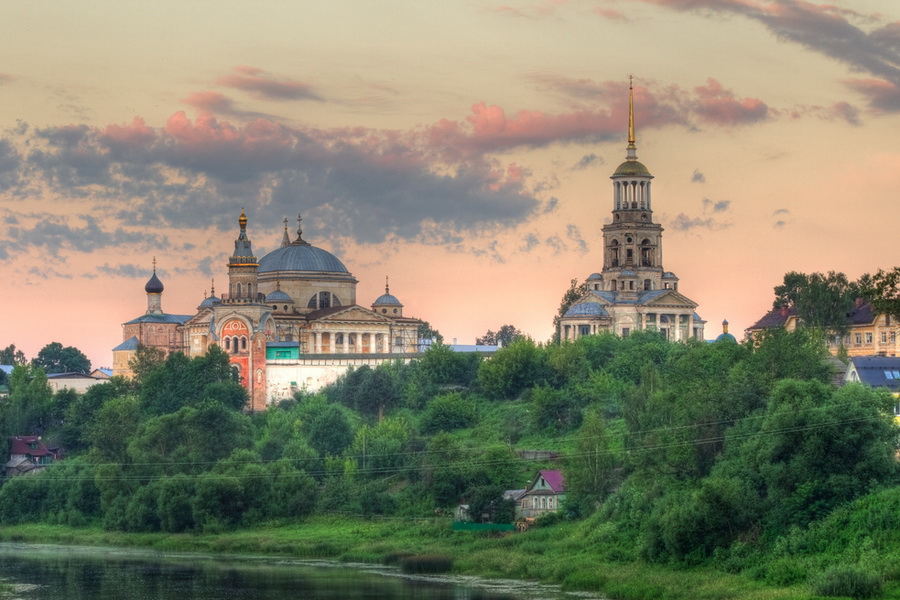 Borisoglebsky or Boris and Gleb Monastery in Torzhok, Russia is a unique historical edifice whose impressive architecture and picturesque setting along the banks of the Tvertsa River create a lasting impression on visitors.
Boris-Gleb Monastery is one of the oldest Orthodox monasteries in Russia, founded during the reign of Prince Yaroslav Vladimirovich (Yaroslavl the Wise) in 1038. The church was established by an aristocrat by the name of Efrem Novotorzhsky, who served as an attendant to Prince Vladimir the Great before pursuing religious work in Torzhok. Novotorzhsky named the monastery after Boris and Gleb, sons of Vladimir the Great who perished around 1015 AD at the hands of their brother Sviatopolk. They were later canonized as the first martyrs of the Russian Orthodox Church.
In 1577, Ivan the Terrible commissioned two side chapels be added to Saints Boris and Gleb Church, the monastery's central cathedral. During an attack on the city in the Polish-Russian War of 1605-1618, one of the churches was burned, but was replaced later that century with the domed Church of the Presentation (Vvedenskaya Church). Today it is the oldest building in the monastery complex which has survived to our day.
Church of the Entry Into Jerusalem was added to the ensemble in 1717 and underwent extensive renovation only in the 1980s. During the reign of Catherine the Great in the late 18th century, the monastery experienced an era of revival. At the end of that century, Saints Boris and Gleb Cathedral was rebuilt in a neoclassical style, followed in the early 19th century by the construction of Church of the Miraculous Icon of the Savior above the main entrance. The church is still distinguished by its unmistakable steeple and bell tower.
In the late 19th century, Candle Tower (Svechnaia Tower) was built adjacent to Church of the Miraculous Icon of the Savior as a part of the newly restored outer wall. Restoration of the tower was not carried out until the 1970s-1980s.
Beginning in 1925, the monastery alternately housed a prison and a medical dispensary. In the 1990s the Russian Historical and Ethnographic Museum was relocated to the complex, at which time restoration work on the ensemble also commenced.
Today, Boris and Gleb Monastery in Torzhok remains open to the public. As one of the most distinguishable landmarks in the city, it continues to evoke the admiration of visitors.