Church of the Archangel Michael, Torzhok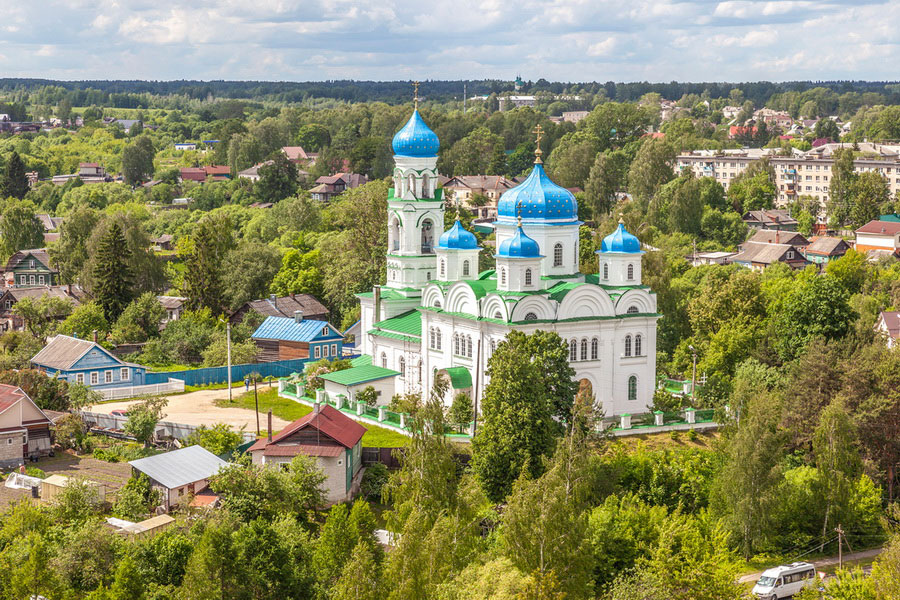 Church of the Archangel Michael in Torzhok, Russia, also known as Annunciation Church, is a striking cathedral noted for its white stone façade and five aqua-blue domes. Situated atop a hill, its unique blend of 19th-century Russian architectural styles creates a unique look of splendor which is clearly visible from afar.
In 1758, a church boasting of three altars was built on this site to replace two wooden chapels, the winter Archangel Church and summer Annunciation Church, which both burned down in a fire in 1742. After some years it was determined that the 18th-century cathedral, which had reached a state of dilapidation, was too dark and poorly constructed to renovate. The decision was thus made to demolish it and build a brighter church in its place.
In 1864, a new single-altar church was built in honor of the archangel Michael's announcement to Mary of the coming virgin birth. This was followed by the addition of a larger bell tower in 1887. The new Church of the Archangel Michael was well built, brightly lit and fitting for a metropolitan cathedral. Its interior decoration likewise corresponded with its majestic outer appearance.
After the nearby Boris and Gleb Monastery was shut down in 1925, some of its holy saints' relics were relocated to Annunciation Church, where they remained for five years. In 1936, the church too was shuttered and converted into a bakery and warehouse. Soon after the end of World War II, Church of the Archangel Michael in Torzhok was returned to the Russian Orthodox Church, and for the next half century it served as the only active cathedral in the entire city.