Goldwork Embroidery Museum and Factory, Torzhok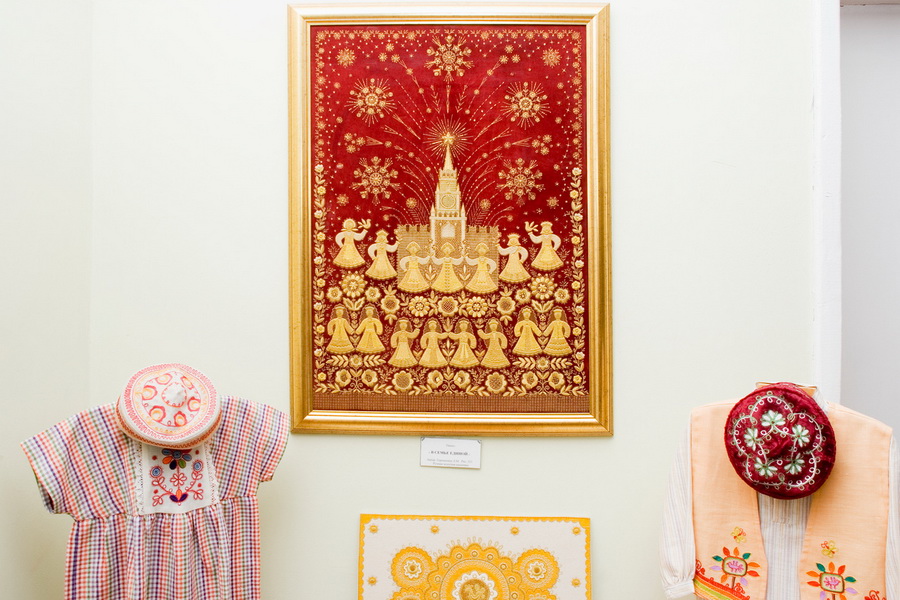 The Goldwork Embroidery Museum and Factory in Torzhok, Russia is filled with shimmering displays of this unique craft for which the city has long been famous.
Although the craft of gold embroidery in Torzhok did not reach wide-scale development and recognition until the 18th century, archaeological finds indicate that dresses stitched with gold and silver threads were embroidered here as early as the 9th century.
Local girls of a marriageable age used to follow a highly unusual tradition: they would embroider their right mitten in as unique and intricate a style as they were able, and at bride fairs, they would line up in a row and shyly cover their faces with their embroidered mittens in a demonstration of their skill to potential grooms.
Gold-embroidered clothing items sewn in Torzhok and worn by the capital's 18th-19th century fashionistas became known for their posh, chic style, so it was not surprising when the imperial family began placing numerous orders for special items. Catherine II owned several ballgowns embroidered by Torzhok craftsmen, while royal clothes, jewelry and household items would be covered with embroidered gold threads depicting birds or floral designs. Palace decorations created by Torzhok embroiderers were valued for their refined taste, including embroidered portraits of kings and commanders, icons and saints' images whose interwoven gold threads gave the pictures the appearance of glowing from the inside out.
In the early 20th century, the works of Torzhok's craftswomen were first displayed at international exhibitions, where they received several awards and medals.
Today, unique and beautiful embroideries created by Torzhok's talented seamstresses are presented in the Goldwork Embroidery Museum. The museum is located on site at the Torzhok Gold Embroidery Factory, the only one of its kind in Russia. Expositions are divided between three halls and introduce visitors to pre-World War II embroideries and Soviet-era creations through many captivating displays. Items as diverse as gold-embroidered general's stars, shoulder straps and gilded banners may be seen. One of the museum's biggest attractions is a portrait of Stalin which a Torzhok embroiderer stitched in the post-war years and kept in her home for decades. In 2011, the unusual masterpiece was donated to the museum by her relatives.
Near the Goldwork Embroidery Museum and Factory in Torzhok is a gift shop that sells a variety of luxuriously embroidered items for every taste and budget. The skilled creations are fun to browse and make the perfect souvenir from your visit to Torzhok.