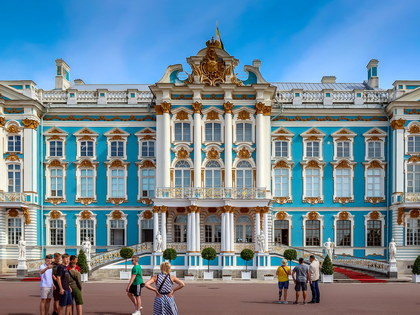 Tour itinerary:
This guided tour (by car/bus or by public transport) will introduce you to the former imperial summer residence Tsarskoe Selo.
During the tour you will enjoy Catherine's Palace, a Baroque building, considered one of the world's architectural masterpieces, and the royal church with its gilded cupolas. You will have a guided tour around lavish rooms of the palace, including the Grand Hall, decorated with gilded wood carving and mirrors, the Picture Gallery with 130 painting by West European artists, dining rooms with wonderful porcelain dinner services and the Study of Alexander I.
And, of course, you will admire the magnificent Amber Room faced with natural amber of different colours (that was newly opened in May 2003 after 25 years of reconstruction).
After that you will relax a bit, walking in the park and enjoying romantic alleys, picturesque ponds and pavilions designed in the Antique style.