Alexey Monastery, Uglich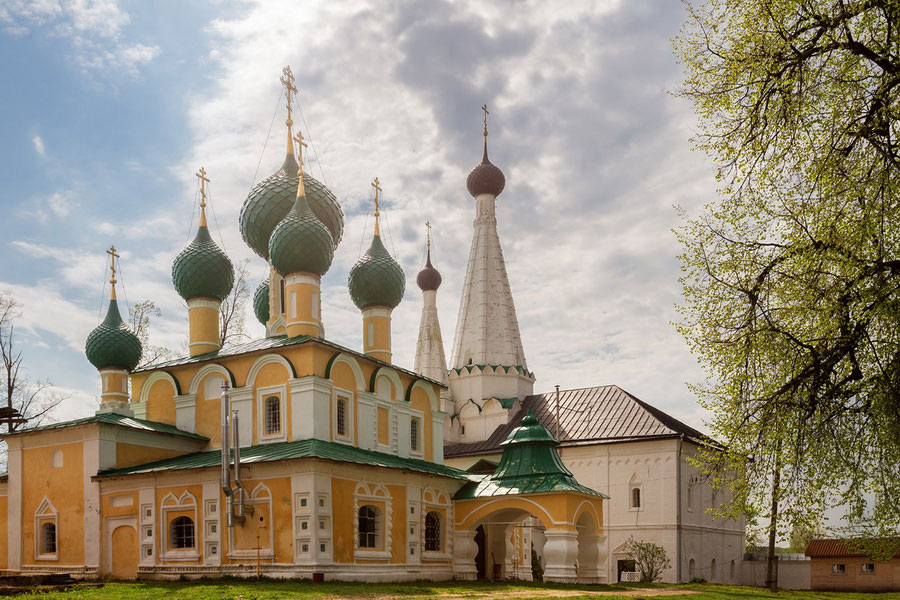 Alexey Monastery or Alekseevsky Monastery in Uglich, Russia is a local spiritual center and a pilgrimage destination for Orthodox Christians.
Its origins began when St. Alexis, the Metropolitan of Kiev, Moscow and all Russia, visited Uglich in 1371 and gave his blessing for Adrian the monk to build a monastery in honor of Mary the Mother of Jesus.
The monastery was originally named Uspensky, but the name was changed to Alekseevsky (Alexey Monastery) after the sacred relics of Metropolitan Alexey were placed inside in 1431 and a church was built in his memory. The oldest church on the complex was named after the Dormition of the Most Holy Theotokos, an Orthodox feast which commemorates Mary's death and transformation.
The monastery's history is filled with tragic events which are closely connected with the city of Uglich. The Polish-Lithuanian invasion in 1609, the Russian Revolution of 1917 and the era of disbelief all took their toll on the monastery, which miraculously survived each new assault.
On February 17, 1997, Alexey Monastery was transferred from the state back to the Russian Orthodox Church, at which time it was converted into a women's convent and underwent extensive restoration work. Three churches have been preserved on its territory - Church of the Divine (Assumption Church), Church of the Beheading of John the Baptist and Church of St. Alexey.
Several of the monastery's key shrines were also returned to the premises, including Miraculous Icon of the Mother of God (Vratarnitsa Uglichskaya), Unquenchable Candle of the Immaterial Fire and Icon of St. Nicholas the Wonderworker on Mount Athos. Pilgrims from around the country are now drawn to the monastery's shrines and the healing powers which the complex is purported to possess.
There are two museums on the premises - a house-museum of the secret nun Alexia and the Museum of Metropolitan Nikodim, which includes the People's Art Gallery. Additionally, Alexey Monastery in Uglich now houses the Pokrov Crisis Center and a shelter for orphaned girls and is known as a place where volunteers can participate in charitable and educational activities which benefit the community.