City Council Building (Mayor`s House), Uglich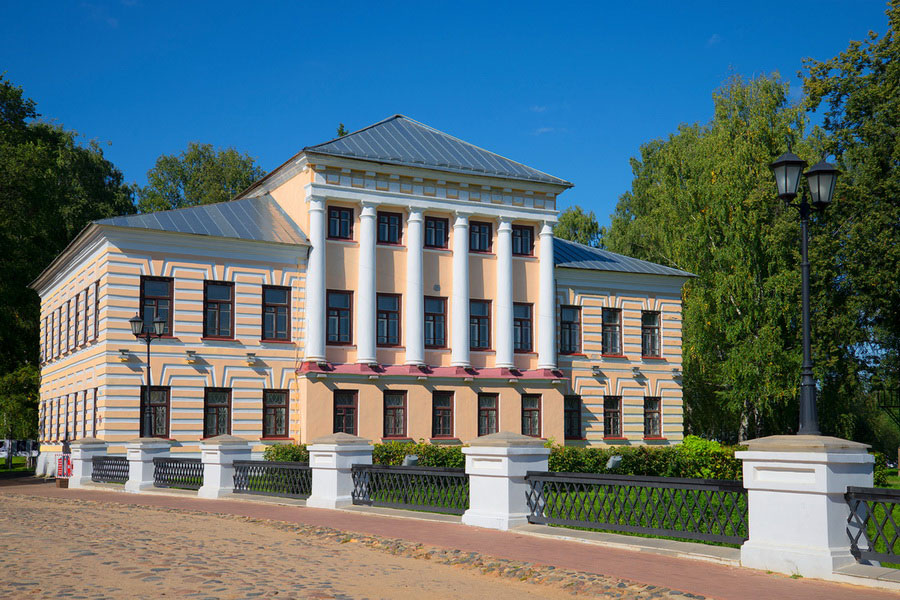 The former City Council Building (Mayor's House) in Uglich of Yaroslavl District, Russia was built from 1813-1815 in the southern section of the Uglich Kremlin, near the bridge which spans the moat. It served the city for more than a hundred years, housing City Council, the Guild Council, the Court, the Bank, archive rooms, a hall for public meetings, a parish and district schools. Today, the building contains museum displays and a music room, the latter of which is located in Red Hall, where the Council once held meetings.
City Council Building or City Duma is unusual in that it has two identical facades and its appearance changes depending on the spot from which it is viewed. One of its identical sides faces the city square and the other the Kremlin, where it adjoins Epiphany Cathedral and is framed by the greenery of Park Pobedy.
If you look at City Council Building from the city square or Filippovsky Bridge, it looks like a Royal Palace washed by the waters of a stony stream. In reality, it is a two-story building constructed with clear, symmetrical facades in the classical style, crowned with a mezzanine and decorated with a Tuscan-style portico. On closer inspection, the Mayor's House gradually loses its dazzling appeal as the inconsistencies with the classical style and the roughness inherent in provincial buildings become more noticeable.
The interior design of City Council Building corresponds with the interiors of many state buildings built during the reign of Alexander I. The rooms are unadorned save modest stucco cornices, vaulted ceilings, grilles and wrought-iron doors. Nevertheless, the building holds historical value, having once been the site of crucial decision making. In later times, in the hall where musical events and concerts are now held, the Soviets once asserted their greatness before the Uglich population.
Visitors to the City Council Building in Uglich today can become better acquainted with the history of the city at the museum located inside its grand old walls.