Uglich Kremlin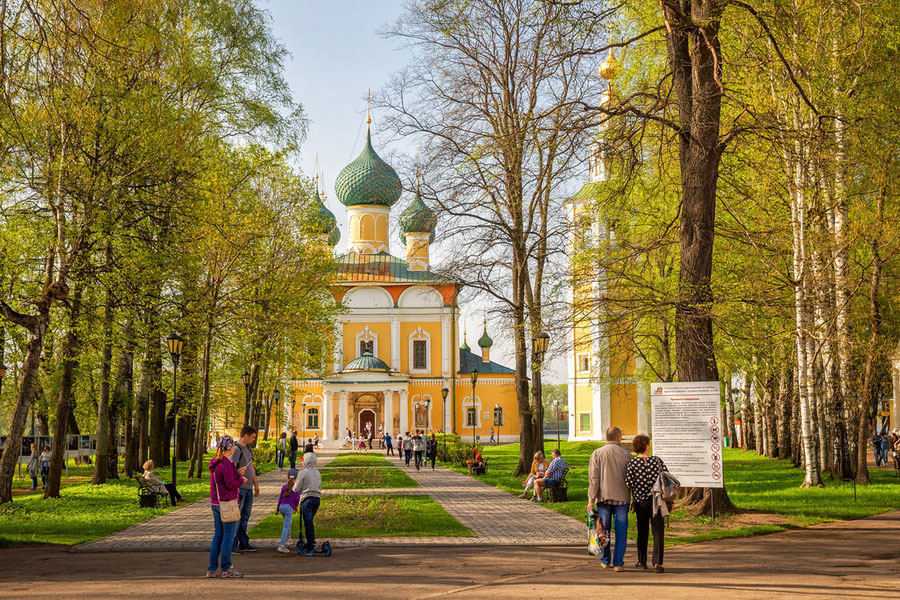 The Kremlin, as it is common for all old Russian cities, is one of the Uglich most important and revered attractions. The Uglich Kremlin stands on a high bank of the Volga. In ancient times, surrounded by water, the Kremlin was inaccessible. It occupied a smaller area compared to that of today's one (nowadays the territory of the Kremlin runs up to Nikolsky Bridge). The borders of the fortress were expanded, new ditches were dug around it - the Kremlin was changing its geometry. Most changes and improvements in the fortress were made under Andrew V. Large, the Prince of Uglich.
The Uglich Kremlin can be reached by Nikolsky Bridge (before it was called Soborny (Cathedral) Bridge), built as back as 1820. The Uglich Kremlin ensemble consists of seven buildings, with the oldest among them – the Princely Chamber, a unique monument of civil architecture, built in the XV century. The Chamber lower floor houses an interesting exposition dedicated to different periods in Uglich history. The most notable and majestic part both of the Kremlin, and the whole Uglich is the Transfiguration Cathedral, built in 1713 by Yaroslavl masters. It features a carved golden iconostasis of the XIX century, and walls decorated with beautiful murals. The ensemble also includes the famous Church of Tsarevich Dimitry on the Blood - a gloomy reminder of one of the weirdest deaths in history of the Russian state. This church is the second oldest building in Uglich Kremlin ensemble. The latest Kremlin buildings include the Epiphany Winter Cathedral (1827) and Mayor's House (1815).
The Uglich Kremlin, the most interesting museum complex among the Uglich buildings, must be visited by any traveler, who happens to be in the city. In summer, Uglich Kremlin is open from 9:00 AM to 05:00 PM without lunch breaks, seven days a week. In winter the access to the Kremlin territory is an hour shorter, while on Mondays and Tuesdays the historical museum complex is closed for public.