Transfiguration Cathedral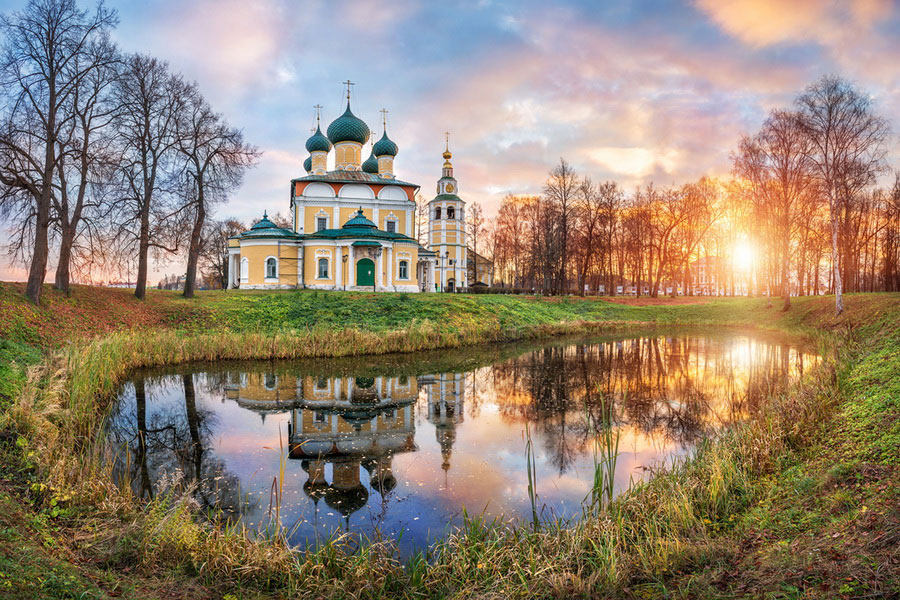 The five-domed Transfiguration Cathedral rises predominate over Uglich, impersonating its whole rich history, a generational change and moods of the times. This main Uglich temple is an absolute dominance in the city's architectural image, an important pilgrim place for the Christians. For some time, the temple kept tsarevich Dmitry's remains which were later brought to Moscow.
The Transfiguration Cathedral was erected in 1485 in place of a dilapidated wooden church of the XIII century. In the time of troubles, it suffered a sad fate: in 1611 during the Polish invasion it became a final resting for some townspeople, who were killed in the Cathedral by the invading enemies, while the temple itself was burned away.
The present building of the Transfiguration Cathedral was erected in the period from 1700 to 1713. The temple was built of stone by Yaroslavl masters, who decorated the magnificent five-domed building with lush platbands in baroque style. Georgy Fyedorov's crew is known to be engaged in the construction, while participation of Grigory Ustinov, future famed architect of the Peter's time is also probable. In 1730 an octagonal stone bell tower in "Naryshkin" style was attached to the cathedral. The remarkable fact is that the bell tower was built particularly on the spot, once occupied by the old wooden church bell tower, from which the bell ringer announced the death of Tsarevich Dmitry to the Uglich people by a peal of bell. Later this ill-fated bell, which brought bad news, was given a flogging with a whip just like humans and, like a criminal, exiled to Siberia. After many years of exile, the bell was returned to Uglich and today it can be seen in the Church of St. Dimitry on the Blood.
In 1809–1811, masters from the serf artist Medvedev workmen's cooperative association painted the cathedral walls. Among the subjects of painting there is a copy of the works of Italian artists Guido Reni, Guercino, Domenichino. The "Transfuguration" the main temple composition is a copy of the Raphael Sanzio's painting, kept in the Vatican. The scenes of the painting also show the life of Christ and illustrate the Gospel parables. In 1853 the cathedral was fitted with a golden carved iconostasis filled with sixty ancient icons, dating back to the XVII-XVIII centuries.