Vitoslavlitsy Museum of Wooden Architecture, Veliky Novgorod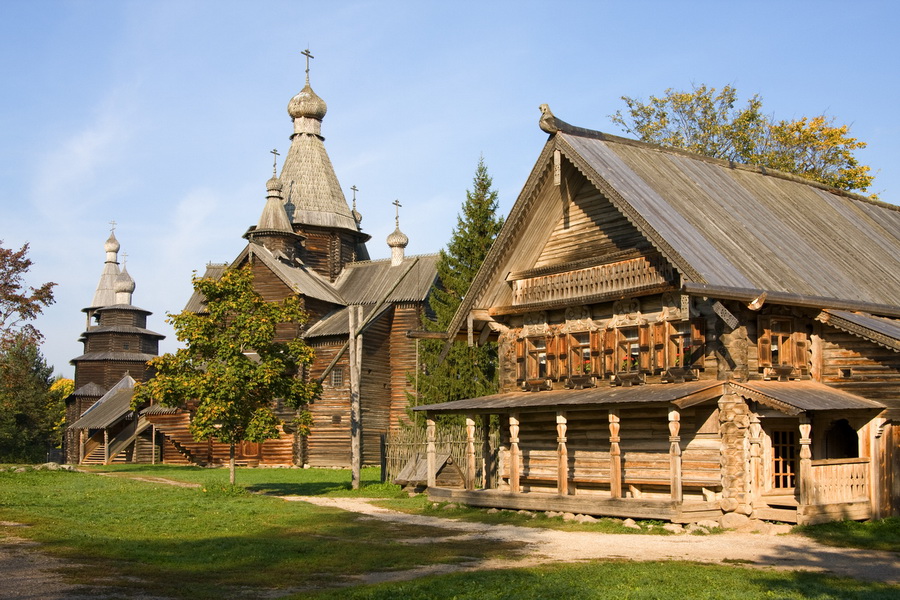 Tourists in Russia usually take time to admire the nation's repertoire of Kremlins and palaces, yet the life of the common people was lived out not in mansions but in ordinary homes and villages. Vitoslavlitsy Museum of Wooden Architecture in Veliky Novgorod is a beautifully recreated village of peasant huts, chapels and stables which reflect the life of the everyday family in historical Russia, a life which often stood in stark contrast to that of the ruling elite.
An actual village named Vitoslavlitsy once stood near Yuriev Monastery on Lake Myachino, just a few kilometers from the city of Veliky Novgorod. The original village was inhabited for more than a century, although today only scant remains exist of Vitoslavlitsy and of many of the churches in its vicinity, save Annunciation Monastery. Yet this historical landscape, replete with lakes and channels, attracted the attention of L.E. Krasnorechiev, the outstanding restoration architect who founded Vitoslavlitsy Open-air Museum in 1964. To complete the project, researchers began actively collecting ethnographic material while architects worked to restore historic wooden buildings which were brought in from all across Novgorod Oblast.
The first exhibit to open at Vitoslavlitsy Museum of Wooden Architecture was Church of the Assumption, a building from the village of Kuritsko. The restored church proved to be only the beginning of one of the most fascinating museums of folk architecture in all of Russia. An entire village, complete with huts and mills, stables and baths, barns and forges, has since been created, and in 2013 a real farmyard with stables, goats and sheep was added. Today the architectural reserve covers an area of ​​33.4 hectares and includes 34 displays which are listed as federal monuments of historical significance.
As you stroll down the streets of the realistically recreated village, it is as if you are walking through a Russian folk tale while stepping back in time to a simpler era. In the main hut of Vitoslavlitsy Museum of Wooden Architecture, a hostess will greet you and give you a tour of the barnyard's cattle stall and hayloft, telling the purpose of each item along the way. In wintertime visitors can enjoy sleigh rides and ice slides, and in summer can test their balance on stilts or participate in traditional games such as tug-of-war. A fun variety of craft workshops are held throughout the year, while interactive theatrical excursions complete with bell ringing are organized on occasion. For a truly memorable excursion, plan to join the folklore festivities which are held at Vitoslavlitsy Museum on Christmas and Holy Trinity Day.
Vitoslavlitsy Museum of Wooden Architecture is an engaging museum which rivals the finest palaces for its significance in preserving the historical life of Russian peasants.