Church of the Intercession on the Nerl, Vladimir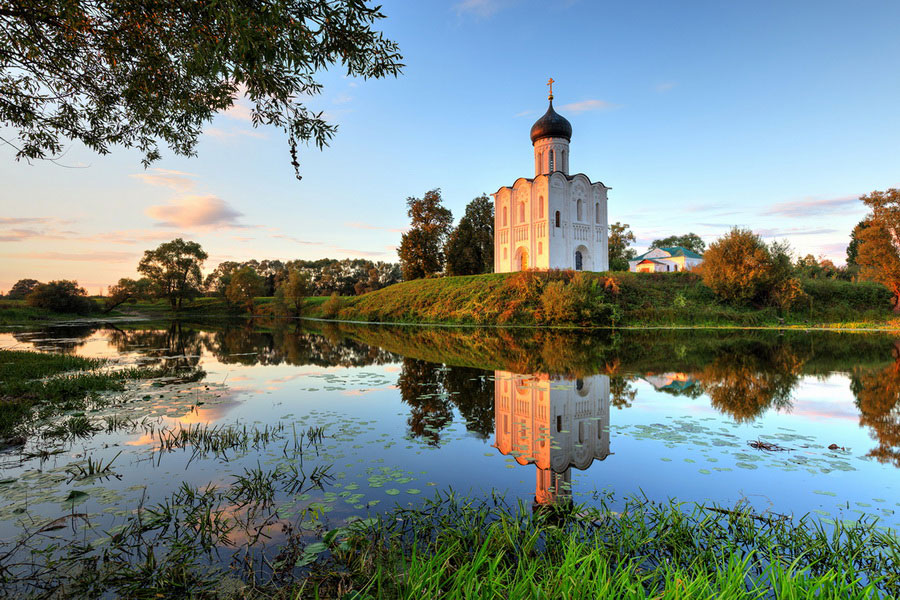 The true treasure that has reached our time is the temple of the Intercession in Bogolyubovo. This is the first Russian dedicated to the new holiday of the Protection of the Virgin.
The slender silhouette of the white-stone masterpiece is reflected in the waters of the river Nerl, on the bank of which it was erected in the 12th century. Now this place is situated 1.5 km from Bogolyubovo if you go in the direction of Vladimir. According to the legend, the townspeople bid farewell to the fleet departing to the war against the Volga Bulgars there. The son of Andrew Bogolyubsky, Izyaslav, did not return from that war and the church was built in his honor.
Church of the Intercession is enchanting in its simplicity, clean lines, and the harmony of proportions. Its excellence is recognized around the world. No wonder it is in the UNESCO World Heritage List.
Outwardly, the temple looks like this: a tall cubic base is decorated with graceful slender drum with narrow windows. The drum is crowned with an elegant cupola. But the main highlight of the temple is its wonderful white stone carving on the facades. The carving is executed in the form of composition, which depicts King David surrounded by animals, real and fairy-tale. The rich ornaments and amazing number of reliefs of girls' faces that surround all three facades of the temple add to the church splendour.