Old Vladimir Museum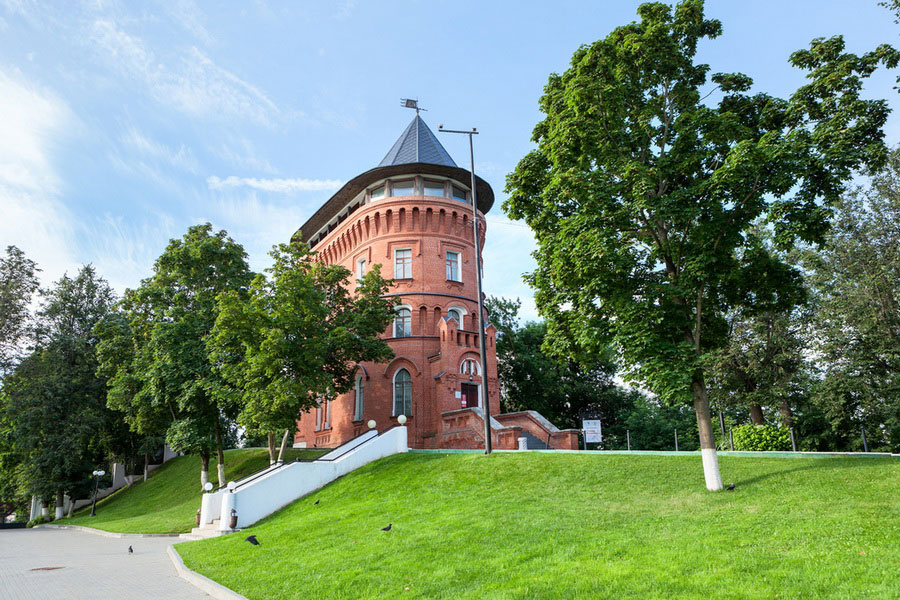 Old Vladimir Museum is one of the city symbols of Vladimir, Russia. Located in a red-brick water tower of great historical value, the museum poignantly captures city life from the late 19th century until the early Soviet era.
The 3-story water tower was built in 1912. Its tank holds just under 100 thousand liters of water, and a steam engine had to be specially brought from England to transport it. Its capacity was sufficient for the city's needs until 1950, at which time the water supply system was updated. With the construction of a modern urban water system, the tower was no longer needed and gradually fell into disrepair.
In 1967, the tower was awarded the status of Monument of Urban Planning and Architecture. In 1971, it was transferred to the Vladimir-Suzdal Museum-Reserve and adapted for the Museum of Urban Life of the Late 19th and early 20th centuries. In preparation for the museum's opening, the tower underwent extensive restoration under the supervision of architect Sergey Ermolin. An observation deck was built on the roof, with a spiral staircase leading up to it. The southern part of the building was reconstructed and allocated for museum exhibitions.
Local historian Liya Gorelik designed and oversaw the creation of Old Vladimir Museum, dedicated entirely to Vladimir and its residents. The museum officially opened on May 1, 1975 and was renovated in 2009. Currently, Old Vladimir Museum has 4 floors, the last one being the open observation deck. On the first floor are exhibits dedicated to pre-revolutionary Vladimir; on the second floor, detailed information on Vladimir's residents; and on the third floor are religious items, most of which once belonged to city residents.
What to See:
The water tower holds architectural value and remains a highlight of the city. Inside, Old Vladimir Museum has more than 800 unique exhibits dedicated to the life of Vladimir's residents at the turn of the 19th-20th centuries, including a unique, original grid of Vladimir Central.
In addition to individual exhibits, Old Vladimir Museum also includes period-rooms of a tavern, pawnshop and a wealthy resident's home. The museum's unusual atmosphere is enhanced by postcards, newspapers and advertisements from the era which recreate the city bustle of historic Vladimir.
Did You Know? Instead of the usual explanatory plaques, the exhibits of Old Vladimir Museum are described using authentic excerpts from 19th-20th century books, newspapers and magazines.
WHERE: 14 Kozlov Val Street, Vladimir city.
WHEN: Weekdays from 08:00 – 18:00
Weekends from 10:00 – 19:00
Closed 3rd Saturday of the month for cleaning.