Central Square in Volgograd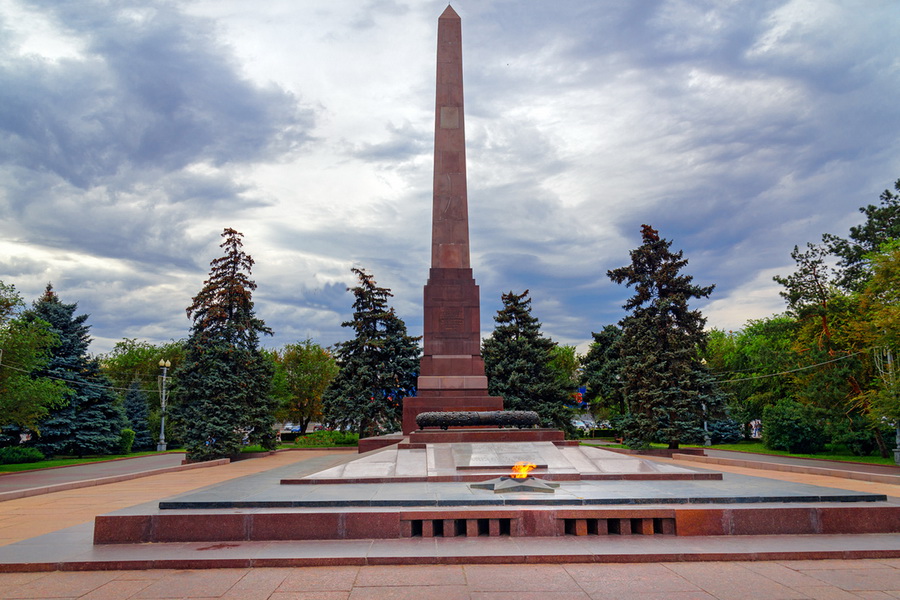 Walking along Heroes Avenue from the central embankment, you will reach the city's largest square – Volgograd central square or as it is otherwise called, Fallen Fighters Square. Fallen Fighters Square traces its history back to Alexander Square, founded at the foot of the fortress as a large city's market with shopping arcades, taverns and merchant stores. It was laid in a strict monumental style – 274 m in length and 90 m in width.
The whole square architectural ensemble is made up of edifices of Medical University, Central Department Store, The Volgograd and The Intourist Hotels, Volgogradenergo, Central Post Office and NET Theater. The square has a T-shape. The main part of it is occupied by the square itself, holding major celebrations and parades, and gradually ending with Memorial Square. There is a mass grave of 55 revolutionaries killed by Wrangel white guards in the civil war of 1919. Later, in 1942-1943, there were also buried over 100 fallen defenders of Stalingrad. In memory of the fallen heroes the city erected a monument – a 26-m granite obelisk with an Eternal Fire.
In addition, this place features a unique historical and natural heritage – an extant poplar, survived the battle of Stalingrad, which fact is reflected on a plate placed nearby.
Located on the square, the extant building of the department store, built in 1938 by architect M. P. Tsubikova is an interesting architectural monument. The finishing décor of the department store was considered one of the best in the Soviet era. A corner position of the building follows Tsaritsyn's street pattern, while a specific exterior decoration – pre-war city layout.
At present, Fallen Fighters Square holds major city's events, public meetings and demonstrations. Every year, on 2 February and 9 May, formal military parades take place there. During New Year festivities it features the city's main tree and the holiday gaieties.