Watchtower, Volgograd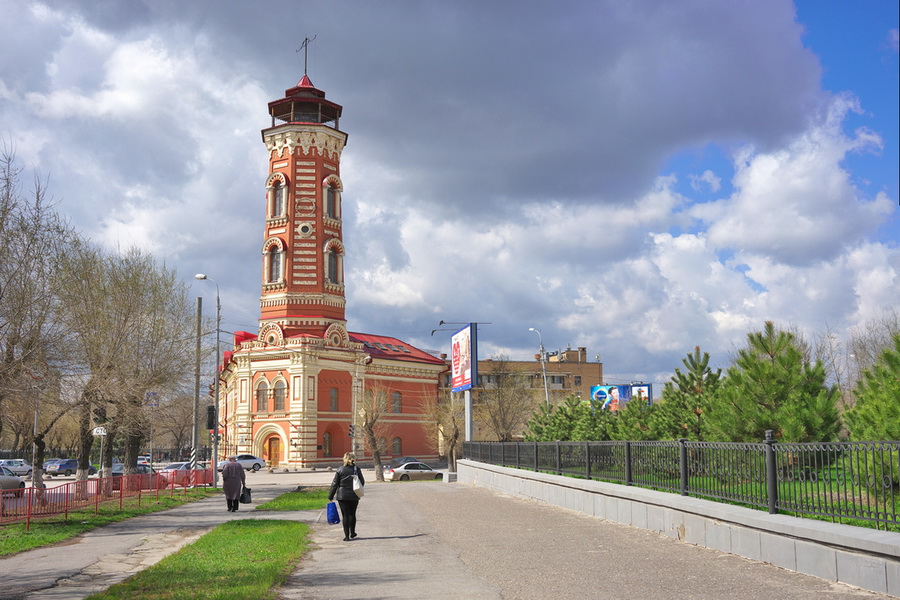 The Volgograd old watchtower stands out against the background of the modern buildings of the city. An elegant red brick masonry along the perimeter of the watchtower attracts the attention of travelers, while an observation deck on its building offers a magnificent view of the surrounding city.
The watchtower building is a bright example of the architecture of Tsaritsyn - present Volgograd. A decision to erect a watchtower was made by the city administration in 1891, and as soon as 1897 it was already put in commission. At that time it was a whole complex, consisted of seven fire stations, stables, military barracks, a dormitory, library, and pawnshop, and the 45-meter watchtower itself.
With the installation of telephone communication the need in the watchtower to watch the fire in the city began gradually falling away. The Battle of Stalingrad left undamaged not a single building, and the building of the watchtower suffered too. In subsequent years, the watchtower was changing its owners while the building itself was restored and renovated several times. Substantial restoration of the building took place in the period from 1948 to1952, but its present look was formed after restoration of 1997-2001.
By the way, the customers thoroughly handled the issue of restoration. Thus, the facade masonry was restored by running bond - when a lining brick is laid exclusively with its end facing out. This method, used in the construction of the original buildings, was common for pre-revolutionary Tsaritsyn. Thus, the restorers were able to reproduce all elements of décor of this magnificent building - and revive the history!
Now the former watchtower is occupied by Volgogradavtodor Regional State Unitary Enterprise.