Cathedral of the Annunciation of the Blessed Virgin Mary, Yoshkar-Ola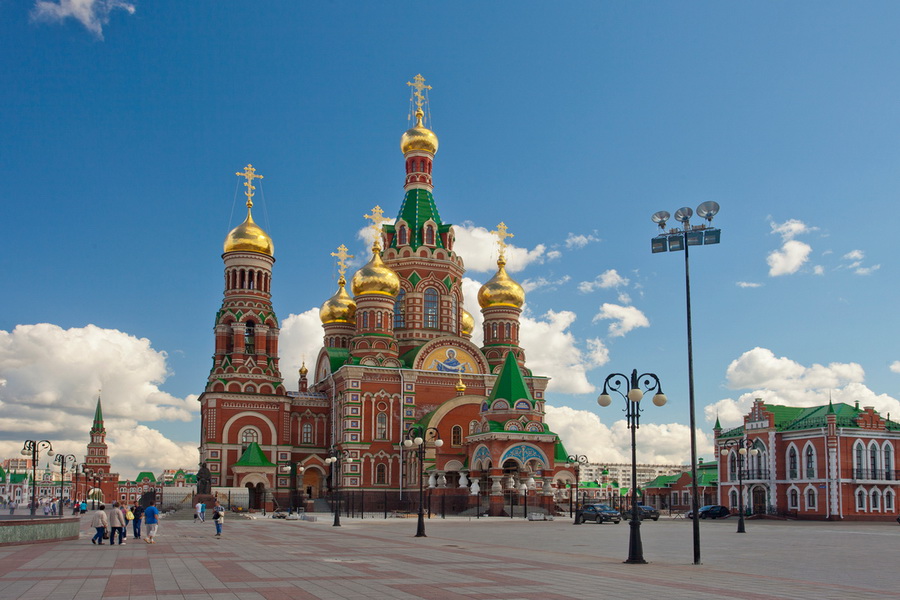 Cathedral of the Annunciation of the Blessed Virgin Mary in Yoshkar-Ola, Russia is located along the picturesque Kokshaga River, where it is surrounded by exquisite Italian-style buildings. Often referred to simply as Annunciation Cathedral, the Yoshkar-Ola church was built to resemble Church of the Savior on Spilled Blood in St. Petersburg and is now the main landmark on Square of the Republic and the Blessed Virgin Mary.
Construction of Annunciation Cathedral began in October 2009 and lasted until 2013, with the crosses added the following year. After its consecration in 2016 by Patriarch Kirill of Moscow and All Russia, the church officially came under the Yoshkar-Ola and Mari Diocese. Built almost entirely from donations by parishioners, the Russian-style church evokes admiration with its grandeur and captures the eye from afar with its colorful mosaic panels, five golden cross domes and large bell gilded with precious metal. The western arch bears the image of the Virgin Mary and the faces of Prince Alexander Nevsky and Saint Panteleimon, while a large composition on the eastern façade, entitled "Adoration of the Cross", depicts the cross in a starry sky surrounded by angels and is visible to passersby from a distance.
The interior decor of Yoshkar-Ola's Annunciation Cathedral is solemn and harmonious. Perhaps the most striking feature is the altar, at the very top of which is an image of Christ and the apostles. Just below this image is a prominent iconostasis, a luxurious marble mosaic dedicated to Mary. The cathedral includes five side chapels and, with a height of 74 meters and a total area of 625 square meters, is able to accommodate nearly two thousand parishioners at once. Not far from the church is a monument to the Blessed Virgin Mary with the Christ child in her arms.
With its bright, cheery décor and religious significance, Cathedral of the Annunciation of the Blessed Virgin Mary in Yoshkar-Ola is now a popular attraction among tourists to the region.