Bruges Embankment, Yoshkar-Ola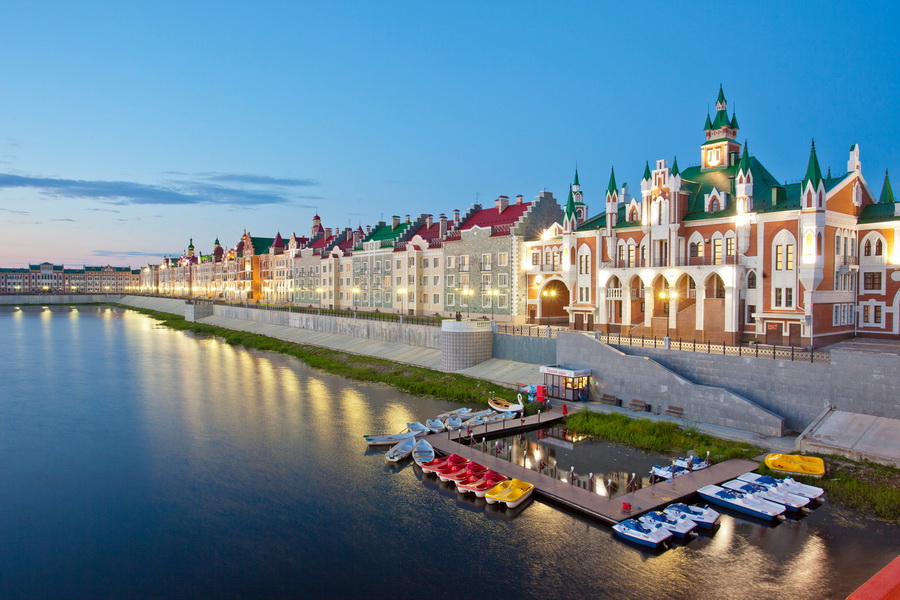 Bruges Embankment in Yoshkar-Ola, Russia is a promenade along the Malaya Kokshaga River which is lined with fairytale mansions reflective of medieval Europe. The embankment has become the most popular attraction in Yoshkar-Ola, capital of the Mari El Republic.
Developed in 2010, Bruges Embankment was patterned after the quaint town of Bruges, Belgium and named by Mari El President Leonid Markelov. Stretching from Theater Bridge to Internationalist Warriors Street, each of the buildings along Bruges Embankment were designed in a Northern Gothic style, with a predominance of Flemish architecture prevalent in present-day Belgium and The Netherlands.
Cheery 3-4 story buildings with stepped roofs, turrets and spires of various shapes are decorated with stucco, arches, unusual sculptures and detailed ornamentation which delight passersby. Not surprisingly, the embankment is a popular place for friends and couples to meander and admire the amazing views. The colorful structures are reflective of gingerbread cutouts, yet in contrast to their appearance the buildings house government ministries and offices.
The red-and-white brick Wedding Palace has been a favorite photo spot for newlyweds and tourists ever since it was unveiled in 2012. The red-brick Spasskaya Tower, built to resemble Borovitskaya Tower of the Moscow Kremlin, is notable for its vivid appearance which contrasts with the surrounding Belgian-like structures. Since 2014, Republican Puppet Theater has been housed in a building resembling the romantic Neuschwanstein Castle of King Ludwig II.
Bruges Embankment is replete with beautiful sculptures. In 2011, Monument to Empress Elizabeth Petrovna was erected in honor of the queen's contribution to the development of education in Yoshkar-Ola. Two statues in particular remain popular with newlyweds: Exemplary Family Monument, dedicated to Grace Kelly and Prince Rainier of Monaco, and a monument to folk characters Peter and Fevronia of Murom, which stands opposite Republican Puppet Theater.
Bruges Embankment in Yoshkar-Ola is a slice of Europe in Russia, the perfect place to relax with family and friends on a leisurely stroll of the city's most recognizable site.